Every day for the countdown until Christmas I will be having guest bloggers visit my page and share some tips they have learned along the way in their motherhood journey. Be on the look out for our Guest Bloggers Series! 
A Cautionary Tale by Caroline Degala
No one in this photo.
Yesterday we took the whole family to see the Nutcracker. I've taken the boys every year since Pierson was two. I have these grand ideas of raising boys who are cultured and well-mannered and won't mind attending the theater with their future girlfriends.
This was my first year taking all three kids, so I roped the husband into joining us as well. I had visions of us laughing and swooning to the music together, followed by a family dinner where we discussed our favorite parts of the show and relaxed together.
This is how the day really unfolded.
Getting Ready for the Nutcracker
Mia: Why we going da Nutcwacker? I wanna go bouncey house!
P: Why can't I just wear sports shoes?
Cam: (After trying on 4 pair of shoes) I have NO nice shoes to wear.
Are my cuffs sticking out from my sweater enough?
At the Theater
Sarath is holding Mia, Pierson is in the middle and somehow Cam is on my lap. Here's how the show plays out:
I'm on day 7 of a horrific cold and though I'm taking Mucinex and sucking on a Ricola, the coughs keep coming and coming AND coming. Awesome.
7 minutes into the show, Mia's falls asleep on Sarath's shoulder. Thank God we didn't buy her a seat of her own.
10 minutes in Cam says, "Is it over yet?" And then his commentary really picks up:
"Why isn't that guy wearing shorts over his leggings? Doesn't he know everyone can see his butt….pause as the scene transitions…oh my gosh and we can see his nuts too! Oh my gosh"
~~~~~~~
"Is it over yet?" (20 minutes in)
~~~~~~~
"When is half-time anyway?
~~~~~~~
"Is it really magic when you fly a tissue around….Sophia the First does better magic."
~~~~~~~
Cam: "Who's THAT girl?"
Me: "Honey that's Clara. She just changed into her pajamas."
Cam: "Pajamas? That's a fancy dress. Someone needs to buy her some pajama pants."
~~~~~~~
Cam: "Is that guy a ninja? Yes!
Me: "No buddy, he's presenting the tea from China."
Cam: "Oooof course he is."
~~~~~~~
Me: Cam! Don't put your feet on the chair in front of us. That is NOT our space.
Cam: "Well his head is right in my face space so can you tell him to move his head?"
~~~~~~~
Then we finally have a super-quick intermission where we use the restroom and stand in a never ending line to get our "be quiet snack foods". Upon purchasing said snacks we learn that food is NOT allowed in the theater. What the hell fancy people? So we have approximately 3 minutes to shove the snacks in the kids' mouths, and at the last minute, Mia decides she needs to go potty. So, we're late getting back in. Awesome.
The rest of the show was Mia clapping and dancing, while trying to slyly grab Cam's face. Pierson was intermittently giggling at the man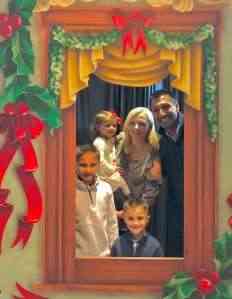 tights and Camden continues asking how MUCH longer.
When the show was finally over, I asked Cam how he felt about the ballet his face said it all.
And so, we survived the Nutcracker with little signs of culture or good manners. We did mange one cheesy family photo as evidence of our efforts.
We managed to have a few good laughs and followed the atrocity of the show with queso and cocktails at Saint Anejo. If there was ever a night to break my no queso and no alcohol rule, it was tonight.
And the kids laughed and joked and we discussed the silly parts of the ballet, so I suppose it all worked out in the end. We also discovered that Mia much prefers the 90's rock music being played in the restaurant over Tchaikovsky's score.
So next year, when I talk about how excited I am to take the kids to the Nutcracker, please somebody slap me!
______________________________________________________________________
Caroline Degala is the mother of three blended babies: Mia, a sly two year old diva, Camden, a 4 risk-taker with a heart of gold and Pierson, an 8 year old old-soul with athletic tendencies. Caroline had been a working mother and a Stay-at-home mom, who rarely stays at home. She has lived in 6 homes in 8 years and has reluctantly become an expert in organizing, home decorating and raising decent humans beings, all while integrating our family into new communities.
Follow her on her blog, www.wanderingwhindians.com for life and style tips, stories of epic failure, great deals and adventures in travel with diverse little people.