A stroller is one of the necessary things for babies. No matter how much you care for your baby, you still need strollers for your baby.
Are you looking for effective tips to keep your baby safe in a stroller? Undoubtedly, it is one of the most difficult tasks for parents to find the right stroller for their baby. If you are also going through this situation, then you have come to the right page. And how to keep baby comfortable in a stroller begins with selecting the right stroller for your baby. As there are many different types of strollers available in the market and that makes parents confuse which one is the ultimate choice for their baby.
Things to Consider While Buying a Stroller for your Baby
There are many things you need to consider before buying a stroller for your little one. This is why there are so many blog posts and review websites out there, such as those from the nuna blog, to help you choose the best stroller for you. The tips we are going to mention in this post will aid you to choose the right stroller and also, make the process easy for you. For parents who have twins, buying a tandem Stroller is an ideal decision because the tandem stroller is made for handling two babies. So, let's explore the effective stroller safety tips so that your baby feels safe, relaxed and comfortable in a stroller:
1. Budget
The first thing that matters a lot while buying anything is analyzing your budget. Thus, check your budget before going to buy a stroller for you. This will aid you to know which type of stroller you can afford. You can also do research on stroller prices on the internet and once you are able to decide how much you can afford, this will truly aid you in choosing the stroller for your baby.
2. Purpose
The second thing that also matters a lot is for what purpose you want to buy a stroller for your baby. If you are one of the active people and want to walk and run with your baby then must look for the stroller that is appropriate for every type of situation. Also, you can consider the stroller that has adjusting options and locking wheels. These all features can make really easy for running and walking over all terrains.
3. Steering
Also, consider a stroller that you can steer comfortably and it is also one of the most important factors you can't ignore at any cost. Also, see if you are able to move stroller easily. If you feel good in maneuvering the stroller, then it means it is stroller you are looking for. Jogging strollers are also available if you love to run.
4. Adjustable Handle
The stroller with an adjustable handle is always a good choice, especially if both parents want to use the stroller on the regular basis. So, it is worth to look for the stroller that comes with an adjustable handle. This will also avoid pushing that can happen with stroller having no adjustable handle. In the market, there are many strollers available that have an adjustable handle, and you can also search out on the internet. If you don't have time, then you can buy online.
5. Space
It is recommended to choose a stroller that has a large space inside. This will surely make your baby feel comfortable and secure. If you buy a stroller having enough space, then you can also place your baby things, such as blankets, diapers, pillows, and many other baby necessities. Buy a stroller depending on your baby requirements and needs.
6. Sun Protection
Also, make sure that the stroller you are going to buy can give sun protection to your baby. So, choose the stroller that comes with a big adjustable umbrella or canopy that will protect your little one from the sun, rain, and wind. Check out this post on other useful tips for new moms.
7. Weight
The size and weight of the stroller are also important factors you can't ignore at all. If you are seeking the compactness and convenience in the stroller, consider one which is easily convertible. If you want to place your stroller into your car, then consider one that is of lightweight and easy to fold so that you can ride in your car easily.
Fortunately, there are many lightweight strollers available you can choose from. Even, many parents now prefer lightweight strollers as it will make easy for them to carry strollers along with them.
8. Additional Features
Consider a stroller that has many additional features so that you can make your baby feel comfortable and safe. There are also many strollers available that can accommodate two babies such as tandem Stroller. So, if you have twins, then choosing a tandem Stroller is the right decision you will make. Thus, keep this in your mind while buying a stroller for your baby.
9. Brakes
Buy the stroller that has brakes so that you can handle it easily. There are many strollers available in the market that comes with brakes which further lock wheels and it is also one of the special safety features of the stroller.
10. Consider Stroller that Meets Safety Standard
Baby safety always matters a first for parents and so, make sure that the stroller you are going to buy is meeting the safety standards or not. Do the proper research before buying the stroller.
Hence, these are the main factors you should remember while buying a stroller for your baby. This will definitely aid you to find the appropriate stroller for your baby.
Tips to Keep Your Baby Safe in a Stroller
After a buying stroller for your baby, the next thing is following some tips that can make your baby feel more comfortable in the stroller. Here, we are going to share some tips that will effectively keep your baby secure and contented.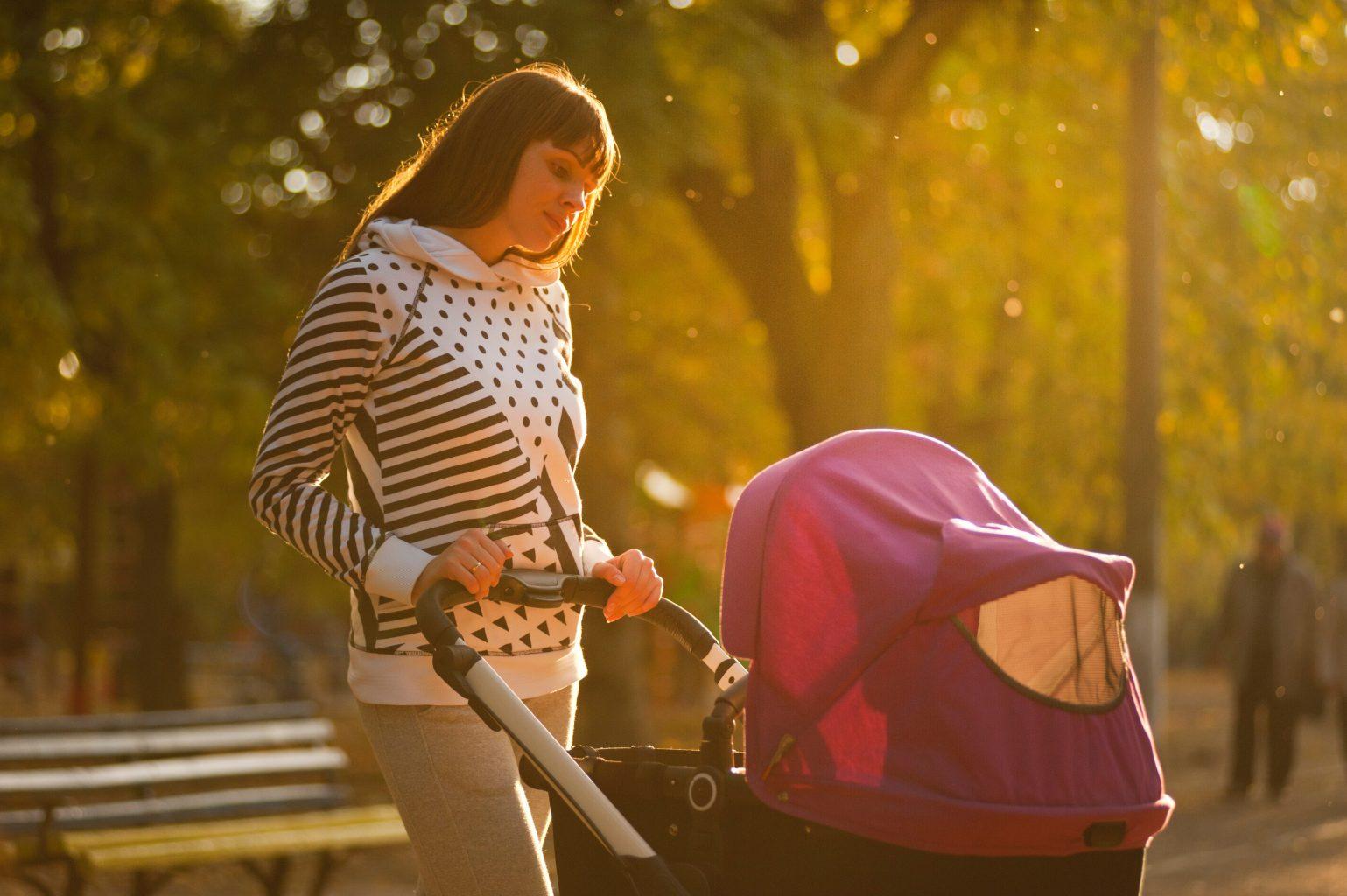 1. Stay Close to Stroller
Always stay close to the stroller when your baby is in it. Thus, never leave your little one alone in the stroller as you never know what will happen. When you have a baby, you need to very conscious and careful so that your baby doesn't face any problem.
2. Buckle up
Always, you should buckle up stroller harness with your baby while taking your baby in a stroller for walking or running. This will surely prevent your baby from falling. If you neglect this, then you can hurt your baby if he or she accidentally falls from his or her stroller.
3. Be careful while folding
When you are folding or unfolding the stroller, keep your little one away from the stroller. Even your baby little fingers can get trapped in the stroller while folding. Also, make sure that the stroller is unlocked before putting your baby in the stroller.
4. Don't Place Stroller under Sun
During hot days, never place your baby stroller under the sun for a long duration. Otherwise, sun rays can make plastic of stroller to become too hot that can also burn your baby sensitive skin. That's why always check the surface temperature of strollers before putting your baby in it.

5. Properly place baby things in the stroller
Hanging a bag to strollers' handle can be dangerous and it can also cause strollers accidents that can hurt your baby a lot. So, whenever you are going to place your baby things in the stroller, place it properly so that it does not cause any accident with the stroller.
6. Use Stroller Brakes
If you have bought a stroller that has brakes, then use brakes to stop the stroller. Don't apply the brakes instantly when you are running very fast with stroller having a baby. Otherwise, you can face very bad stroller accident.
Therefore, these are important tips that every parent should follow for their baby safety. Sometimes, due to the parent's negligence, their child suffers a lot. And having a baby is a big responsibility and you have to be very careful at every step.
What are Stroller Accessories that you must have for your Baby Safety? 
Yes, there are some products related to stroller accessory that can also keep your baby feel comfortable and keep baby safe in the stroller.
1. Stroller Toys
You can keep toys in the stroller so that your baby can play with them and can have some fun and entertainment. You can check out stroller toys from the internet and stroller toys are also available in the baby store.
2. Pillows
If you have a newborn baby, then you must have cushions or pillows in your baby stroller. Pillows will provide the support to your baby head and neck.
3. Shoulder Strap covers
Stroller straps are not as comfortable as compared to the shoulder strap covers. Stroller straps can cause irritation and thus, buy shoulder strap covers for your baby skin protection.
4. Car seat adapter
Car seat adapter as stroller accessory is loved by many parents as it will prevent the baby to wake from sleeping when you are moving your baby from home/car to your baby stroller.
Thus, these are necessary stroller accessories you should have and this will make your baby feel happy and comfortable in the stroller.
So, don't make a rush while buying a stroller for your baby and read this post that will surely aid you to find out the right stroller for your baby.
This post contains affiliate links. Please visit the disclaimer page for more information.