Bathroom ceilings don't have to be ugly and monotonous. Modern bathrooms can serve many different purposes for you. A bathroom ceiling design can add style and character to the space. From classic white paint to intricate tile patterns or even a statement light fixture, the options for bathroom ceiling design are endless. It's important to consider the overall aesthetic of the bathroom and choose a design that complements it while also being functional in terms of moisture resistance.
You can enhance the visual appeal of your interior by adding different characters to the ceiling. There is a myriad of materials you can use to build your bathroom ceilings such as tin tiles, plaster boards, suspended or coffered ceilings, and even particle boards. All these materials have their benefits and features. Similarly, you can decorate them according to their design and nature, giving a bit of individuality to your bathroom.
Following are some of the most inspiring, beautiful, and popular bathroom ceiling design ideas.
Contemporary Bathroom Ceiling Design
Modern bathroom ceilings have garnered immense popularity in recent years. You can do many different things to complement the unique environment created by the modern ceilings. For instance, hanging a beautiful chandelier or other light fixtures will help you create a scintillatingly beautiful bathroom. Most of the bathrooms are small, but it should never curb your creativity. Modern or contemporary ceilings can help you create a unique atmosphere and a magnificent place to relax.
Tray Ceiling Design
You can do a lot of things to your bathroom ceiling rather than keep it white and plain. It is an excellent idea to add modern tray ceilings to your bathroom.  A tray ceiling can act as a fabulous architectural feature for your bathroom. Again, you can hang chandeliers to enhance the beauty further. A tray ceiling can also become a great platform for you to create spectacular lighting designs.
Painted Bathroom Ceiling Design
More and more homeowners are painting their bathroom ceilings in different colors and to good effect. As a matter of fact, painted bathroom ceilings are making a grand comeback after staying in oblivion for years. It is rather unwise to rule this marvelous ceiling design idea out. A painted ceiling offers you an excellent opportunity to create a dramatic effect, a visual contrast or to add a visually appealing accent color. You can also add a fresh perspective to your bathroom by using bright paint colors for the ceilings. Most importantly, a painted ceiling can make a small bathroom look bigger and more spacious.
Bathroom Ceilings with Tiles
You can also use tiles to build some fascinating bathroom ceilings. People have been using tiles for decades to get eye-catching bathroom ceiling designs and patterns. Nowadays, many different types of tiles are available in the market. Therefore, you don't have to use mosaic or glass tiles if you don't like them. Some of these tiles include tin tiles, wooden tiles, metal tiles, etc. All these tiles have the ability to add special ambiance and drama to the ceiling. They also help you conceal all types of blemishes usually found on bathroom ceilings.
Bathroom False Ceiling Design
A false ceiling for bathrooms is relatively new but an incredible home décor idea. In most cases, lightweight materials such as plaster of Paris and plasterboard are used to build the false ceiling. It is also a way to go if you have imperfections on your ceilings. Similarly, they can also work wonders for an uneven bathroom ceiling. Plaster of Paris ceilings can add some real drama and character to the ceiling, also helping you to create creative and flexible designs.
Stretch Bathroom Ceiling Design
One of the most visually appealing and fabulous bathroom ceilings is the stretch ceiling. It is not only pleasing to the eyes but very practical as well. However, It is costlier than most other types of bathroom ceilings. Despite its cost, it is a much better option than drywall. Stretch ceiling is available in many colors and 3D designs. It is relatively easier and quicker to install as well. It makes your bathroom more beautiful and elegant and complements all the modern bathroom ceilings.
The bathroom is an important part of your house. You spend a considerable amount of time every day in the bathroom. Therefore, it is important for you to decorate it properly and customize it in whichever way fits your family best!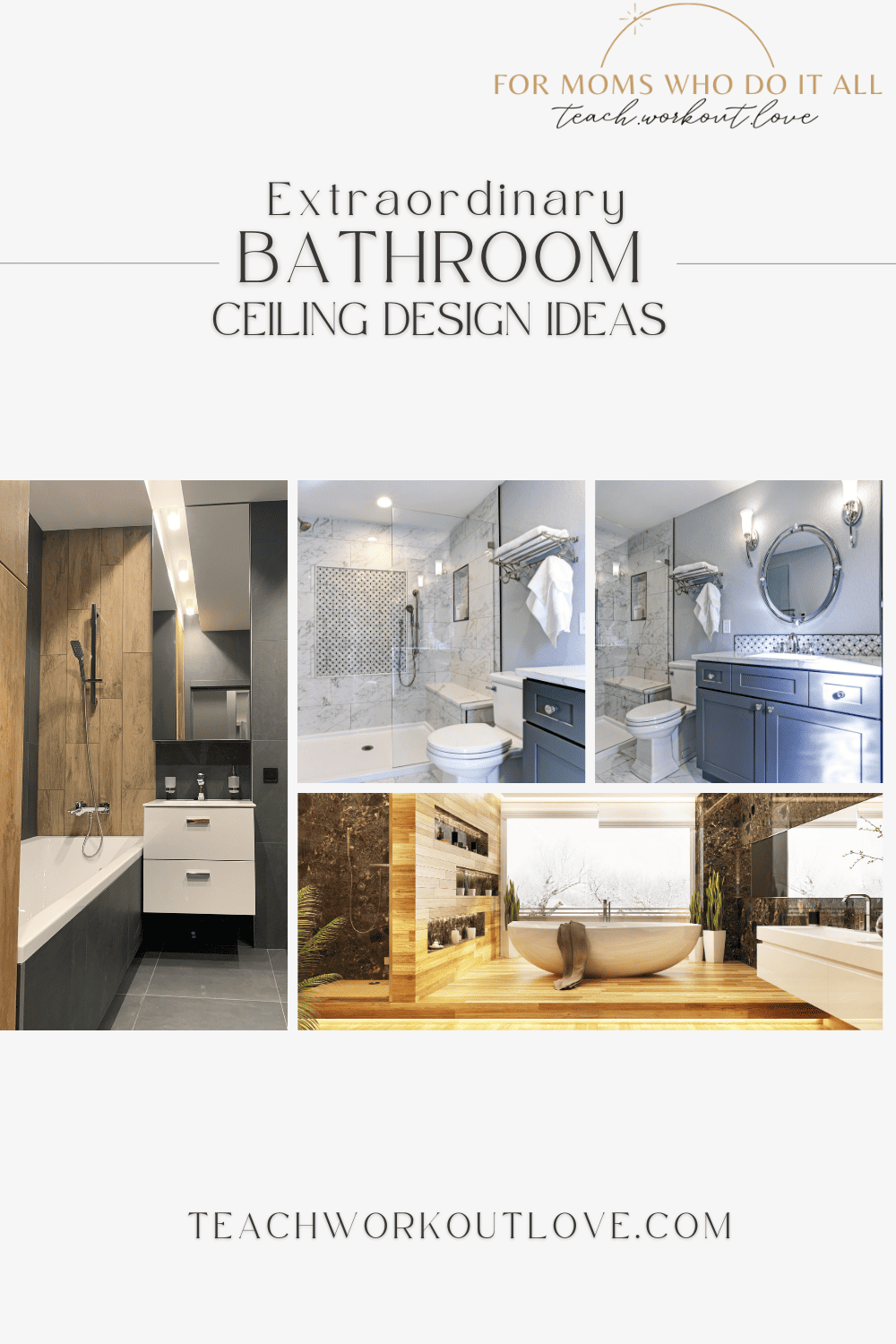 Coffered Bathroom Ceiling Design
Coffered ceilings add a touch of elegance and sophistication to any bathroom. This design feature consists of a series of sunken panels that create a grid-like pattern on the ceiling. Coffered ceilings are often associated with traditional or classic styles, but they can also work well in modern bathrooms when paired with more contemporary decor.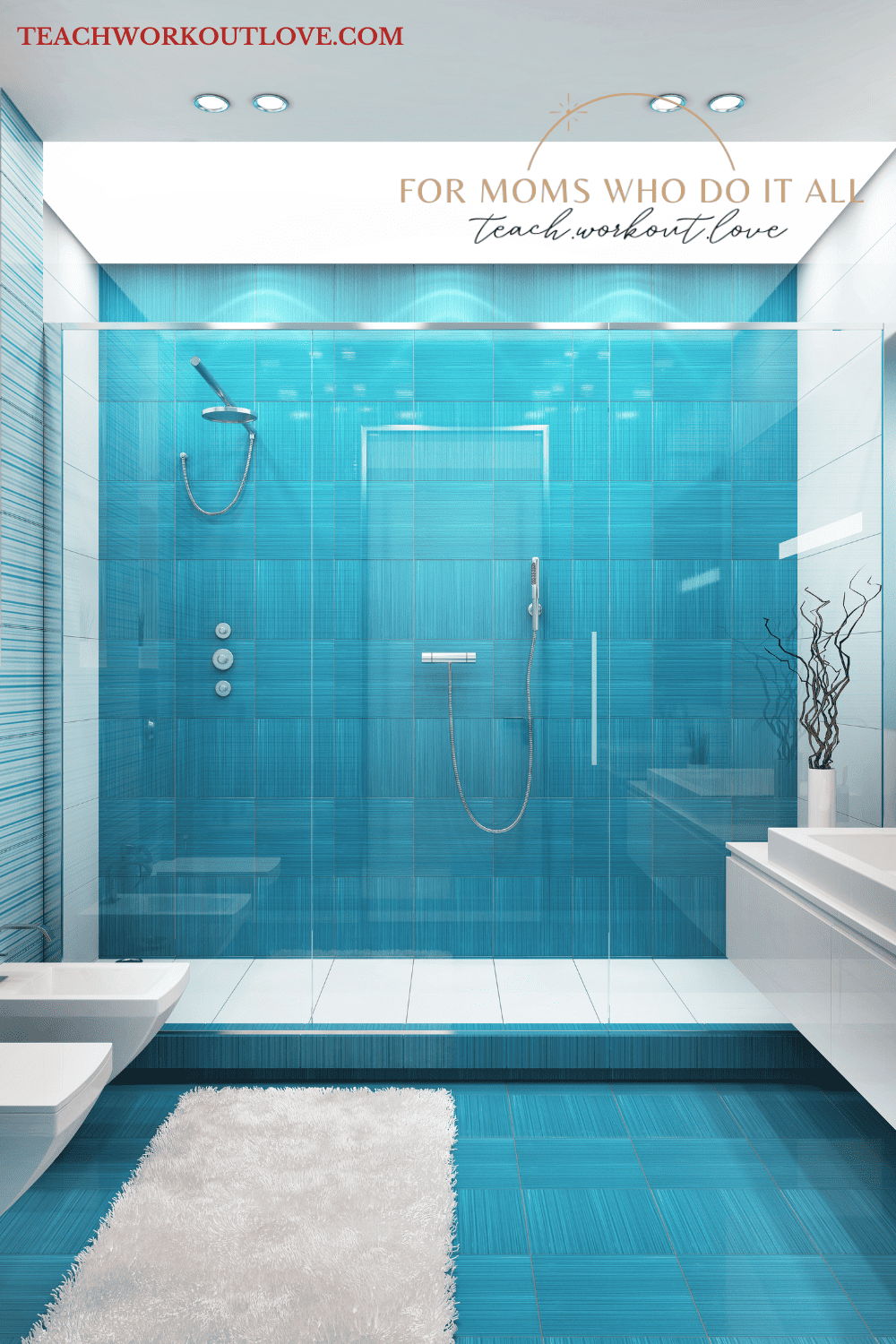 One advantage of a coffered ceiling is that it can help to visually lower the height of a tall ceiling, making the bathroom feel more intimate and cozy. Additionally, coffered ceilings can add architectural interest to an otherwise plain bathroom. Coffered ceilings can be made from a variety of materials, including wood, plaster, and metal, and they can be painted or stained to match the existing decor.
Wallpapered Ceilings
Wallpapered ceilings are a bold design choice that can add interest and depth to your bathroom. Choose a wallpaper that complements the existing color scheme and style of your bathroom. A patterned wallpaper can create a dramatic effect, while a solid color can add a pop of color to a neutral bathroom.
When choosing a wallpaper for your bathroom ceiling, it's important to select a moisture-resistant option to prevent damage from humidity. Additionally, it's important to ensure that the wallpaper is properly installed to avoid peeling or bubbling.
Rustic Wood Planks
Rustic wood planks can add warmth and texture to your bathroom. This design idea works particularly well in cabins or farmhouse-style homes. The wood can be stained or painted to match the decor of your bathroom. Wood planks can also be used to create a focal point on the ceiling, such as a diagonal or herringbone pattern.
When installing wood planks on the ceiling, it's important to ensure that they are properly secured to prevent sagging or warping over time. Additionally, it's important to consider the weight of the planks and the structural integrity of the ceiling before installation.
Mirrored Ceilings
Mirrored ceilings can make a small bathroom feel larger and more spacious. They can also add a touch of glamour to the space. Mirrored ceilings work particularly well in bathrooms with minimal natural light, as they reflect light and create a brighter ambiance.
When installing a mirrored ceiling, it's important to ensure that the mirror is properly supported and installed to prevent cracking or damage. Additionally, it's important to regularly clean the mirror to prevent smudging or water spots.
Conclusion
There are many different design ideas that can be used to enhance the look of a bathroom ceiling. Some popular options include contemporary, tray ceilings, painted bathrooms, Bathroom Ceilings with Tiles,  coffered ceilings, wallpapered ceilings, rustic wood planks, and mirrored ceilings. Each of these design choices can add visual interest, texture, and personality to a bathroom, while also serving practical purposes such as increasing brightness, creating warmth, or reducing the appearance of a high ceiling. When considering a bathroom ceiling design, it's important to keep in mind the existing style and decor of the space, as well as any practical considerations related to installation and maintenance. With the right design choice, a bathroom ceiling can become a stylish and functional focal point in any home.
Featured Photo by Chastity Cortijo on Unsplash
{This is a sponsored post. Please visit my disclaimer page for more information.}