Summer is the height of grilling season when everything seems to taste better if it's cooked over an open flame…The same thing applies to the Super Bowl and Thanksgiving. More people are realizing the benefits of using a barbecue year-round. And, of course, it's natural that your kids want to get in on the action too.
But is that a smart move?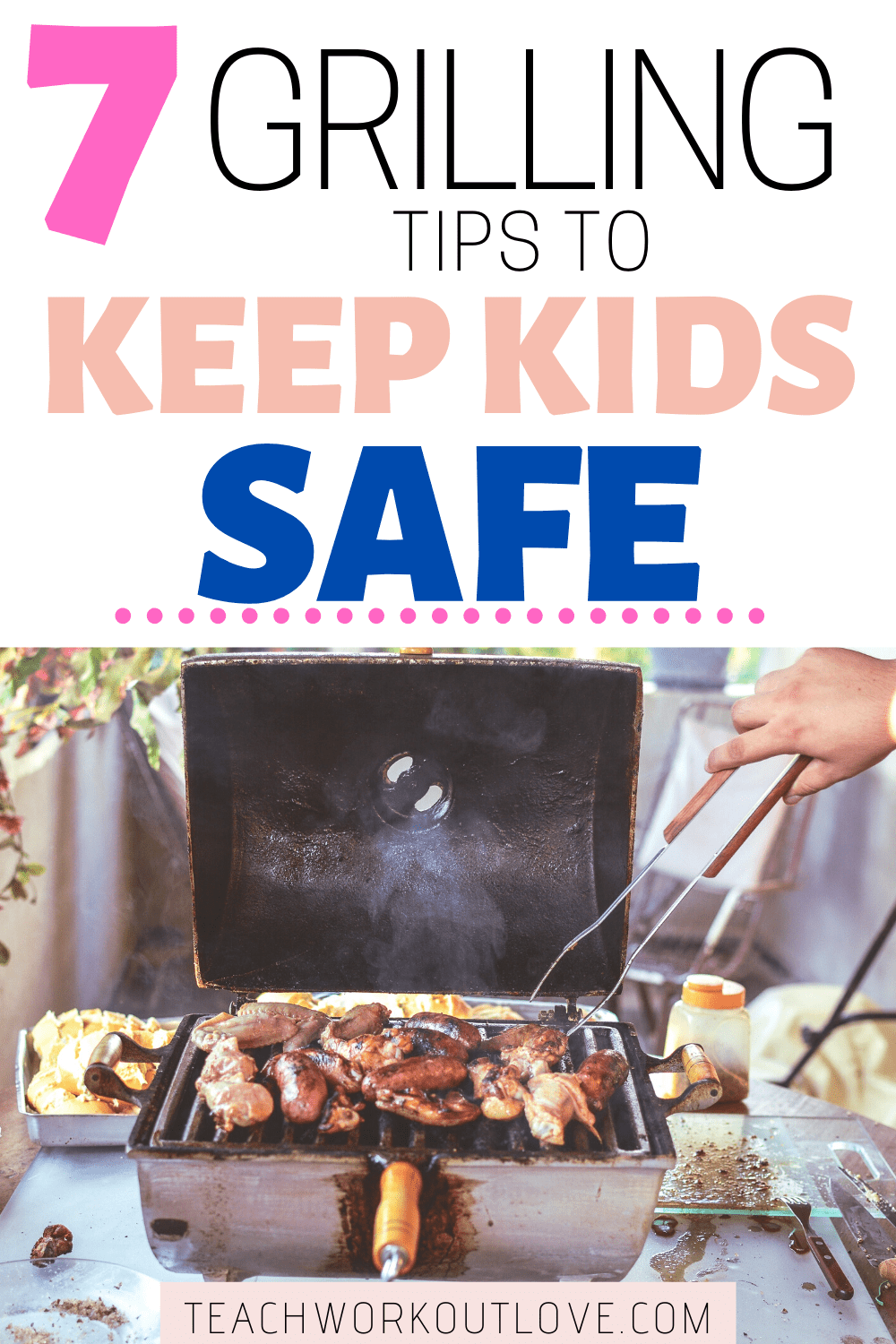 Fire Is Fire
Whether you barbecue with propane or charcoal, the fact remains that fire hurts. Just ask the 19,000 people that have to go to the emergency room to treat injuries from something that went awry with the barbie.
Don't be that guy.
Here are some things you can do to make sure the wee ones stay safe when you fire up the barbecue.
Only Mom or Dad Attends to the Fire
The easiest way to ensure that everyone stays safe is to make the grill or outdoor kitchen a grown-up only place.
After all, it makes sense.
It'll give you more space to cook with, which you're sure to appreciate. That way, you can focus on managing the flare-ups, instead of who is standing behind you.
We get it. Fire is cool.
But both jobs require your 100-percent attention. Don't skimp on either one. The same advice applies to your pets. The family dog will likely be interested in what's cooking on the barbecue. Keep him at a safe distance away too.
Use Proper BBQ Tools If You Let the Kids Participate
If you have older children, you might want to hand over the proverbial torch and let them in on the fun. Make sure to give them barbecue tools to use instead of the ones you use at the stove.
They are longer, which can protect them from burns. Cooking on an open flame is a different animal than frying up dinner on the stove. The extra inches can make a huge difference. Make sure you have gloves meant for grilling too to give you and your kids that added measure of safety.
Keep the Lid Handy
We love charcoal grilling, personally. We love the complex flavors it adds to our dishes. However, fat hitting the hot coals can cause a flareup, which can jump quite a bit from the source.
That's why you must keep the lid to your grill nearby. It not only protects you and your kids, but it also safeguards what you're cooking. Char marks are tasty, but cremated hamburgers are something else.
Mind Your Space
You have to have room around you when you barbecue. Often you have to make quick decisions and moves as you cook to prevent burning your food. You don't need to have your kids hovering around to interfere with your prep and put them at risk.
The chances are that crunch time is when you need space around the BBQ area the most. If the kids want to watch, that's fine until you have to focus on the end product. Then, it's time to step back from the chef. That advice about distance also applies to the space between the barbie and your house, deck, or anything inflammable. Many times, they are the victim of an accidental fire.
Teach Your Kids the Correct Way to Start a Fire
It's too easy to reach for the lighter fluid and a match to get the BBQ going fast.
Bad idea.
Using a chimney is a better way to get the party going to give the coals a chance to get hot. And need we talk about the smell of the lighter fluid burning?
Yuck!
Besides the flavor, the slow way is safer and is an excellent teaching moment about respecting fire.
Likewise, you can teach the kiddies about the necessary follow-up to make sure the fire is completely extinguished. You never know when a sudden gust of wind will stir the ashes. It's also essential to remember that fire creates its own atmosphere.
It can create spirals of wind and dust that can send sparks flying.
Stay on the Job
If you are going to barbecue, it's a commitment.
Represent if you're going to play with fire.
The single best thing you can do to protect the safety of your kids is to pay attention to what you're doing.
That involves the moment you strike the match—or ignite the flame—until you go to the table to enjoy your meal.
We suggest going through the whole process and making a point to explain everything along the way. After all, you have their attention.
Barbecuing is a fun way to enjoy being outdoors and savoring what it offers. Make sure your kids stay safe by teaching them the rules of the barbie.
This post contains affiliate links and I may receive a commission, at no additional cost to you, should you purchase through one of my links. Please see my disclosure for more information.