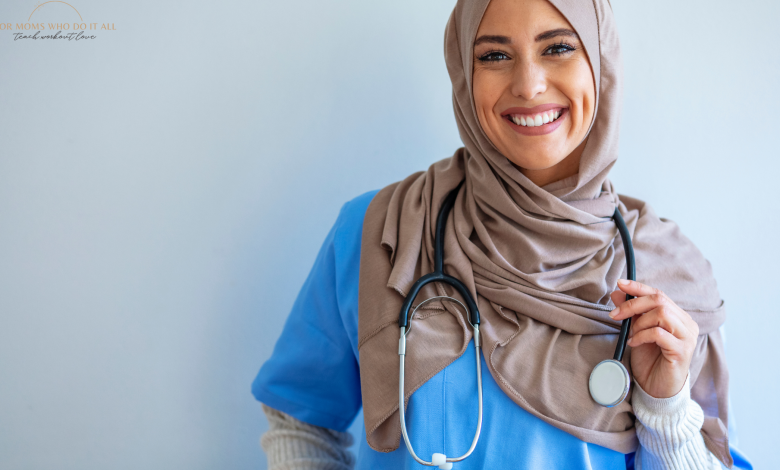 Nursing is a profession that often appeals to mothers. Caring for others is a skill that most mothers quickly master, and those skills can easily transfer into a healthcare setting when caring for patients. Nursing is a natural fit for compassionate moms who want to make a positive difference in the lives of others.
With that said, going back to school and becoming a nurse as a busy mother can be a big challenge. Kids demand a lot of your time, energy, and focus. It can be hard to keep a consistent schedule, especially when your kids are young.
The good news is that you don't necessarily have to wait to become a nurse until your kids are out of the house. It is possible to become a nurse as a busy mother, with some planning and effective time management. Here are some tips for a smooth transition.
Understanding the Nursing Profession
When most people think of nursing, they picture someone in scrubs who takes care of people in a hospital setting. While these registered nurses (RNs) make up the majority of the nursing workforce, there are lots of other career paths available within the field. Demand for nurses is growing, making it a secure and stable career path that can provide a solid salary.
Today, there are more options than ever for nursing specialties, allowing nurses to follow their interests and gain in-depth knowledge. Nurses can also go on to get more education and training so they can become an advanced practice registered nurse (APRN) or nurse practitioner (NP). Getting an advanced nursing degree opens up more opportunities, autonomy, and higher salaries.
Nurses can also work in a range of settings beyond the hospital. From school nurses to travel nurses, there's a lot of flexibility within the field, making it a great career for busy moms. Compassion, empathy, adaptability, and dedication are all important qualities for those who are interested in pursuing a career in nursing.
Preparing for the Nursing Journey
Before you go back to school for a nursing degree, there are several factors to consider. Are you ready for a career transition? Is your family ready?
If you are parenting with a partner, this is something you need to approach collaboratively, as you will need to consider childcare, expenses, and time management. If you are a single parent, you will have different challenges and will need to identify sources of support.
While it is important to put your own goals high on the priority list, it's also important to be practical. Can someone help pick up the slack when it comes to childcare and household responsibilities? Is hiring help or using daycare an option? How will you make this work as a family?
You and your family need to discuss the financial investment, logistics, and goals of becoming a nurse as a busy mom. It's also important to do some initial research on different types of nursing programs so you can choose the option that works best for you and your family.
Choosing the Right Nursing Program
Once you've decided to go back to school, you will need to choose the right nursing program. Busy moms often struggle to make traditional programs work and frequently opt for an online or accelerated program.
Online programs offer the exceptional flexibility that mothers need. Some curriculums can be completed at your own pace, which means that you can work when your children are sleeping or occupied with other activities. There's no commute, allowing you to save time and mental energy.
If you have college credits already, an accelerated nursing program might be a good option. These programs will typically have educational requirements—classes that are prerequisites for starting the program. These can typically be taken at your local community college if you need them.
Time Management and Juggling Responsibilities in Nursing School
The biggest obstacles for busy moms who are working toward a nursing degree are time management and juggling the responsibilities of being a student and being a mom. It's important to be realistic when you're planning your study schedule, and you should also be prepared for that schedule to go out the window sometimes.
Depending on the age of your children, you might be able to set them up with homework or activities that they can do in another room while you work. Although it can be difficult to prevent interruptions when kids are involved, it's important to help them understand that what you're doing is important and that they should try to play or work independently without interrupting you.
Delegation is critical for mothers working toward a career in nursing. When possible, having someone to help with childcare can give you the time and space to get through your coursework. Having support systems in place so that you know your children are happy and cared for when you need to study or work clinical rotations will allow you to focus on your schoolwork.
Carving Out Family Time
If you decide to go back to school while your children are still young, carving out family time will be challenging, but critical. Creating a clear separation between your school/work and time with your family will help ensure that the time you spend together is quality time.
When you make your study and school schedule, be intentional and put your family time on that schedule as well. Giving each activity your full attention can be difficult, but you will be more productive both in terms of your schoolwork and your relationships with your partner and children.
Self-Care is Key
While you might not have much time for self-care, you need to take those little moments to help prevent burnout. Nursing is a stressful job and it's good to get into the habit of practicing self-care while you're in nursing school.
Meditation and breathing exercises can be grounding and can be done practically anywhere. Exercise is something you might be able to do with your children, which can reduce stress and help you maintain good physical and mental health.
Be a Role Model
Some moms struggle with guilt when they decide to go back to school and become a nurse. However, getting an education and investing in yourself is always a good choice. As long as you ensure that you are spending quality time with your kids and have a support system to help you, they will adapt.
As a bonus, you'll be teaching your kids valuable lessons and acting as a role model. Being a nurse is a calling, and you'll be sharing those values of compassion and care with them. When you ultimately graduate from nursing school, they're likely to be even prouder of you than you are of yourself.
Overall
Getting through nursing school as a busy mom isn't easy. But if you go into it with a plan (and a backup plan), seek support from your community and instructors, and have the determination to make it happen, you'll be able to reach your dreams. Celebrate your achievements along the way and make your family proud.
This post contains affiliate links and I may receive a commission, at no additional cost to you, should you purchase through one of my links. Please see my disclosure for more information.