Being a working mom means you have even less time than normal to get your chores around the house done.  The pressures of a nine-to-five job mean sacrificing certain standards around the house, or does it? If you work more efficiently and manage your time well, you could have a clean house and maybe even a little time left over.  Learning how to create and use a house cleaning schedule will save you time and energy in the long run. A cleaning schedule for working moms helps to organize cleaning tasks into smaller, achievable goals, which reduces stress and provides a sense of control.
Time management is imperative for a working mom.  There are so many things that need to get done and you are often the chairperson of every committee and subcommittee within your home.  I know in my home I manage most everything within the house, and I leave the outdoor business to my husband. It is a system that works for us.

Why use a House Cleaning Schedule?
It's a proven strategy that writing things down or following a system will lead you to greater productivity.  Whether you're a checklist person or a schedule-oriented mama, following some kind of organization tool is going to improve your likelihood of success.  
A cleaning schedule will help you break down your tasks into smaller more manageable tasks.  If you follow this cleaning schedule, I bet you'll be able to maintain a clean home with just 15-30 minutes a day.
If you are finding it hard to summon the cleaning inspiration to kick in, hire a house cleaning service such as Maids in a Minute, Ann Arbor, to handle the cleaning task.
Why Believe me?
I am a working mom first of all and I am a full-time teacher, athletic director, coach, and blogger.  I might be one of the most hyper-organized people you've ever met.  My closet is color-coordinated by season, my paperwork is filed away, and there is a checklist for everything.  I blog specifically about ways to help moms get more organized. My entire life runs on calendars and schedules.  
So yes, you can do it all.  You don't have to, but it IS POSSIBLE!
Do I follow every checklist I have to a T?  No, but nothing feels better and more productive than when I check a bunch of things off my list.
How to Formulate an Unbeatable Cleaning Checklist
Start by drafting a list of your household chores.  Laundry, dishes, floors, bed changes, and decluttering will be just some of the items on your list.  Write down as many tasks as you can think of. Nothing is too small to put on the list. I mean even changing that pesky furnace air filter goes on the list.  It is something that needs to be done, right?
Once you have your complete list of tasks that needs to get done, start sorting them.  Sort the chores based on how frequently they need to be completed. Realistically you'll have a list of daily chores, weekly, bi-weekly, and monthly chores. You may even have a few chores that only need to be done every few months.  
Start sorting.  I'll wait.
Once you Have Your Cleaning List Sorted
I operate my household on a bi-weekly rotating schedule.  So I map out two weeks and assign a weekly chore of mine to each day of the week, leaving one or two flex days for a catch-up.  I have a primary task that definitely needs to get done, and then I have a secondary "if nice" chore that would be awesome if I got around to it.
The point of this process is not to overwhelm yourself.  When I have my chores laid out like this, I only have one or two tasks to do per day!  That is totally manageable for most of us!
If you'd like a pre-made copy of the cleaning checklist I use already done up for you, you can head to my site to download your free copy.
Assign Roles and Chores to EVERYONE in the House
You can't do everything yourself.  That is probably the biggest lesson I've learned in running a household.  I don't do anything alone. There is so much to be said about having help around the house.
Employ your children from a very early age in the cleaning process.  Your children LOVE helping out. It is a natural thing that they want to help their momma!  Let them!
Kids can do simple chores that involve their own belongings such as picking up toys and putting them away.  Build this into your daily routine so it becomes an expectation. Right before bed I always ask my children to spend 5 minutes picking up toys.  Once that is done, then we start our bedtime routine.  
We all have chores that we hate doing, mine is taking out the garbage and recycling.  That goes on my husband's list right away. He knows that if he does those chores, I won't ask him to clean toilets (which he in turn hates to do).  
My husband is expected to put away his own laundry, and haul laundry up and downstairs.  I handle washing and folding and putting away my own laundry and the kid's laundry.
If you're a working mom who is also a single mom, don't be too hard on yourself.  You're only one person, and if you have zero help, then only put one important task on the list per day and be proud of yourself if you can get that accomplished. While yes it is doable to keep a clean house if you're doing it alone, which I know you can, you're going to need to be even more organized in the long term.  And definitely make your kids help you. You deserve it.
Why Bi-Weekly?
Working moms can use a rotating cleaning schedule to ensure they regularly accomplish every task in their home without feeling overwhelmed. Why would you want to rotate your cleaning schedule every two weeks?  Because there is no need for EVERY task to be done EVERY day or even every week!  If you break it down it basically means that you are doing a full house cleaning twice a month.  That is enough.
If you can keep up with the basic maintenance of your home in a simple bi-weekly format you can have cleaning splurges to catch up on big stuff each season.  Spring cleaning is a great time for this. You can do a major decluttering in the spring and fall and right before Christmas to make sure you're not collecting junk that will collect dust.
Minimalism Works For a Reason
When it comes to organization and keeping your house clean, don't forget that having less stuff means less stuff to clean and manage.  There is something to be said about minimalism. It's not something I am great at, but wow I wish I could.  
I do a big decluttering at least twice a year.  And if you want to make some extra money, think about having a yard sale.  Last year I added $600 to my Christmas fund because I sold a bunch of stuff we had at a yard sale.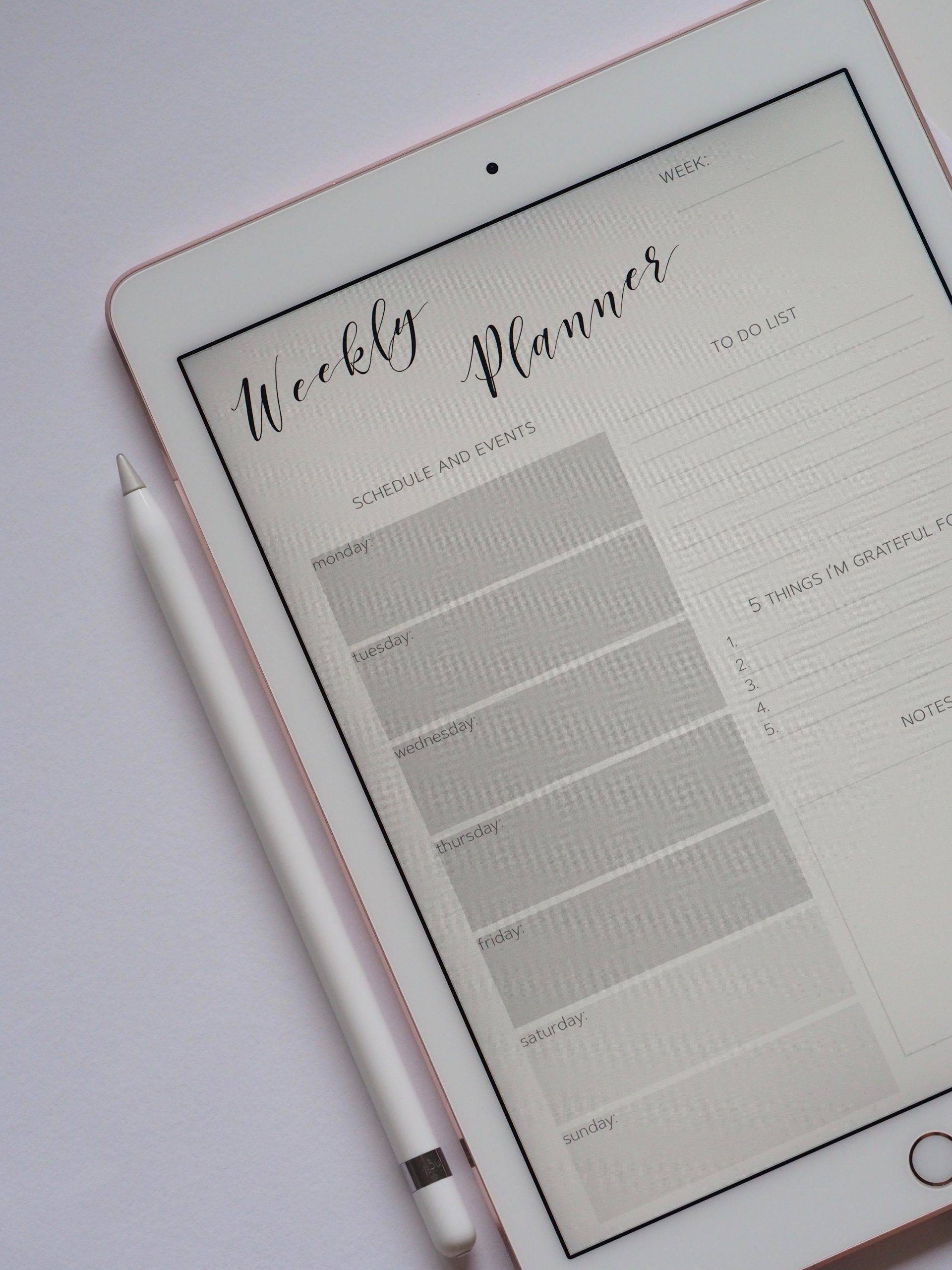 A Cleaning Checklist or Schedule Will Help You Get into a Routine If Nothing else.
Living the working mom life means you will probably need to run everything on a pretty tight schedule.  Work, childcare, school obligations, sports, and extracurriculars will all start taking chunks of time. A cleaning checklist or schedule will help you keep the "free time" productive for you.  
If you actually print or write out your cleaning schedule, you can at least always have a record of what is done and what needs to be done. Working moms find a printed or written Cleaning Schedule for Working Moms especially helpful, as it visually reminds them of what they need to accomplish. If you find yourself with some extra time, you can always work ahead–or take a few minutes to relax and give yourself a well-deserved pat on the back.
If running your life on a house cleaning schedule like this doesn't seem doable for you, the alternative is to make more money and hire a cleaning lady, which I am totally NOT against. Though hiring a Cleaning Schedule for Working Moms may not be a sustainable solution for everyone, it can provide much-needed relief from the stress of managing a busy schedule.  If I could afford it, I would totally hire out for help. I got a cleaning service for Christmas once from my husband, but we could only afford a once-a-month cleaning, so it wasn't a sustainable solution.  Alas, I'm back to cleaning my house myself.
If you're a working mom, do you have another method or house cleaning schedule that works for you? I'd love for you to share!
This post contains affiliate links and I may receive a commission, at no additional cost to you, should you purchase through one of my links. Please see my disclosure for more information.