Recently I was able to attend an event in Spokane, Washington where Comcast provided low income families and veterans with the ability to have access to the internet. This was through a program called Internet Essentials. Keep reading to see how Comcast helped local Washington State Veterans connect to the internet.
Why Veterans need Internet
To being, can you imagine your life without internet this the year 2019? It is actually hard to imagine what life would be like without the internet since it is so readily available to many of us. However, for Veterans, there are not always opportunities to have access to internet that is affordable. Without internet access, Veterans are not able to access their medical benefits or their veteran benefits.
Many times, Veteran's need to make appointments or finish their education online. These are all moments that having the internet is key. When at the event in Spokane, we learned about a father who was a veteran and wanted to go back to school online. This father did not have access to the internet at home and he had two young daughters. By having to leave the house daily to go use the internet at the library, he was missing out on spending time with his children because he did not have internet at this home.
He linked up with Comcast to receive Internet Essentials and we heard about the success story how this veteran finished his degree while still having time to be a father, just because he was now able to have internet at his fingertips. The difference that having the internet can have can be life changing.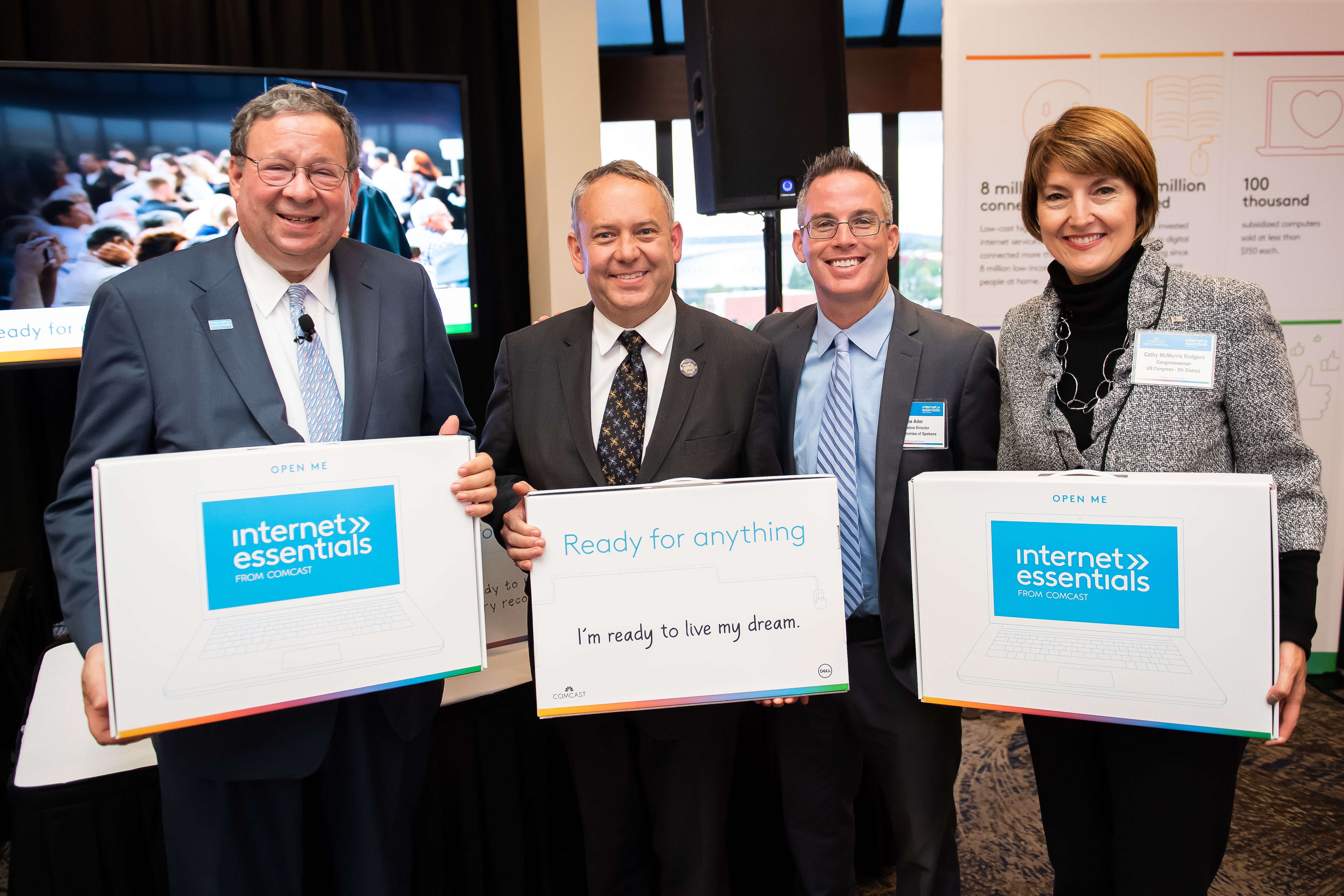 How did Comcast help Veterans?
David Cohen, the Senior Executive Vice President and Chief Diversity Officer of Comcast  mentioned at the event that he wanted to have "equity of opportunity – to give every American every opportunity to connect to the internet." By visiting Spokane and meeting with Goodwill, they were able to start the process of giving every American every opportunity to connect to the internet.
A Special Dedication to a Leader in the WA Military Community
WA State Director of Veterans Affairs, Alfie Alvarado has dedicated her entire life to the Military community. 
To highlight her great work, Comcast in Washington state partnered with the Washington State Department of Veterans Affairs to create and unveil a new video honoring her that uses the power of video storytelling. The Veterans Day Video tribute highlights Alfie's history in the military and her lifetime of support for the military community here in Washington. Known by many across the state as an advocate that is doing great work to support the local military and veteran community, this video shows demonstrates just how much passion she has for her work.
In addition to that, a local Veteran working for Comcast wrote a special Veterans Day tribute to Alfie highlighting her career, and included some interesting insight about the work Comcast is doing to support hiring for the Military community in Washington state.
As we honor Veterans on on a national scale, this was a great way to bring attention to this selfless public servant who has dedicated her entire life to the WA state military community.
One selfless act
This post is sponsored by Comcast. Please see our disclosure policy for more information.