Are you a working woman yet a fashionista who loves wearing all kinds of body jewelry? If yes, then you are in the right place. This article is about working mom who love adorning their piercings with beautiful body jewelry and who says you can wear them to the office? There is a wide collection of simple and cute Body Jewelry available in the market today that you can wear without any notice. From fine and delicate earrings to embellished chokers, there's a lot you can experiment with. Here are some body jewelry pieces you can give a try:
1. Long Threader Chain Earrings:
Delicate and fine chain earrings are statement-making pieces that can set off any look. These are minimalist earrings flowing from the earlobe in a fine line are lightweight and versatile. Wear them with your formal outfits to look great at the office. You can pair them up with a small hoop or stud. These versatile pieces of earrings can also be paired up with your constellation earrings.

2. Cubic Zirconia Flower 14K Gold Nose Ring:
The petals of this super adorable nose bone feature sparkly cubic zirconia gemstones and this flower ring made from 14k gold imparts subtle shine to a nose piercing. So, you can pick the ring in yellow, white or rose gold and pair it with your professional dresses for the office, business meetings and more.

3. Moon 14K Gold Seamless Hoop Ring:
Crafted in 14k gold, this crescent moon ear piercing jewelry can wear in the standard lobe piercing and a variety of cartilage piercings. Its minimalist design makes it a perfect choice for office-going woman. Something ideal to make a simple and classy statement to the office!

4. Tiny Coin Drop Chain Necklace/ Choker:
This fine and delicate choker necklace feature sterling silver disc, 14k Gold Filled and featuring flat cable chain. So, this tiny coin drop choker is perfect for everyday office wear. No matter whether you will like to wear it with buttoned shirts or formal dresses, it will look perfect.

5. Cubic Zirconia Tiny Diamond Anklet:
Anklets look great with every outfit and office dresses are of no exception. This tiny Diamond Cubic Zirconia Ankle Bracelet in sterling silver is sure not to look over at your office desk.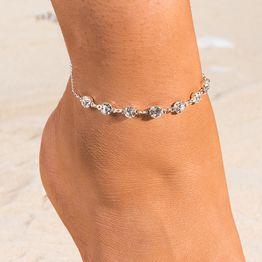 6. CZ Paved Heart 14K Gold Navel Belly Button Ring:
Have you got a belly button piercing? If yes, then adorn it with this shiny and sexy navel ring. Crafted from nickel-free 14K gold, it features a 5mm top ball and CZ paved gold heart. Something perfect to meet your inner fashionista!

7. Diamond Pave Flower 14K Gold Hinged Clicker Ring:
Full of brilliance with beautiful diamonds, this flower clicker rings is great to add a touch of class to your nipple piercing. This super-chic gold and diamond seamless ring is ideal to wear under every formal outfit.

8. Sterling Silver Thin Charm Bracelet:
Thin and fine charm bracelets are great to make a subtle fashion-statement to office. They are no bulky and look trendy to the core. Get them from your favorite body jewelry shop and wear it every day to the office.

This post contains affiliate links and I may receive a commission, at no additional cost to you, should you purchase through one of my links. Please see my disclosure for more information.