It is scientifically evident that diabetic patients are more prone to oral health issues like gum infections, gingivitis, etc. Diabetes affects your overall body health including your mouth. Since most of the problems initiate right from the mouth, it poses a significant effect on the oral health of a diabetic person. Thus, it becomes imperative for diabetic people to take the utmost care of their teeth and mouth. Here we have described some easy-to-follow 10 dental tips for diabetic patients in order to avoid future consequences.

Brush your teeth twice a day
Do not forget to brush two times a day i.e. morning and at night. However, to avoid any complications, you should brush after every meal or sugary snack.
It is also important to brush in the proper way to notice significant results. Hold the brush at a 45-degree angle and start moving it in circular motions around your teeth. Brush on each tooth for 10-15 times to get all dirty food particles out of it.
Use an antiseptic mouthwash daily
Researchers have shown that using antiseptic mouthwash two times a day has proven effective in killing the oral bacteria that enters your mouth. So if you have diabetes, consider using the mouthwash else you will be at higher risk of developing dental diseases.
Use a soft-bristle toothbrush
A soft bristle toothbrush helps in preventing gum diseases. Also, it is advisable to change your toothbrush every three months. Brush softly with fluoride as it ensures protection against tooth decay. Avoid harsh scrubbing as it can cause irritation in gums.
Floss once a day
Flossing is as significant as brushing and is among the highly recommended dental tips for diabetic patients. It helps in preventing plaque to build up between your teeth and gums. When flossing, remember to slide the floss up and down and then move it around each tooth beneath your gums.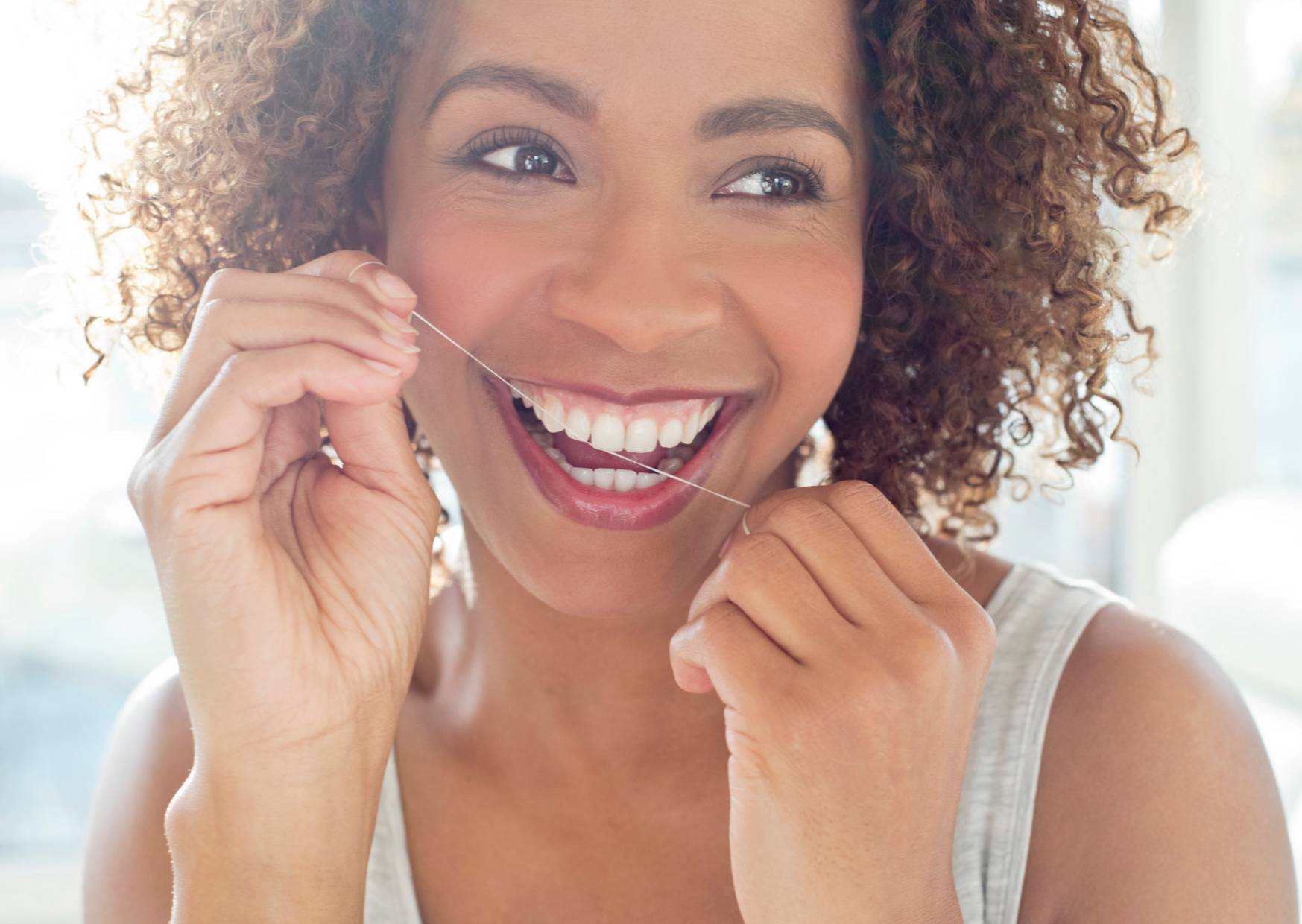 Quit smoking
If you smoke, just end it now. Diabetic patients who smoke are always at a high risk of serious diabetic problems like gum diseases, tooth decay, and oral fungal infections. When you quit smoking, your sugar level will eventually improve and you will decrease your risk of getting dental disorders.
Talk to your dentist if you wear dentures
It is essential to take proper care of your dentures if you are suffering from diabetes. Make sure your dentures are cleaned thoroughly and accurately fitted in your mouth to avoid the risk of any infection. Poorly maintained dentures can make your gums sore and causes irritation in the gums, which sometimes leads to serious gum problems.
If you experience any problem with your dentures, consult your dental surgeon as soon as possible to get it right.
Make healthy food choices
Eating healthy foods is not only a necessary dental tip for diabetic patients but for everyone to keep their body fit and strong, especially the mouth. No matter what we eat or drink, there are significant effects of diet on oral health. There are lots of food choices like beans, citrus foods, sweet potatoes, tomatoes, berries, etc that help to keep your disease in control.
These foods are a rich source of nutrients including vitamins, minerals, and fiber that helps in maintaining your overall body health along with preventing the disease.

Look for early signs of gum diseases
As mentioned above, diabetic patients are at higher risk of getting gum diseases like periodontitis. It is an advanced gum disease that breaks down the soft tissues and bone that supports the teeth in the mouth. Since diabetes reduces the ability of the teeth and gums to heal quickly if left untreated, it can make your teeth lose, and ultimately it will start falling out.
Therefore it is suggested to go for regular dental cleaning to get rid of gum diseases and infections. If you experience any symptoms like swelling, redness, and bleeding in your gums, report to your dentist immediately. In addition to this, follow the best practices of brushing and flossing twice a day to remove plaque and tartar collected on your teeth.
Mind your blood sugar levels
There is a direct relationship between diabetes and blood sugar levels. Sweets and candies are the popular cause of tooth cavities and decay. Sugar also levels up the acidity in your mouth that results in the building of plaque which eventually causes harm to your gums.
It is important to keep an eye on your blood sugar levels and insulin management. Follow your dentist guidelines and instructions to keep your sugar levels in control. Eat a balanced diet and strictly follow the meal plan suggested by your doctor to make the best plans for your oral health.
Visit your dentist once in a month
It is highly advisable to visit your dentist often to keep a constant check on your health and hygiene. Your dentist will guide you through the process that you need to follow to keep your diabetes in check.
In addition to these dental tips, regular dental visits will ensure that if you have shown any signs or symptoms for some disease, it can be treated at an early stage to avoid serious damage.
Final words
Speak up about your health issues comfortably with your dentist to make your treatment more effective. Follow these dental tips, choose the best dentist and get away with your dental worries.
This post contains affiliate links and I may receive a commission, at no additional cost to you, should you purchase through one of my links. Please see my disclosure for more information.