I love the Christmas season, but I always find myself cringing a little this time of year. Our house is already overflowing with toys and my daughter is only two. I love to keep things decluttered so the idea of adding more kinda makes my skin crawl. We come from an incredibly generous family who loves to spoil our sweet babe and sometimes I don't have the heart to tell them not to.
I've read that kids are less creative when they have too many toys to choose from. An abundance of toys can stifle focus and creativity in children. Less really is more when it comes to children's toys. So this year, I'm asking our family to resist buying toys. I know they will still want to give our daughter something. So I've come up with plenty of ideas for them! Here are non-toy gift ideas that any kid will love.
Easy Non-Toy Gift Ideas
Lessons
Give a gift certificate to a nearby facility where they can take classes. Options include swimming, dance, gymnastics, music, karate, and horseback riding lessons, depending on the child's interests. Kids will enjoy trying new things and developing their passions.
Clothes
Kids are constantly growing and almost always in need of new clothes. Whether it's a new coat, a fresh pair of boots, a hat they've been eyeing, or a new pair of pajamas, new clothes can be a fun gift when you know their personal style.
Worried about choosing clothes that don't fit the receiver? Get the little ones these awesome graphic tees instead. T-shirts never go out of style, and they can last for a year or more, so they won't end up in the trash for years. (Even when the tee becomes too small or worn to wear, it can be donated or repurposed into another item.) These graphic tees from Australia are designed by in-house and independent artists, making the shirts instantly cooler.
Most importantly, the products are made from ethically sourced combed cotton for a guilt-free and exceedingly comfortable gift.
Arts And Crafts Supplies
There are countless ideas for arts and crafts supplies that you can gift. Paint supplies, coloring books and markers, stickers, beads, washi tape, and beads are just a few. You can keep it simple or get more extravagant. Arts and crafts supplies will help spark their creativity and keep them from getting bored of another old toy.
Books
We all know how important books and reading are. You can gift traditional paper books or go digital with audiobooks. Both are perfect when kids need a little downtime.
Tickets To An Event
We went to the Harlem Globetrotters every year as a kid and I enjoyed watching their fancy finger work, even as a non-basketball fan. There are several ticketed events to celebrate a special occasion! Sports games, Disney on Ice, kid concerts or plays, magic shows, and the circus are just a few favorites!
Memberships
An annual membership is a gift that lasts throughout the year. You can often get memberships to places like aquariums, zoos, museums, and amusement parks. The child in your life will love going again and again (and again)!
Food Non-Toy Gift Ideas
Snacks
Kids love to eat snacks! And most kids would love a basket filled with some of their favorite goodies. Add favorites like crackers, fruit snacks, juice boxes and applesauce, along with a new reusable bag or bowl. Extra bonus if they don't have to share with anyone!
Kitchen Items
Don't your kids always want the real item over a toy anyway? My daughter has a whole play kitchen filled with goodies, but she's always going into our kitchen to grab things like whisks, and measuring spoons. Your child will love helping you cook in the kitchen with their big-kid accessories.
Food Ingredients and Recipe
What child wouldn't want the promise of chocolate chip cookies or cupcakes in their future? Put all the ingredients together for one of their favorite treats, along with a promise that you'll bake together. They'll love the quality time they get with you in the kitchen. The yummy treats are just a bonus!
Outdoor Non-Toy Gift Ideas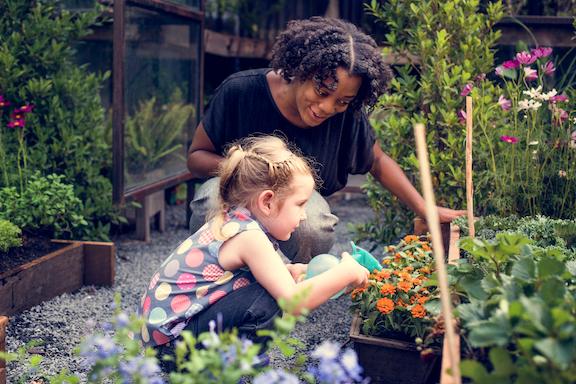 Garden Tools And Seeds
Help them plant a garden with their own gardening tools and seeds for kids. They'll have fun working in the dirt and watching their bounty grow. Include things like a watering can, gardening gloves, and some seeds they'll love. Make these actual (not toy) garden items that you can use together.
Bird Feeder And Seed
Gift a bird feeder and seed that they can set up in their backyard. It will be so fun for them to watch birds fly to their feeder and nibble away. Plus it will add a little whimsy to mom and dad's backyard.
Unique Non-Toy Gift Ideas
Workbooks
TinkerActive is an amazing company that makes super fun workbooks for kids. Many times kids struggle with math and science. Having fun workbooks that make it exciting for kids to practice in can help increase the love of these two subjects.  The TinkerActive MotMots are friendly, fuzzy creatures of all shapes and sizes that guide kids through each skill and project in a fun and effective way.  With its focus on tinkering, making, and engineering, these workbooks equip the youngest readers with essential STEM knowledge and skills, while teaching critical ways to engage with and explore the world. Workbooks are about $12.99 each and they last a long time. Not only are they just workbooks but they are fun and engaging with different activities that the whole family can do! Totally worth getting a fun and educational gift for the holidays.
Activities
Spend some quality time as you take them out to do something fun together. Things like mini golf, bowling, ice skating, laser tag, skiing, and the movies are great choices. Be a big kid for the day and play with them!
Subscription Boxes
Subscription boxes are a unique package, filled with different goodies each month. Some popular subscription boxes for kids include Green Kid Crafts, Amazon STEM Club, and Little Passports. There are craft, clothes, learning, and toy subscription boxes available so check to see what might interest your sweetie. This is a gift they can look forward to getting every month. Some popular subscription boxes for kids include Disney subscription box, Green Kid Crafts, Amazon STEM Club, and Little Passports.
New Room Decor
Update their bedroom or playroom with some new furniture, wall decor, or bedding. Kids love getting a little refresh in these areas to make them feel new and fun again.
Magazine Subscriptions
I used to love getting Highlights Magazine as a kid. It was such a highlight (ha!) when it came in the mail each month. Other great magazine subscriptions include National Geographic Kids, Babybug Magazine, and Ranger Rick. Even my two year old loves flipping through the pages of magazines so this is a great gift for any age.
Piggy Bank
Teach kids the importance of saving, no matter their age. Gift them a traditional or unique piggy bank. Fill it with some change or cash if you're feeling extra generous and get them started with their very first savings account.
Once you start thinking about what the kid in your life likes, it's pretty simple to think of some non-toy gift ideas that they would love to receive! And in the end, don't we want our children to remember Christmas as spending time together and creating traditions, anyway?
I received the item from momsmeet.com and compensation will be provided. This post contains also affiliate links and I may receive a commission, at no additional cost to you, should you purchase through one of my links. Please see my disclosure for more information