Every day for the countdown until Christmas I will be having guest bloggers visit my page and share some tips they have learned along the way in their motherhood journey. Be on the look out for our Guest Bloggers Series! 
For whatever reason, this Holiday season has been incredibly stressful in my household. And now, in the days leading up to Christmas, I find myself running around like an elf on the shelf with her head cut off (rough metaphor sorry) trying to figure out all of the last minute pieces to make this Christmas magical.
Maybe it's because we have my husband's family coming in town and I feel the need to make it look as if I have an orderly home, which I do not, or maybe it's because as my children are now getting a little older (3 & 4 years old), they a) wholeheartedly understand and believe in Santa and b) expect Santa to bring them his and her matching motorcycles and costumes from an obscure French cartoon which do not exist.
I've gently started to hint that Santa might have other wonderful, special surprises in mind, but they assure me this motorcycle and costume will be theirs. They have written to Santa at school, told Santa personally, and left Santa a voicemail on his hotline so Santa is very clear on their Christmas list.
Well, shit.
Now, my very rational left brain knows that none of these Holiday stresses are real stresses. The Christmas lists, the house guests, these are not real problems. I understand that. But lately, I've been feeling overwhelmed by all of this Christmas spirit. There is so much energy put into the gifts and the preparation, the things, and I'm left wondering, what is this all about?
My children have enough stuff. They don't need another costume or toy. They are very blessed, as am I, that we have a healthy family, a roof over our head, and full bellies. So as I've been trying to manage my existential holiday crisis, it dawned on me- I've lost my way. I've lost that loving feeling. I've forgotten what this time of year is all about – it is about joy.
As simple and hallmark-card-sounding as it is, this is a time to be joyful, to put our worries and stresses aside, and to find the peace, love and joy inside each of us, and share it with others. This is a time to take off our heavy adult hat, to put aside the to do lists, the bills, the worries, and to follow the lead of our children. It's a reminder to live in the moment, be happy, to be excited, and to feel the magic of this time of year, and even more so, the magic of life.
We begin the Holiday season with Thanksgiving, where we take time to express our gratitude, to give thanks for all that we have; and then, we move on to Hanukkah, Christmas, Kwanzaa, et al where that energy of gratitude can transform to joy. And finally, we take this gratitude and joy, and bring this new spirit, this new energy, this new you into the New Year, where we start our journey all over again with appreciation, peace, joy and love in our hearts.
So I realized that Christmas is an invitation to see life through my children's eyes. To enjoy the wonder, the excitement, the hope, and the joy. We all can remember what Christmas felt like as a child, right? The magic of Santa, the beauty of the twinkling lights, the feeling of inexplicable joy, and the belief that anything was possible?  We can feel that way again.
So on this Christmas Eve, I wish you all what I wish for myself, that you may experience the Holidays like a child. That you may feel the joy, and child-like innocence of this time. And that you forget for just a minute the responsibility of being an adult (ugh), and a parent (double ugh), and be as happy as a child on Christmas.
About the Author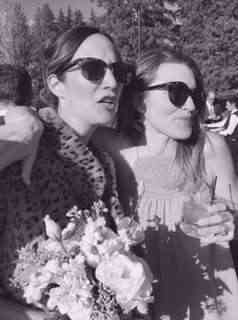 Susie Homefaker– Finding mindfulness in the madness of motherhood. 2 beachy dreamers/So Cal + So Flo. Wanderers and seekers welcome. Glimpses of sanity up on the blog. www.susiehomefaker.com and Instagram.