Let's face it; we are no longer strangers to the fact that today's multifunctional cell phones have become an indispensable tool in each aspect of our lives. These cell phones provide a way to communicate with anyone right at the fingertips. But despite this importance, it turns out they can also be causing harm when it comes to your family relationships.
Today, it's unusual to see a person who doesn't give in to a glance at their cell phone now and then. While cellphones are a handy device during these pandemic lockdowns, their excessive usage can be a barrier to relationships and quality communication.
If you wondered why your family relationships during Covid haven't improved, here is how excessive cellphone use could be a problem to relationships.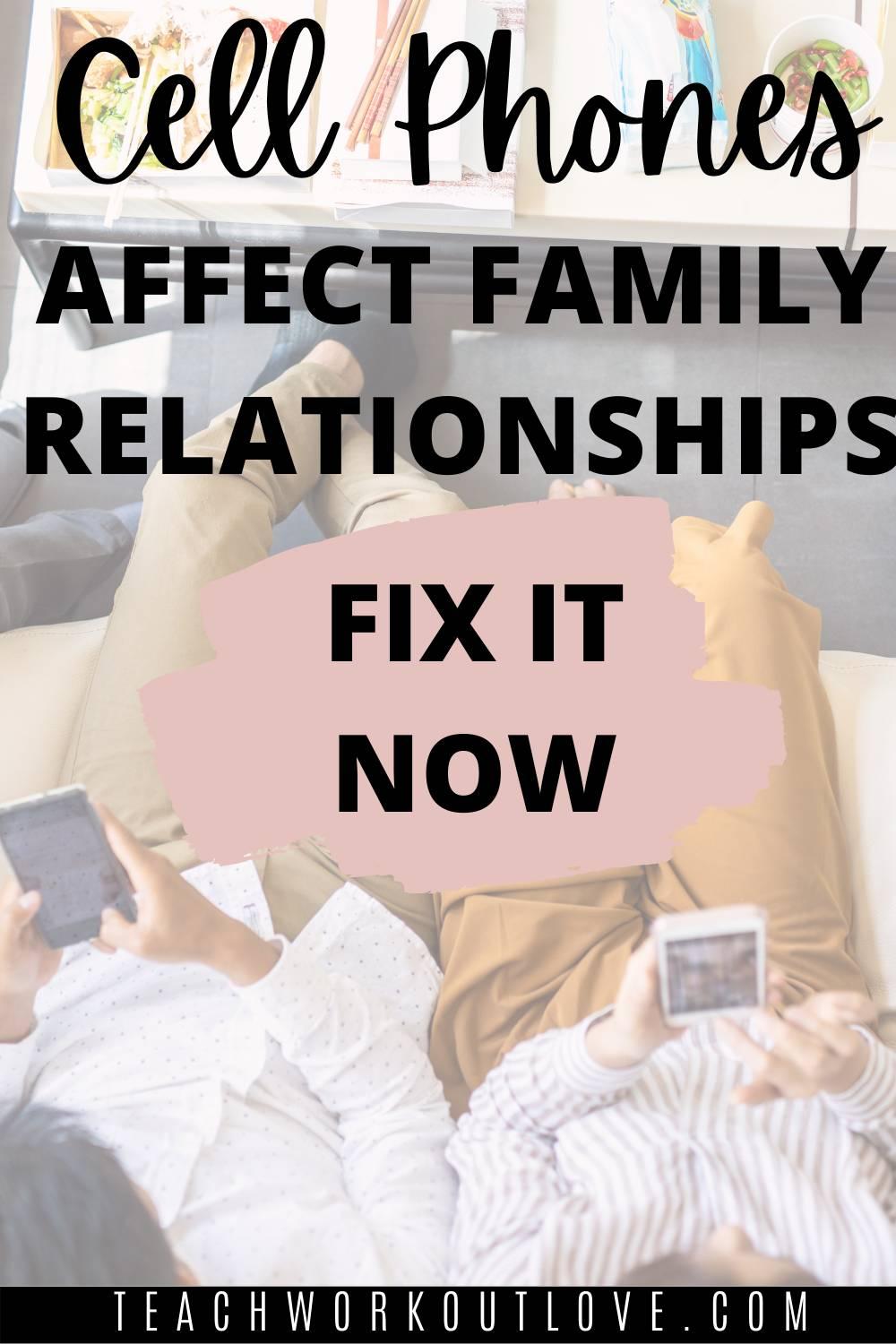 Too Much Cell Phone Use Cause Distracted Parenting
Responsible and focused parenting is considered one of the primary ways parents can build stable relationships with their children. Therefore, when parents are slightly distracted from executing their parental duties, family relationship problems begin to emerge.
When you spend time on your cell phone while with your children, you are not fully present for them, which risks them developing a host of emotional issues. The bigger problem comes into play as children learn and develop their behavior by watching others, especially their parents. This means your behavior as a parent strongly indicates what they may grow to know as the right thing to do.
Your children may grow to value their cellphones more than personal interactions and building relationships. This can have a significant effect on their family relationships, health, and social care. Besides that, your distracted parenting due to cell phone use will also result in your kids developing less positive interactions and poor child behavior.
Cell Phones Deny You Quality Time with Family
There is no denying that the mere presence of a cell phone negatively affects your real face-to-face interactions with other family members. This also explains the more decreasing cohesion in family relationships and the time spent together between parents and their children.
In modern family times, you'll usually find some good time to build relationships with your children, perhaps during mealtime. The tight work schedules and other daily commitments mean you can't spend the whole day with your kids at home. While this presents itself as a perfect time to bond and redefine the true meaning of family relationships, it may hardly be the case when cellphones are in the picture.
The prevalent behavior of using cellphones during family meals is a constant thorn in the flesh when it comes to sustaining good family relationships. It takes away all the importance of family relationships and individual wellbeing, resulting in little impact on this important family time.
Disconnects You as You Can't Make Some Time for Each Other
Cell Phone usage is time-consuming, but most importantly, it gets you addicted. This cell phone addiction will be exhibited in how you develop an interest in entirely everything regarding your phone while at the same time disregarding just having a minute with your child or spouse. 
As a regular phone user, you clearly understand how your phone will help in many aspects such as updating your Facebook status, checking your emails, taking notes, and receiving phone calls. While all of these are useful, there's a huge risk of getting hooked in and spending an unequal amount of time going through other unnecessary "stuff."
Doing this will make you lack time for each other, creating disconnection and eventually ruining the family relationship goals. Of course, there is always a place for using cell phones, but if you consider how much time you spend on your cell phone, you may as well understand why it's harmful to your family relationships and overall well-being.
Get Parental Controls ASAP
Another great idea for trying to fix the cell phone and technology issue in your home is to set some boundaries. The best way to set boundaries with technology is to get the Circle Home Plus. The Circle Home Plus helps families to manage their screen time and filter content on all Internet devices.
As much as we think as parents we don't have to monitor your child's iPad or cell phone, but these are the prime technology pieces to monitor. Circle helps you to monitor your child's device in and out of the home. This is key because usually you can only monitor from being close in distance, but this allows complete coverage. Set your own rules for apps and websites like Youtube, TikTok, Houseparty and many more.
Being able to download the Circle App, it helps you to customize different settings and features for each child's device. The most important one for me was setting age-appropriate settings on YouTube instead of just completely deleting the app. My daughter loves to watch a certain video but I want to make sure with the settings that she can't access anything else by accident that is not age-appropriate.
Also, you can completely turn off or pause the WiFi. This is key because if there is something that you really want your kids to do, like homework, instead of taking away their devices, pausing the WiFi means business! Being able to monitor screen time and filter content on all Internet-connected devices is a game changer for parents. Not only can you set it up on cell phones but also tablets and smartphones along with gaming consoles and smart TVs.
Save 20% on your purchase of a Circle Home Plus device + 1 year app subscription or Circle Home Plus device + Lifetime app subscription at momsmeet.link/circlehomeplusshop with promo code MOMSMEET2021. Valid until 10/15/21. One promo code use per person.
Creating False Relationships.
Nowadays, it's possible to see family members who live together texting each other rather than talk. This is very common lately; to an extent, most people are finding it more difficult to communicate effectively and build relationships. It's even making it difficult for parents to deal with their kids, causing a greater disconnection within their family relationships at home.
The fact about real family relationships lies in finding time to interact on a personal level. But, if you spend much of your time at work and, in that case, choose to communicate with your kids through texts or in a virtual world, it will become harder to create a loving and interdependent family relationship.
Many working moms find this hard to monitor their progress and build solid relationships as most of their interactions are based on cell phones. Therefore, learning to give and take is almost impossible without practicing face-to-face interactions.
Final Thought
The importance of working to increase the quality of family time and build relationships without technology should be a never-ending quest in every family setup. You can achieve this by setting time for families, such as family meals and quality time talking about each other's day free of cellphones. This will be key in bolstering personal interactions and creating healthy communications that are key components of modeling strong family relationships.
Since 70% of working moms agree that cellphones are the leading cause of broken family relationships in their homes, what is your take on the appropriate measures to curb this alarming trend? Share your thoughts in the comments.
"I received this product for free from Moms Meet (momsmeet.com) to use and post my honest opinions. Compensation for this post was provided and this page may contain affiliate links.