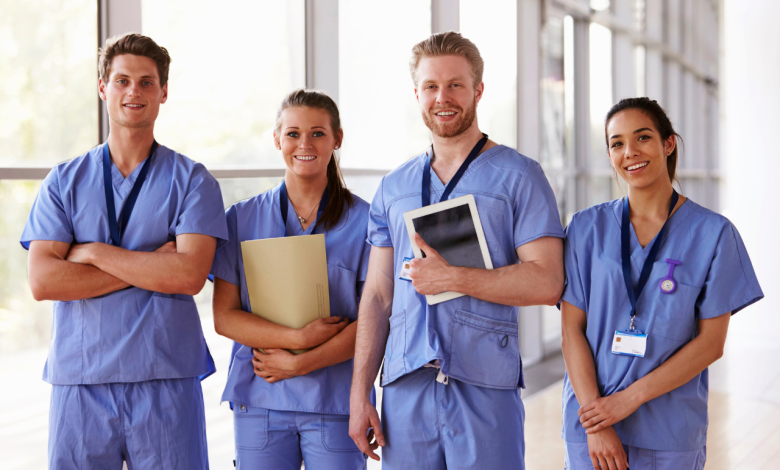 The healthcare industry all over the world is facing a crisis: a shortage of trained medical professionals joining the workforce. In the United States, we urgently need more doctors, nurses, and other healthcare professionals to help care for the growing population of senior citizens.
Because it takes years to train qualified medical staff, we urgently need to encourage people to enroll in educational degree programs so they can train to become healthcare workers. One of the best ways to accomplish this goal is to increase scholarships and grants that make career dreams come true.
How Healthcare Staffing Shortages Affect Society
Shortages and staffing inconsistencies in healthcare have devastating consequences. They affect everything from wait times to the quality of care people receive.
When people are unable to make an appointment with a healthcare provider within a reasonable timeframe, a lot can happen.
They might suffer from symptoms for months while they wait to see their provider. Their condition could get worse, causing them to need even more care and invasive treatments than they would if they'd been able to see a doctor quickly. They might have to go to the emergency room, resulting in higher healthcare costs, less consistent care, and longer wait times.
Shortages also affect the quality of care healthcare professionals are able to provide. They have increased stress, larger patient rosters, and less support. Because of this, they are often forced to cut corners and reduce the time spent with each patient. Errors are more common and chronic stress can lead to burnout.
These factors ultimately lead to poorer outcomes for patients and affect the health of society as a whole.
What's Causing the Healthcare Staffing Crisis?
There are several factors affecting the shortage of healthcare workers that's squeezing the industry.
First, people globally are living longer, which is good news. Improvements in nutrition, sanitation, and medicine have helped extend lifespans over the last century.
However, this means that the number of older adults with chronic health conditions is growing as well. We simply need more healthcare professionals to serve this growing population.
Second, lots of professionals are leaving the field for a variety of reasons. As nurses from the Baby Boomer generation age, they are retiring in droves, with not enough incoming nurses to replace them.
Others are leaving the field due to overwhelm, chronic stress, burnout, and poor working conditions. This is especially unfortunate, as these professionals have already made the investment of time and money to earn a degree in medicine.
Finally, educational and financial barriers are keeping many people who are interested in joining the medical field from enrolling in degree programs. They might have grown up in a low-income area with few educational opportunities or might struggle to afford to go to college.
The good news is that by emphasizing scholarships and grants, we can help address this last factor. Plus, bringing more people into the field of medicine will reduce the strain on existing workers and help to prevent people from leaving the field due to burnout.
Scholarships for Deserving Students
Financial assistance can help make the dream of working in the medical field come true. Scholarships, which help to pay for tuition and other expenses, are often established in honor of a person or foundation.
There are multiple types of scholarships that can be established, and they can all help attract students to medical training programs.
Merit-based scholarships are awarded based on academic merit. These can reward students who have strong academic abilities and have put a lot of effort into their studies. These students are likely to do well if they are able to go into a college program for medicine.
Need-based scholarships are especially good for helping students from underserved communities to get a leg up. These scholarships reduce the amount of debt that these students need to shoulder and bring much-needed diversity to college programs.
Program-specific scholarships can be especially helpful in building up the medical workforce. Some of these scholarships are available for specific schools and their programs, while others can be state-specific or degree-specific, such as nursing programs statewide.
Grants to Invest in the Medical Community
Grants are a bit different from scholarships, in that they are often given by federal and state governments and are typically established as an investment in the community or a type of project. Private foundations and organizations can also establish grant programs.
A grant might be given for a specific project, to students in the community, or even directly to an educational institution. They might, in turn, use the funds to improve their programs or provide direct financial aid. Types of grants include:
Tuition Assistance Grants
Research Grants
Project Grants
Innovation Grants
Teacher Professional Development Grants
Communities that want to invest in the medical community might offer grants to encourage more students to apply for a spot in local medical degree programs.
Strategies for Increasing Scholarships and Grants
Increasing the number of scholarships and grants is a simple solution to low enrollment in medical degree programs, but it can be difficult to implement and coordinate. Collaboration between educational institutions and healthcare organizations can help to increase funding and encourage enrollment.
Advocacy is another part of the puzzle. To increase grant funding and push through policy changes that will help increase the number of qualified medical professionals, people need to make officials aware of this strategy for reducing the shortage.
Increasing Scholarships and Grants Will Save Lives
While finding the money to fund these student aid initiatives is always a challenge, we have to face the fact that we need more medical personnel now, and action is needed to make that happen. We have the talent, we have the programs— the missing piece is funding.
Providing access to medical education changes lives for those who earn the degrees and the patients they serve. Student aid will help boost diversity within the field, increase access in underserved communities, and inspire people to build a career in medicine. By helping to make quality care more readily available, scholarships and grants can save lives.