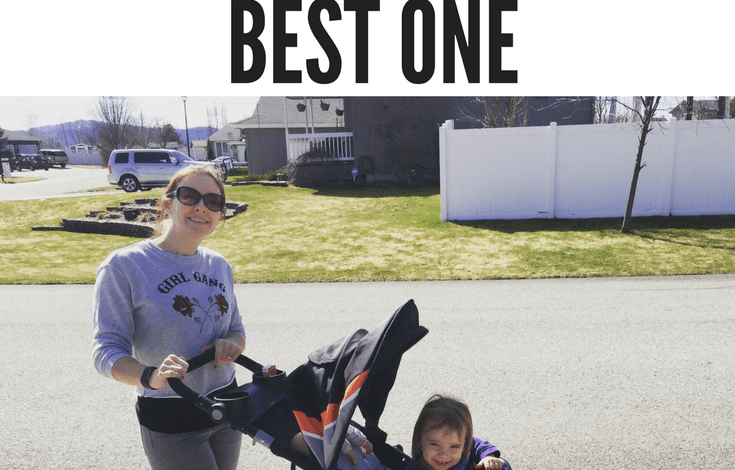 I always thought about getting a jogging stroller but I never saw the benefit in it. I always went with the cheap stroller that had no benefits but the fact that it was cheap. Last year we walked in a race called Bloomsday. Here in Spokane so many people show up to run and walk Bloomsday. It is a 7.46 mile run/walk and it is loads of fun! My husband and I walked it last year with our daughter and we used one of those umbrella strollers to push our daughter in it and after mile 5, she was not a happy camper. It was not comfortable. This year, we were starting to worry about how she was going to make it through the 7 miles!
I knew that our umbrella stroller wouldn't make it. It didn't even have a cup holder! I mean we had no places to even store a thing! I lost her sweater along the way because I had to tie it to the handle and it fell off. So that stroller wasn't going to work for either of us.
After doing some research, I discovered the Schwinn Interval Jogger. In comparison to my stroller, this is like the Mercedes of strollers. It is so incredible!!!  I can't believe for the past couple of years we were suffering with a regular stroller.
I had no idea how amazing jogging strollers were. I would always see them when we would bike ride on the trails and wish I had one but I never thought I would use it. This year being that we are 100% into fitness and working out as much as we can, it only made sense to get a jogging stroller so that we could go places outside of the smooth floor in the mall with the stroller.
After choosing the Schwinn, I wanted to tell you some of the benefits I noticed from the minute we put it together. Firstly, my husband put it together, and if you know anything about how my husband puts things together, you would know that he doesn't use the directions. Well, he was able to do it quickly and efficiently without the directions, which is an A+ in my book, so that I did not have to go back and fix it for him (like I did with Doc McStuffins X-Ray Machine!)
After putting it together, just look at the pictures! I mean, the basket!  The cup holder!!! The container next to the cup holder that has a lid that I can put my phone and music in! AMAZING!
Ok – enough about me. The stroller seat adjusts to your babies height and it can even adjust to have a car seat in added in there. That right there is a selling point for me, because I don't want to have to purchase another stroller just to add a car seat in. Great idea there.
Now look at the part for my daughter. She gets her own cup holder too! This is amazing because usually, my cup holder turns into hers! Also there is a place where if she had some snacks or toys she wanted to put on the little shelf next to the cup holder, she has room to do that as well. In my other stroller, there was no front part like that, she was just strapped in. The canopy that goes over her head which is so nice especially when we are running in the sun or a 7 mile race!
One of the best features is that it runs so smoothly. Hailey hated going over bumps because she would get all thrown around in the carriage and not be able to get comfortable. This stroller is so smooth that you don't even really feel any bumps at all. We do a lot of trail jogging and walking so especially the parts of the trail where the street is jagged, it won't even be felt anymore to Hailey. Perfect.
I honestly cannot believe it took me this many years to get a jogging stroller. But I will never go back! Part of being a fit mom and enjoying the outdoors comfortably is to have one of these strollers
After having to register for my baby registry as a first time mom and having no clue what to put on it, I wish someone had suggested this Schwinn Interval Jogger. I hope that after reading this and looking at the amazing pictures that you'll consider putting it on your registry like I wish I would have!
[this is a sponsored post in exchange for 100% honest review. visit my disclaimer page for more information.]