The first time I became pregnant, I wanted to do everything I could to have a healthy pregnancy.  I bought books about pregnancy, installed several apps on my phone, and read every piece of advice and instruction from my doctor.  But there was one thing I didn't do during my first pregnancy.  And I learned the hard way.
I didn't exercise or stay active. . .at all!
Even with all the healthy things I did during my pregnancy, this lack of activity and exercise caught up with me.  I gained more baby weight than I should have, I was much weaker, and I struggled to lose the baby weight.
In this post I share what I did and didn't do during my first pregnancy that contributed to my weight gain and tougher postpartum recovery.   I also describe how I did things much differently the second time around and how I learned from my mistakes.
Disclaimer- [The information provided in this post is my personal experience and opinion.  This post is not intended to replace your healthcare provider's directions, and is not considered medical advice. As always, consult your doctor or healthcare provider with any questions or concerns you have, especially when starting or changing any exercise routine.  Everybody and each pregnancy is different. So talking with your healthcare provider is best.]
My First Pregnancy
I think even though I knew it would be healthy for me and the baby, deep down I was scared to exercise.  Everything is new during your first pregnancy.  And while I knew exercise would be good for me and the baby, I was still scared I could  "mess something up."
Unhealthy Pregnancy Habits
No Regular exercise or activity:

I didn't exercise once my entire pregnancy.  The only form of exercise I had was walking up and down three flights of stairs to my apartment from the laundry room in the basement.

I didn't have a regular exercise routine in place

before

I got pregnant.  I was generally on the thinner side and only exercised occasionally.  This made it harder to be motivated to start exercising once I was pregnant and tired–in addition to lacking education about pregnancy exercises and modifications.
Pregnancy Misconceptions

I assumed my pregnancy weight would just "fall off" since I'd never had a problem before with weight gain; I'd also never had to 'work' at losing weight.

I had heard the saying "eating for two."  This misconception led to overeating of junk food and became an excuse to indulge in unhealthy food choices.
Eating Too Much Junk Food: 

My husband and I went out to dinner regularly.  I also ate boxes of Fruit Loops and other cereals constantly.  I thought pregnancy was a free-for-all to eat whatever I wanted whenever I wanted.
Inactive Lifestyle: 

I was only working part time during my first pregnancy, so there was no excuse for not staying active.  Even a walk around my apartment complex or a 20-30 minute workout several days a week would've been beneficial.  Instead, I enjoyed lounging on the couch using my pregnancy as an excuse to be lazy, and binge-watching show after show on Netflix.
Related: [Hospital Bag For Mom & Baby]: What to Pack
The more inactive I became, the more tired I was, and less energetic.  While I luckily had no other pregnancy complications or conditions, my doctor continued to warn me about my weight gain.  It was during my second and third trimester that my weight crept past the maximum they wanted me to gain for a healthy pregnancy.  And by the time my first born arrived, I had gained over 40 pounds.
How I Learned The Hard Way
These unhealthy habits caught up with me and I had a tougher time losing the baby weight, gaining strength back, and I experienced back spasms and knee pain from being so out of shape.
It was when I was three months postpartum that I realized one day that  I needed to make a change. . .and quickly.  I was slowly huffing and puffing up three flights of stairs to our apartment while my mother who's 30 years my senior, quickly carried my baby in the carseat up the stairs for me.    
I didn't want to continue this path of inactivity, weight gain, and continuing body ailments.   It would only become harder the longer I went without getting myself in shape.   Realizing that my little baby would soon turn into a lively toddler,  I wanted to be healthy enough to run around after him.  And the thought of going through another pregnancy while I was this out of shape and overweight? There was no way!
Because of how far I let myself go, I had vowed to myself that I wanted to lose all my baby weight before getting pregnant again.  And you know what? I did it! It wasn't easy, and was frustrating at times, but I didn't give up.  
There was no baby weight that just 'fell off.'
I wasn't one of those lucky breastfeeding moms who say breastfeeding helped them lose weight.  I even gained a few pounds the first few months of breastfeeding because I was hungry all the time!
With a lot of really hard work, regular exercise and a healthy diet,  it took me a full year to lose my baby weight and gain strength.  
Related:  6 Simple Steps To a Cleaner Home While Raising Toddlers
The Second Time Around
I was two years older for my second pregnancy, and I was over 35 years old (advanced maternal age); however, I was determined to do things differently.  I wanted healthier habits the second time around, and I didn't want to have to work as hard to get back in shape!
What I did differently
Regular exercise and activity:

 By this time,  I'd already been exercising regularly, so it was easy to keep this activity as part of my routine. I was able to modify certain moves during  barre classes.  On days where I just felt like staying home or I was tired, I'd go for a walk, or do a workout on Beachbody On Demand. They have a fantastic program called 'Active Maternity' that has prenatal and postnatal workouts. I love these because they are tailored to each trimester of pregnancy and postnatal recovery.
Healthier Eating Habits: 

while I still indulged from time to time, I didn't eat as much junk food, and made healthier snack and food choices.  
I didn't have the luxury this time to lay around during pregnancy and nap or watch TV.  So regular exercise kept me feeling energized and able to run around and take care of my toddler while pregnant.  Because of my healthier habits during my second pregnancy, I stayed within the healthy weight gain range.  I even gained 10 less pounds than I did the first time.
If you don't know where to start but want some info or tips on exercise during pregnancy, there are answers to some  Frequently Asked Questions about Exercise During Pregnancy in this article by the American College of Obstetricians and Gynecologists (ACOG).  
Stay Active!
If there's one important piece of advice I have for pregnant mamas, it's to stay active during your pregnancy.  
I had 2 babies within 21 months.  I gained and lost a total of 70 pounds between the two pregnancies.   Getting back in shape was SO much easier the second time.  I can't stress this enough.
It's possible to get back in shape after baby.  It doesn't have to be hard.
I wish I knew the first time what I did the second time.  But I'm glad I was able to change some habits for better.  They are healthier ones that I've continued even to this day.    After not exercising during my first pregnancy, I definitely learned the hard way. But I used what I learned and turned it around to have a much easier experience throughout my second pregnancy.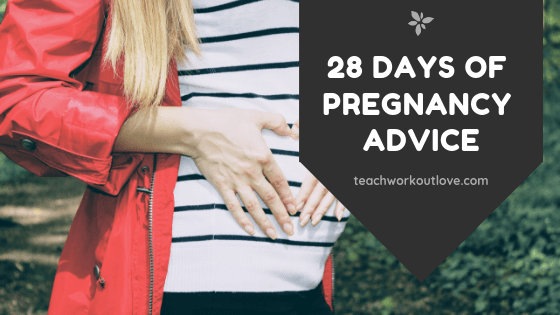 Ladies, you can do it!  Best of luck and cheers to a healthy pregnancy!
See Related:
You May Also Like:
This post may contain affiliate links. Please visit the disclaimer page for more information.