Looking good and feeling good don't always go hand in hand. Many people put a lot more effort into maintaining their personal appearance than they do their health, and these two areas can even be at odds in some people's routines. The cosmetics you use should never be a threat to your health, though; they should be supporting it. To help you out with this, this article will be exploring some of the best ways to tie your cosmetics and your health together. This should make it nice and easy to improve both aspects of your life without making compromises along the way.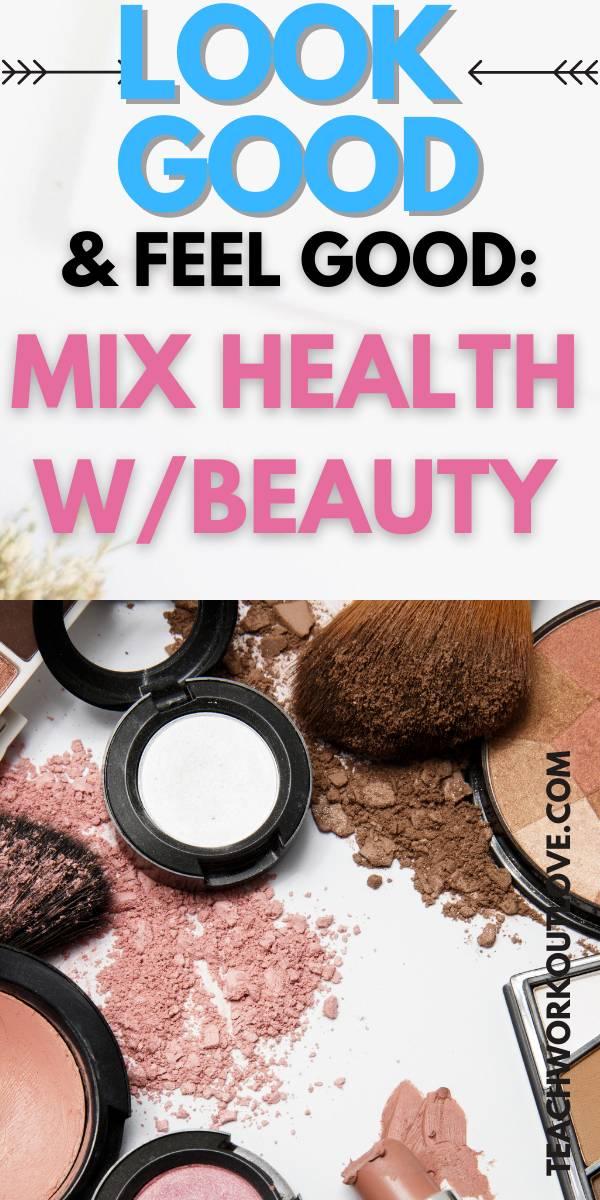 Focus On Natural Beauty
You are beautiful. This is a face, and there isn't anyone out there who can tell you any differently. You can use the beauty that you were born with to your advantage, using cosmetics tools to amplify the elements of your appearance that you love the most. This can sound like a challenge, but there are loads of guides and resources around the web that can help you to master this side of your life. It's likely that you will need to do some learning along the way, but anyone can make their natural beauty shine when they use the right products.
Health = Beauty
Most people look their best when they are involved in regular exercise and have a good diet. Eating the right foods and drinking plenty of water will make your skin clearer and reduce the signs of aging while getting plenty of exercise will help to tone and shape your body. Being healthy can be one of the easiest ways to make yourself look and feel at your most beautiful. Of course, though, this also comes with the benefit of improving your health, and this sort of effort will always be worth it.
Use The Right Products
Most people will want to keep some aspects of their beauty routine the same. It can be hard to break away from using products like makeup, and this makes it worth looking for other ways to improve this side of your life. Changing the products you use to ones that use natural ingredients can be a great way to do this. Using oatmeal in your skincare routine, for example, is an excellent way to make your skin look young and fresh without exposing it to chemicals that will damage it down the line.
While you don't need a degree in chemistry to make this work, it will certainly help if you take the time to do some research. You can learn about the different ingredients in the cosmetics products you use online. There are loads of resources that can help you with this, and it can be surprising to see just how many scary-sounding ingredients are actually just fine for your body. Much like with food, it's usually a bad idea to use cosmetics products when you don't know what they have inside them.

Follow The Right Routine
There are a lot of products on the market that make your beauty routine easier at the cost of your health. This can seem worth it when you are strapped for time, but it will usually be best to look for methods that take longer and do less damage when you are faced with this. While this can be a challenge, most people are able to achieve what they want with their beauty without having to use loads of products. This is especially important when it comes to things that go inside your body.
Shifting Focus
Focusing on natural beauty can be a good approach to take, but you may also find that focusing on your health rather than your beauty also works for you. Many people care more about keeping themselves in good shape, and this can give you good motivation to continue with your work when you are finding it challenging. Of course, though, you need to make sure that this will make you happy. At the end of the day, it isn't worth taking something out of your life if you will be unable to enjoy yourself afterward.
Overall
As you can see, melding health and beauty doesn't have to be a major challenge. Most people are able to overcome this struggle, working hard to make sure that they are able to keep themselves healthy while also looking good in the process. These parts of your life should never have to be at odds with one another.
This post contains affiliate links and I may receive a commission, at no additional cost to you, should you purchase through one of my links. Please see my disclosure for more information.