Being a working mom is quite challenging. In fact, being a mom alone is already exhausting – what more if you're building and maintaining a career, right?
Today, many mothers would agree that 24 hours per day is not enough. Time management is like a magical thing that only exists in a fantasy. Daily tasks, that would include spending quality time with the family, accomplishing work-related responsibilities, or even minding self-care activities like attending yoga classes and visiting weight loss clinics, are quite heavy loads to carry.
So, if you are one of these moms who would want to know how to manage schedules efficiently and effectively, these genius tips might help you!
Set Morning and Evening Routines
Routines are very powerful for busy people. When a task is already a part of your daily routine, it is normally not considered too heavy of a load to bear. Busy working moms attest to this, especially when it comes to their self-care activities.
You should note that taking care of yourself must be on top of your priorities and it should not come as a task for you. Try to set your self-care activities like exercises or yoga during morning or evening. Spare this time for yourself.
Involve Your Spouse & Toddlers
If there is a certain task that you cannot let go off, try to involve your spouse and your kids in accomplishing it. Aside from the fact that it could lessen your load, it will build bonds and ties in the family. Tasks like cleaning the house or preparing for dinner are great chores to involve your family.
You get to have quality time with them and you would all surely enjoy the company of having one another in finishing these chores.
Set Priorities
As a busy working mom, you would definitely say that all your tasks are your priorities. But, let's face it, there are certain things on these tasks that you need to accomplish first more than anything. So, in order for you to really maximize and manage your time, you have to set these priorities.
Try listing all your tasks or to-do lists for the day and pick the top 3 priorities that you need to finish first.
Photo by Jordan Whitt on Unsplash
Shop For a Week
Weekly shopping, especially for your meals, is the healthiest and most effective shopping schedule for you. Most moms would go for monthly shopping, and yes, it may seem time-saving but in reality, it's not. It would only limit your shopping activities and could cost you more.
On the other hand, weekly shopping can save you more since you would only purchase the things you would need for the week.
Separate Your Work and Motherhood Responsibilities
One of the best ways to manage your time as a working mom is to separate your working self to yourself being a mom. You should separate your work life from your professional life. And this is not only beneficial to your time management but also it could help you holistically.
Once you get home from work, make sure that you leave all your work-related tasks in the office. Conversely, when you come to work, you should leave your motherhood responsibilities at home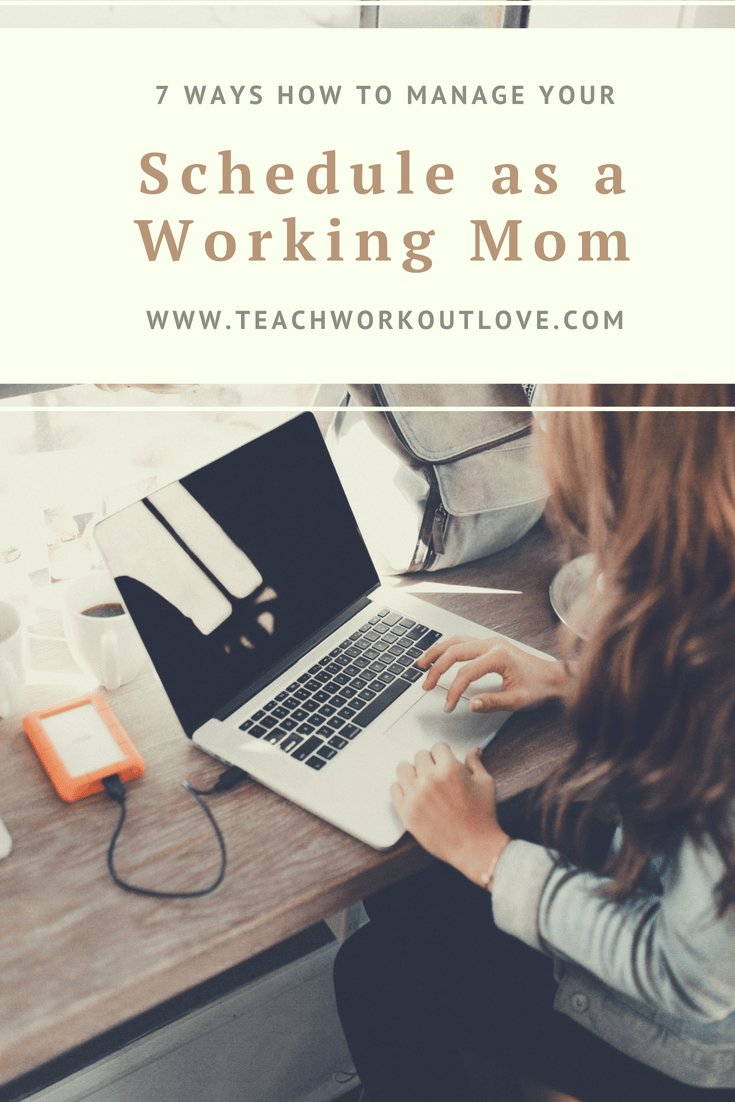 Put Everything In Its Place
When you are having a hard time organizing things, you must utilize the most appropriate tools and you must choose them wisely. With the right tools, you will be able to organize everything efficiently. For instance, you are making a list of your tasks, make sure that you put them all properly according to their respective priorities. This is a very effective way of managing your time as a busy working mom.
Prepare the Night Before
Making a to-do list is quite helpful but to make it more effective, try preparing your list the night before. This will allow you to think carefully about the things you should do the next day. Also, preparation is an important key in time management. When you prepare beforehand, you would certainly be able to handle things easily.
Now, being a busy working mom is not easy. Juggling your responsibilities won't help you since it would end up to having a chaotic schedule. So, if you really want to maximize your time and accomplish each task effectively, these genius tips will help you!
This post may contain affiliate links. Please visit my disclaimer page for more information.