Every day in February, we are celebrating the 28 Days of Mom Love with bloggers across the globe. Make sure to come back and check out our posts every day this month! Click here if you missed one! 
---
Being a mom comes with so many different responsibilities and challenges. Wondering if you are raising them correctly? Being too tough? Setting them up for failure in the future? While these are all possible, it is so important to remember that as mom's we have to remember we are good enough. Love and 'trying' is the most important thing when it comes to raising kids, even if you aren't perfect.
Another layer to being a mother is added when you are part of a mixed (multiracial) family. You have to navigate the challenges that being in an interracial relationship come with, the hurdles of raising kids that are going to (most likely) deal with issues you have no clue about, as well as learn ways to care for their hair and skin that you may not be familiar with.
These are all reason's I started Mixed Family Life.  To create a resource and go-to for parents to realize they aren't alone. It's ok to make mistakes. It's ok to be wrong. But what isn't ok is not trying. Research, learning, practice, messing up, and trying again are all parts of being a parent — especially a parent in a multiracial / transracial situation.
But what I want other mothers to know is that it is ok. Let's work together. Build each other up. Help each other learn from our mistakes and gain wisdom from them. You know what else? Even though you may have forgotten their lunch, or don't know how to do a straight part to save your life, your children love you. You should love yourself as well.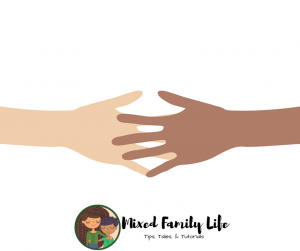 Now that didn't come easy to me. In the beginning I felt like such a failure because I didn't know how to care for my daughter's hair. But then I tried and the more I learned the more empowered I got. The more empowered and confident I was the more I was able to instill that into my children. When they were more confident in being their little selves, I was able to turn some of my focus back onto myself and remembering I wasn't "just a mom."
Being a mom is one of the most important labels I will probably ever have in my life, but when I started my blog and started writing again, I remembered who I was. Now I can focus on learning and trying things for myself AND my children. When we do that we become even better mothers and partners.
Photo by William Charls
What is the point of everything I am saying? Basically, being a mother is tough but so rewarding. Being a mother in a multiracial / transracial family adds even more layers to parenthood. Find your community, keep trying, and love yourself.
Thanks for reading! Love yourself today and every day.
Photo by City Lights Studio
 Hi, My name is Nicholette, and I am the mom behind "Mixed Family Life."  Hair care can be a cultural barrier, so how does one do the hair of multiracial children?  As the white mother of two mixed kids, I felt it was my responsibility to learn how to properly care for their hair.  This personal pursuit led me to share what I've learned through my blog where I provide tips, tricks, and product reviews so that other interracial parents don't have to make the same mistakes I've made.  I also share stories, anecdotes, and lessons learned through parenting.  Join me in our goofy adventures and learn some hair tips along the way.