Mothers tend to have to take the grunt of everyone's emotions every day. If the husband isn't fine, mom takes over and makes it better. When the kids aren't okay, mom steps in and helps to make them feel better. Then mom is not well, who steps in the help her be better? Usually no one. This is a huge problem with families where moms don't reach out for help when needed. And not just the "please load the dishes" kind of help. Mental health is something that we moms always brush off with a "I'm fine" when we really aren't. This article will share important tips about dealing with mental health as a mom.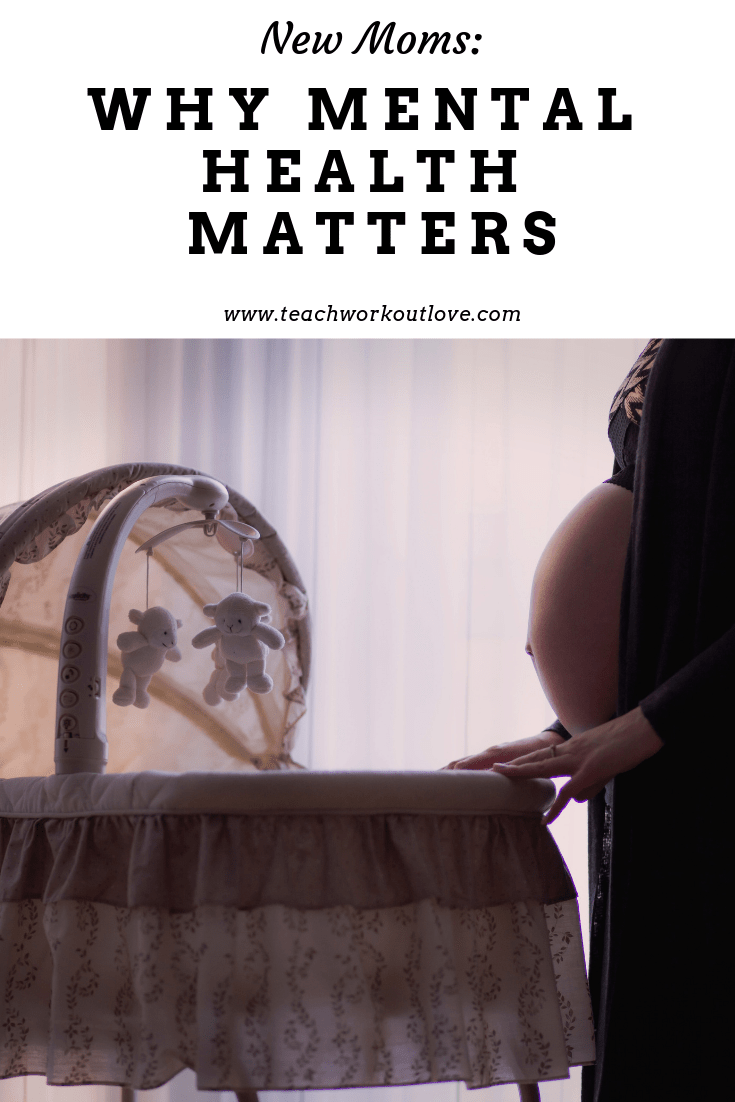 Over 25% of new mothers – over 1 million women a year – suffer from depression, anxiety, obsessive-compulsive disorder, panic disorder, and post-traumatic stress disorder following the birth of a child. And that's only the women who feel comfortable enough to come forward; we can only imagine what the real rates are."
It's okay to be sad
Many new moms experience anxiety and depression during the first few months of their child being born. This is a combination of lack of sleep, complete change in environment, disappearance of friends and lack of support. The combination of all these things can really decrease a mom's mental health.  Moms believing that they have to do motherhood alone causes postpartum depression.
When a mother's mental health is going down the tubes, it is important to suggest talking to someone. We always are trying to do too much and forget about ourselves. The mantra that moms are strong, and everything will be fine has brainwashed us into forgetting about our own mental health. Therapy and counseling can really help a new mom during this time.
You are not alone
Feeling alone as a new mom is not uncommon. It is even more common than you think. Nearly 80% of new moms experience some sort of baby blues. Many moms feel that since they are the mother, they are the sole provider and won't allow any help with the baby. At the same time, motherhood is a huge transition in life. You are learning about your new life and your new child and everything is uncertain. There are so many options for women out there, so knowing that you are not alone is extremely important. A great quote from MIMC:
"When mental illnesses are left untreated, they can become chronic and ongoing. What this means is that years after having kids, moms can still be struggling with depression, anxiety, obsessive thoughts, insomnia, and feelings of guilt, rage and sadness. This not only impacts moms' mental health, but their physical health, too. Failing to treat mental illness means moms stay sick. This impacts families and communities' long term."
Reaching out to other moms and community members can be helpful for a new mom. Having other moms that you can talk to, whether they are your friends from before your baby or not, is also important. Being able to connect and relate to others in the same situation can help one deal with it much better. You are not alone.


Seek help when necessary
There are many symptoms that go with postpartum depression. But there comes a time when it might be a more than just that. Postpartum depression can be seen or felt as:
Unable to function
Crying all day everyday
Being overwhelmed for longer than three weeks after delivery.
Tired all the time
Crying or sleeping more than usually
Feeling afraid of your baby
Can't enjoy your baby
Feel intense rage
Troubled by thoughts of your baby being harmed
Withdrawing from normal activities
Feeling like you are lost
Think about harming yourself
"For example, all new mothers cry. But if you cry all day, for many days, and are unable to function because you are crying too much, that's different. It's not what you are feeling, necessarily. It's how often you feel it, how long you have been feeling this way, and how much it impedes your functioning."
If you are still experiencing these symptoms more than 2-3 weeks after delivery, it is no longer considered baby blues. Even if you think that you can handle these feelings and are not convinced that you are having postpartum depression, talk to your doctor. Taking care of your mental health first can help everyone around you, especially your baby.
This post is sponsored and may contain affiliate links. Please visit the disclaimer page for more information.