When you think that nothing could be trickier than buying your significant other the perfect Valentine's gift, think again.
Your kids will appreciate something that can help brighten the past gloomy winter months. Kids can now indulge in a variety of activities and experiences that they will truly cherish until they grow up. These activities nurture their talents and skills in art, reading and comprehension, financial literacy, visual appreciation, and socialization. Besides, toys should not be for entertainment only but also as an expression of oneself. 
Below are some non-toy Valentine's Day gift ideas to give your kids if you are not keen on giving them toys, yet again.
1. Magazine subscriptions
Magazines are the perfect non-toy Valentine's Day gift and portal for kids to channel their wild imagination. With colorful illustrations on glossy paper, children cannot help but be mesmerized.
Kiddie magazines like BabyBug, Ranger Rick, Cobblestone, and Click piqued the interest of kids from two decades ago. There is no reason that today's youth will not enjoy it just the same.
Subscriptions to magazines is also an effective way for children to value their possessions. It can also lead them to start their own collection ‒ something that they can be proud of in the years to come.
2. Personalized growth chart
No need to visit the pediatrician every so often for children to experience fun-filled growth charts. You can customize these charts with beautiful designs so they can have fun while measuring their height.
Post their growth charts inside their bedroom or in the playroom. Keeping track of their growth inspires them to keep healthy. It serves as a milestone tracker that they want to excel on repeatedly.
These growth charts eventually become mementos from childhood that is a good place to tell stories.
3. Printables
Another non-toy Valentine's Day gift is printable. It's a fun and precious bonding activity for kids and parents. All you need is a printer with ink, paper, glue, and scissors. In fact, free printables for kids are practical ways to nurture your child's artistic personality and curious mind.
Let your children create and customize their own growth mindset journal using these printables. Allow them to express themselves through art. Let them be comfortable with you while they do some work.
This is a perfect time to brainstorm ideas and review each other's work. And do not forget to take pride in your child's work.


4. Child-sized chair
Have you noticed your child acting like an adult? Chances are they are not only imitating but also aspiring to own similar things as you have.
Child-sized furniture like tables, chairs, and bookshelves, to name a few, are ideal gifts for the miniature you.
Gifts like these teach children to become more organized with their stuff. A kid-sized chair fosters independence and a sense of responsibility. It helps to tame kids who seem unable to stay in one place.
Overall, child-sized furniture inspires children to behave accordingly.
5. Movie ticket
When you are planning to give a non-toy valentine's day gift to your child, a trip to the movie house on is definitely an irresistible offer. Kids see a whole new different world when they watch children's movies. It is their happy place and it keeps them entertained for hours on end.
Apart from the stunning visuals, movies leave moral stories about friendship, overcoming struggles, and love for the family.
Whether it is in the cinema or in the living room, watching movies is another child-friendly gift that allows you to share precious time with the kids. Not to mention that it is also a great opportunity for you to teach them some life lessons.
6. Photobooks
Most children love taking pictures of themselves. They love sharing the camera with their playmates and siblings. These memories are worth treasuring, and what better way there is than to keep it in photo books.
Spice up these photo books with Valentine's-inspired templates. Grown-up kids would love blank canvases which they can customize with stickers, beadwork, and photo collages.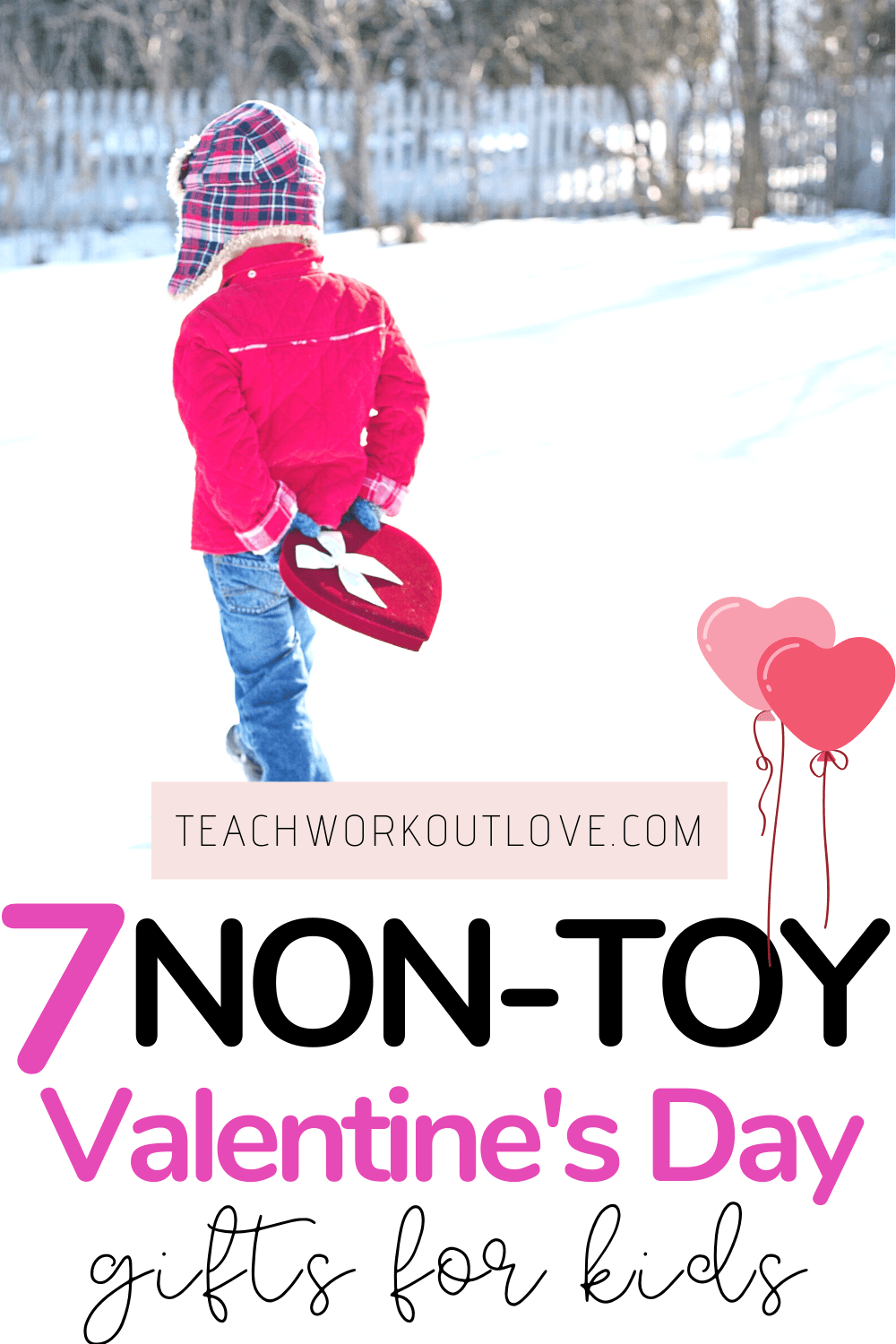 7. Piggybank
Instill the value of saving money even at a young age when you gift your child with a piggybank.
Piggybanks never run out of style and it has always been a choice as a child-friendly gift. You can make it an enjoyable activity for your kids and the entire family by setting up challenges.
Set a goal as to how much your kid would like to earn by the end of the saving period. Alternatively, he can choose what denominations to keep. Identify the purpose of saving whether it would be for travel, a new computer, a summer class, new shoes, etc.
Wrap Up
Although your kids would expect something special this Valentine's Day, their gifts need not be toys.
Studies have shown that kids with fewer toys are generally happier and more creative. It makes a whole lot of sense because children with fewer toys are less distracted and more patient.
While toys are fleeting, memories from experiences can last for a long time. Time spent with their parents doing new activities is valuable to children. It improves their emotional intelligence and self-confidence.
This post contains affiliate links and I may receive a commission, at no additional cost to you, should you purchase through one of my links. Please see my disclosure for more information.