Fitness entrepreneurs are often somewhat different from many other entrepreneurs, even slightly, because they often have to embody the lifestyle they're promoting, or at least they do if they're the face of their business. However, it's also true that like the beauty industry, fitness entrepreneurs can find themselves making false promises, edited pictures, and somewhat overstated results to convince people that their way and their product is the best.
Does this mean encouraging marketing is a tool you shouldn't use? Of course not. However, it's also true that fitness brands do bear social responsibility, and if you feel a though you're going to pursue a career in this direction, it's worth knowing what those are.
Of course, we don't make this point to chastise fitness influencers or entrepreneurs, in fact, these people regularly inspire people to seek change in their lives and can sometimes even measure their impact on people in wholly positive terms. In this post, we'll discuss the social responsibilities of fitness brands, and what we as fitness hobbyists would like to see.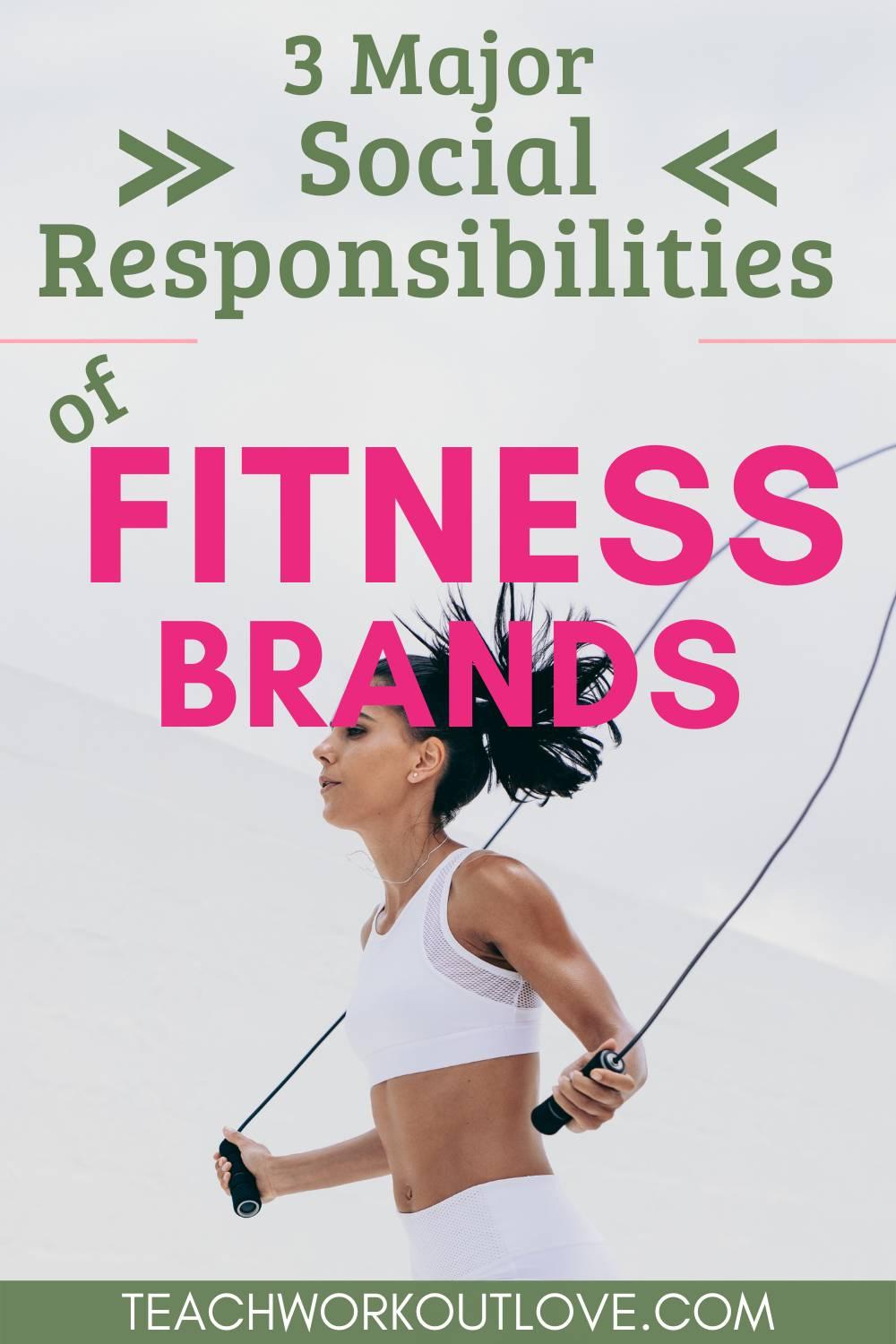 Social Responsibilities of Fitness Brands:
Inclusion & Accessible Motivation
It's quite clear that inclusion and accessibility is its own reward, but fitness brands indeed need to focus on it perhaps more than most.
Why is this?
Because fitness can often seem prohibitively discouraging if we're not absolutely clear that those who aren't fit, those who are overweight, and those who are starting from the very bottom are totally welcome too. This might involve making sure your fitness equipment (like weightlifting belts) are available in larger sizes, too.
Always Adhere To Proper Technique
To help their audience focus on good fitness habits is one of the social responsibilities of fitness brands. If you're selling a piece of fitness equipment, for instance, you should be careful about instructing your audience regarding how to use it and what that means for their form. If you can achieve that going forward, you're much more likely to help them avoid injury and use your platform more safely.
This might involve investing in printed or video educational materials, but if it prevents even one person from injury, it's worth your time. Remember that exercise is physical to this degree. Of course, proper technique can involve more than just talking about form, such as emphasizing other important wellbeing protocols, such as using COVID-19 APIs to help your audience stay safe.

Don't Lie Or Overpromise, Influencers Can Be More
Lastly, it's important to make sure that you do more than standard fitness magazines or other false advertisers. For instance, instead of showing off perfect bodies and continually making sure that people think they have to be perfect to be fit, celebrate those who might not have the perfect frame, or who may have stretch marks and loose skin, or people who have lost weight from being morbidly obese to now only obese.
This can help you show that fitness is for everyone, and you will have a real social benefit in that way, motivating people through love and possibility rather than shame and insufficiency.
With this advice, we hope you can curate your fitness brand in the best possible way.
This post contains affiliate links and I may receive a commission, at no additional cost to you, should you purchase through one of my links. Please see my disclosure for more information.