One of the things that irritated me the most about pregnancy (besides the raging hormones, growing waistline, discomfort, trouble sleeping, etc.) was the stigma that since I was pregnant, I could no longer exercise or workout. It is important for pregnant women to stay fit during pregnancy!
When I discovered I was pregnant with my youngest son, I was in the middle of training for a half marathon. I got the clear from my midwife after an initial physical to keep training for my half marathon as long as I listened to my body.  I was also told it was vital to stay fit through pregnancy.I estimate I was about 5 or 6 weeks pregnant at this time.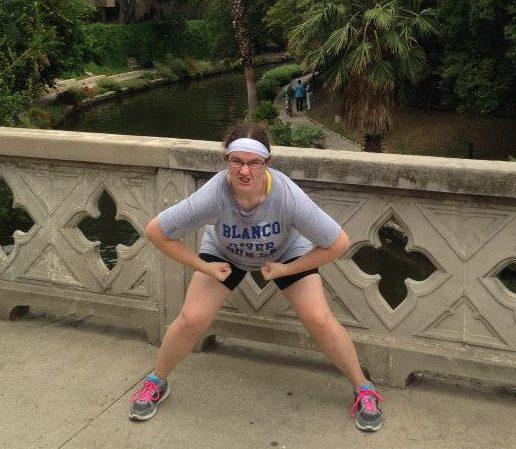 Scheduling Workouts During Pregnancy
My workout schedule BEFORE pregnancy was running 3-4 days a week, lifting weights 3 times a week, yoga once a week, and cross-training such as biking or the elliptical machine 2-3 times a week. I was a workout machine!
What I decided to do was to stop increasing my weekly miles and to keep them at 30 miles a week. I also decided to pull back my weightlifting a bit due to the relaxin hormones that were now surging through my body.
So, for the first trimester, I kept running 25-30 miles a week. I did my first 10K at 7 weeks pregnant, which also was the first day I had morning sickness! My race started with throwing up all over the pre-registration area, but then I ran/speed-walked those 6.2 miles without much difficulty. I did end up missing my next 10K the next month because I had pretty nasty morning sickness. Morning sickness had hit hard and I felt sick the day before and the morning of and didn't feel like riding in the car. I would have been fine running, but I got pretty motion sick during that pregnancy.
Baby and I kept going to regular midwife appointments and everything was fine. I made sure to eat enough and to listen to my body on the days that it was telling me to slow down. Baby was doing just fine as well. My first Ultrasound was at 12 weeks and everything was going swimmingly. I ran/walked an easy 5 mile Turkey Trot the day after my ultrasound and it was a very enjoyable race for me. So far, staying fit during pregnancy was going very well.
Running a Half Marathon While Pregnant
My first half marathon was at 13 weeks pregnant! I was definitely showing at this time, and definitely already feeling pregnant. My goal was to just FINISH the race. I ran most of it, walked when I needed to, and I had to take one time out to adjust my pregnancy belt. This is one major tip I have for any pregnant athletes. WEAR THAT PREGNANCY BELT! Being able to run during my pregnancy helped me to stay fit during that pregnancy.
I was afraid of how my friends and family would react to my running a half marathon while pregnant.  To avoid this, I didn't even TELL anyone I was pregnant until I was almost 16 weeks and couldn't really hide it anymore. Everyone was SHOCKED that I had just completed a half marathon and had every intention of continuing my workouts through my second trimester.
Baby kept doing great and I was gaining the right amount of weight and passed all of my prenatal tests with flying colors. I did start cutting down my workouts as my belly got bigger and my ankles got bigger. It was uncomfortable, but I kept running 20 miles a week and lightly lifting a couple times a week. I also did yoga nearly every day. Finally, I picked up an extra elliptical workout a week to compensate for my running less. The elliptical workouts were much easier on my joints and back at this point, but still enabled me to stay fit during my pregnancy.
30 Weeks Pregnant and Still Running
I ran my second half marathon at 30 weeks pregnant. I actually ran better than I did at my first one in spite of being VERY pregnant at the time. People couldn't BELIEVE I was running with a practically-grown baby inside me. I just told them I was doing my best to stay fit while pregnant!
The week after my second half marathon, I was forced to stop running because I got a sinus infection and then the stomach flu. The whole house got it… I'll tell you what's fun… being 31 weeks pregnant with a 2 year old and having the two of you, as well as your husband, all projectile-vomiting at the same time. On top of all of that, I started having debilitating panic attacks.
My midwife and I have no idea why the panic attacks started but agreed that it was time to stop running. I still did yoga and some very light weight lifting, but I was VERY sick for about 6 weeks. I lost weight because I couldn't keep anything down except for basic homemade chicken and vegetable soup. Fortunately, my baby stayed okay as he was living off of my reserves. I was the only one suffering, thankfully. The reason I stopped running was because of the sicknesses, not because of the pregnancy. I would have kept running/waddling or at least walking through the end of my pregnancy if I was able.
By the way, my son was born and he was perfect. I was still a mess for a couple of months, but eventually recovered.
Pregnancy Advice
Now, here's my advice to pregnant women. It is IMPORTANT to stay fit during your pregnancy. That being said, pregnancy is not the time to START an intense exercise regime. It's okay to CONTINUE one with your doctor/midwife's advice and observation/monitoring.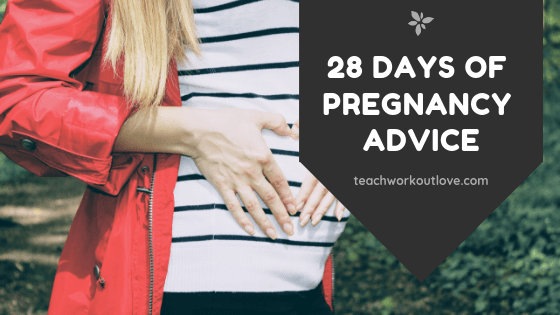 It's better to keep active and fit through pregnancy. If you weren't doing any exercise before being pregnant, start walking. Try swimming. Start doing low-impact exercises. This keeps your blood pressure and weight better under control. You can lift light weights if your doctor says it's okay. Yoga is also a great thing to do while pregnant. Be aware there are some poses you shouldn't do while pregnant, including inversions and severe twisting positions. A good yoga teacher will know how to make accommodations for your pregnant self!
If you are exercising while pregnant, make sure to eat enough calories. Unless you're severely overweight, you should not try to lose weight while pregnant.
Most importantly, make sure your doctor/midwife knows what kind of workouts you are doing and is monitoring you and your baby very well.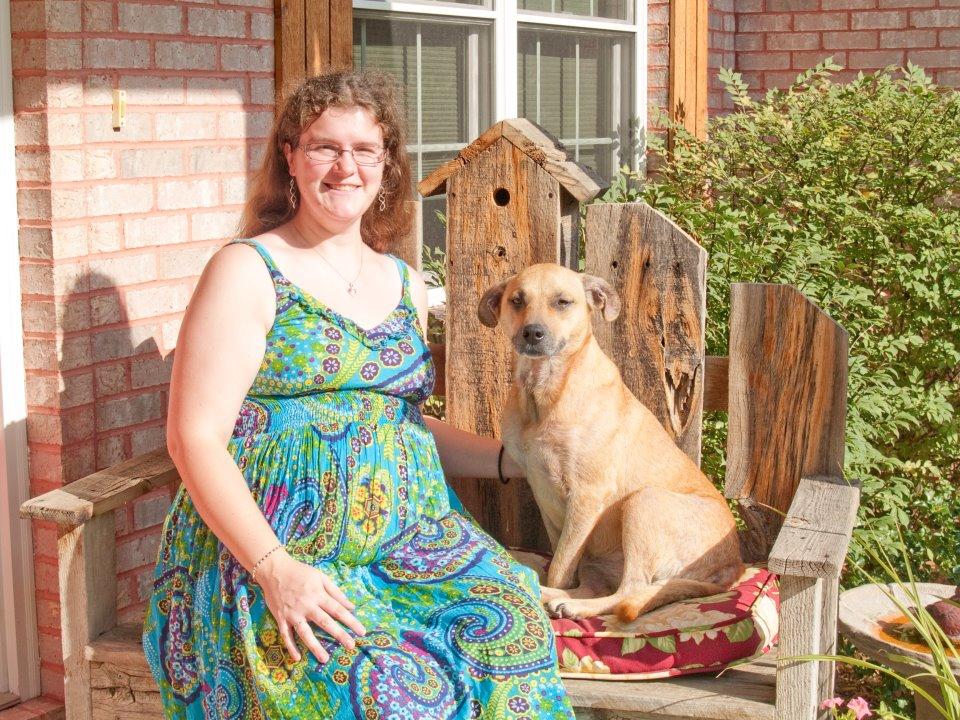 Final Thoughts on Staying Fit During Pregnancy
I'm most likely DONE having babies… If I were to get pregnant again, I'd definitely stay fit and keep exercising throughout the pregnancy as long as baby and I stayed healthy. I definitely got weird looks and snarky comments when I was very obviously pregnant and running or lifting weights. These didn't faze me because I knew I was doing what was best for my baby and me!
Good luck everyone!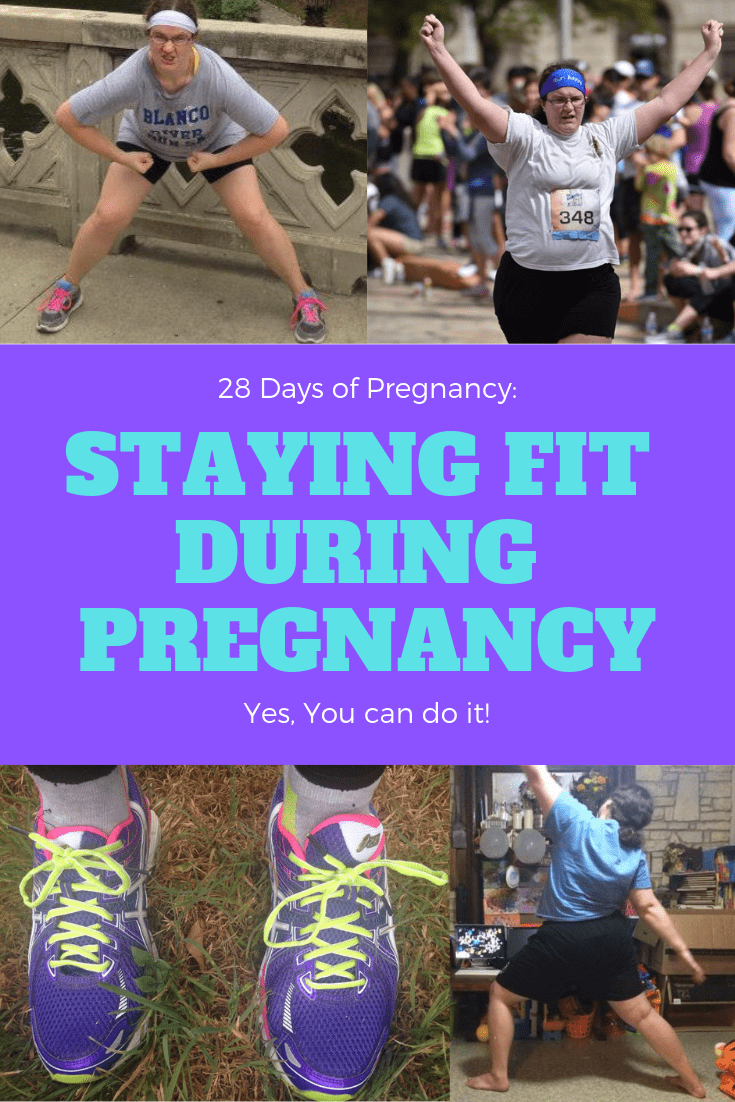 This post may contain affiliate links. Please visit the disclaimer page for more information.