Supporting small businesses in a local community has always been a passion of mine. Before becoming a teacher, I would always shop and work at local mom and pop businesses. With my blog, I have provided local businesses here in Washington a way to share out their business and what inspired them. Check out this beautiful espresso shop:
Description of the espresso shop:
The Post and Office is a small espresso shop that serves coffee, pastries, soup and grab-and-go items. We are located in Harrington, Washington, which has a population of about 400 people. Our espresso/coffee shop was based on a need for a place for people in our community to gather and connect. It was purchased and restored an old brick building in the downtown district which had been unused for many years.
The espresso shop began with updating the storefront with new windows and doors, keeping things as close to original as we could. The goal for the shop was to look fresh, clean and inviting as people drove by. On the inside we used repurposed wood from local barns and a dilapidated school house to build tables, doors and replace flooring. Using these local items helped us to tell a story with our space that related to people and places within our own community.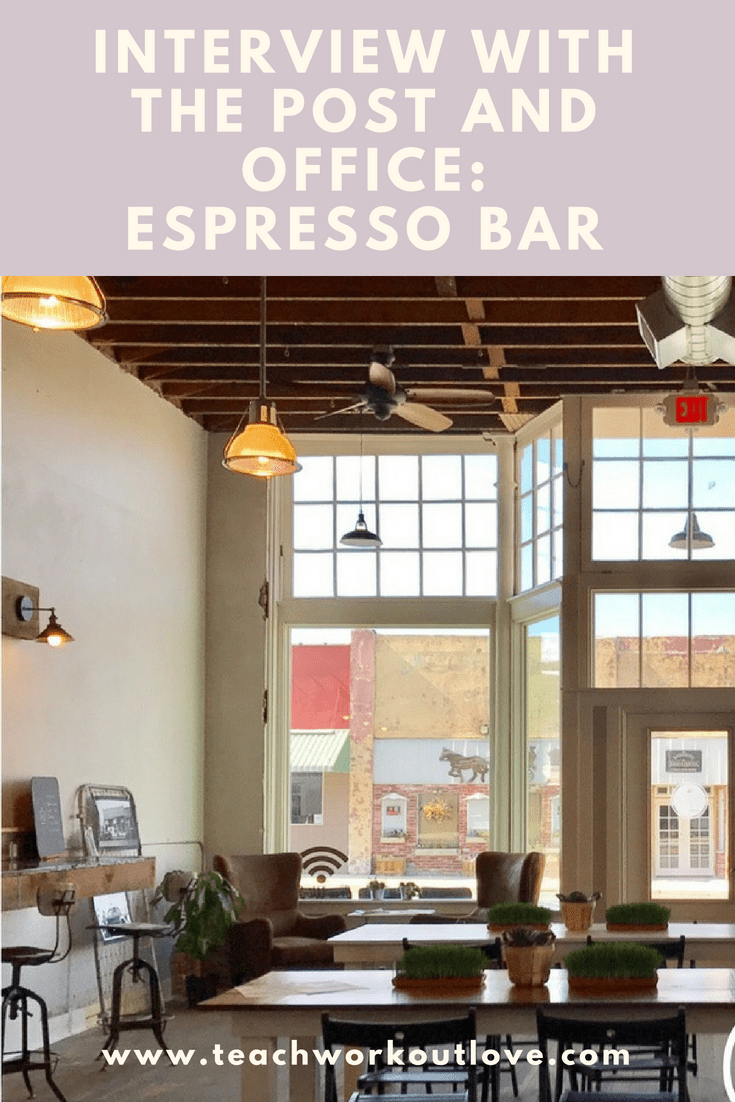 What is the most important piece of your business:
The community is the most important piece of our business. We created a space for people to come together, connect and enjoy each other. This is what it's all about for us. My husband and I moved our family from Seattle to Harrington about 4 years ago. We wanted a slower pace of life and a small, strong community to raise our kids in. This town is wonderful and when we saw an opportunity to create a gathering place for people we jumped on it.
Post and Office offers coffee and food during the day, hosts Chamber of Commerce and local Agriculture meetings monthly and offers fun DIY craft classes in the evenings. It offers a little something for everyone, creating a warm and inviting space for all kinds of different activities.
Give some recommendations to moms from your perspective:
My recommendation would be for moms to model hard work, risk and pure joy to their kids. Show them what it means to set a goal, work hard and evaluate success. Kids need to see firsthand what it means to jump in, feet first to life. They love to see people they know (their parents) work hard and reap the rewards. Life lessons are the best lessons!
What mindset change you had after you began your practice:
I have grown even more aware of how much we use technology to communicate rather than taking face to face. In our shop, I am able to see the joy on people's faces when they run into an old friend or meet a new member of the community. It is a wonderful feeling to see people enjoy each other!
Post and Office also sees what it's like for people who grew up in this community, moved away and are now coming back to see a new business in an old building on the Main Street. There is a strong sense of pride around here and it's fun to see the excitement over the next generation of Harrington.
How can people start this same journey?
I would encourage people to take a risk, put yourself out there. We didn't know how this community would react to our shop. Since we were new to town, that put us in a different position from the long-time farm families that are the foundation of the community. We had no idea if we would have 5 customers a day or 50. There is only 1 other retail business in our town and that's the grocery store. There was nothing to compare our coffee shop idea to so the risk was very real!
Our goal was to cover our costs and to offer a gathering space. So far we have succeeded with that and have taken one month at a time! Each season is different and we are learning as we go. But the greatest joy is the connections that each of our customers make when they come through the door.


Find Us On Social Media:
Instagram: @thepostandoffice
Facebook: ThePostandOffice