It can be challenging to find a time or ways to bond with your child when you have to work 40+ hours a week. And the way things are going, it seems like 40 hours is a minimum. Meaning you have less time to bond with a baby than ever before.
This is especially true for those people where mom/dad is a stay at home parent and there is only one person bringing the money in the household.
I discussed a few ways to bond with your baby in mom's belly in a previous article. Some of those ideas hold true outside of mom's belly as well:
letters/emails/videos: this is just a continuation of what you have already started doing.
Appointments: similar to before baby was born; however, now it's seeing the pediatrician, not the OB/GYN
Photos: again, now that baby is born, it's slightly modified from taking pics of mom to taking pics of baby and baby with mom.
Making decisions: moving past making decisions on circumcision, time off of birth & what

breast pump

to continually monitoring the doctor situation (if things feel off with your pediatrician, make a change), immunizations, feedings (if mom is struggling with breastfeeding, help her make the decision to go to formula. Don't make her feel trapped into breastfeeding), if you should look for a new daycare
Now that baby is outside of mom's belly, there are a few additional ways that you can bond with your baby. Regardless of the amount of time you have, you should be able to find some way to bond with baby.
I don't get very much time with my daughter throughout the week; however, I have found ways to bond with your baby when she isn't around or is sleeping.
My situation
My daughter goes to daycare 3 days a week and goes to my parent's house the other 2 days. It makes it difficult to find a time, while my daughter is awake to bond with her throughout the week.
We wake up between 6-6:30 am every day, I need to get ready for work, and we need to be out the door by 7:15 am so I can drop my daughter off at daycare and make it work by 8 am.
That schedule doesn't leave much time for me to bond with my daughter before we leave the house.
When I get done with work at 5 pm, I come home and get about 30-45 minutes with my daughter before she goes to bed. Again not much time.
As my daughter gets older and is able to start moving around and is more active, it makes it especially difficult to not be around to see those moments (talking, rolling over, walking).
So in order to feel like I am not missing out on everything, I have come up with some ways to be able to bond with my daughter.
Photo by Joshua Rodriguez on Unsplash
Diaper Duty
I know this isn't the most glamorous of jobs but it's a necessary job. And it is a good way to be able to bond with baby.
You are helping baby with their problem and baby is able to rely on you to help fix the situation. Additionally, it will be 3+/- minutes of undivided attention that you and baby get with each other (I understand that baby may be crying a little during that time).
But if your child is anything like mine, they will be happy after they get a new diaper. And the joy on their face is worth it.
Feed baby
This one will be helpful especially for working dads as long as baby isn't exclusively breastfeeding.
If you feed baby from a bottle at all, whether breast milk or formula, then dad is able to benefit from feeding baby.
The thing about feeding baby is that they are stuck next to you for 15 odd minutes while they are feeding. But also, during the feeding, a baby is apt to stare at the person feeding them. This is a good way to encourage the bonding and understanding that you are there to help them out with anything.
Complete baby's bedtime routine
As discussed in Don't Sabotage Baby's Sleep, the last thing you want to do is skip the nighttime routine.
This is a great opportunity for dad to bond with baby and one of my favorite options.
Getting home after work and not having much time to bond with my daughter, being able to put her to bed is amazing.
We get between 15-20 minutes of 1-on-1 bonding time.
Being able to get my daughter to fall asleep is a big confidence booster for me if nothing else. It shows me that she is comfortable enough with me to allow herself to be vulnerable but is understanding that I won't let anything happen to her.
Drop baby off at daycare/pick baby up from daycare
As I mentioned earlier, I drop my daughter off at daycare every morning. And then during my lunch period, I go with my wife to pick my daughter up.
The goal for me is to maximize the amount of time I can to be with my daughter.
Dropping her off in the morning is just another example of a 1-on-1 time I get with her. Picking her up from daycare brings a different kind of bonding.
It's amazing to see the look on her face when she realizes that we are there to pick her up. She gets such a huge smile on her face.
A good example of her trust and understanding of our role in her life.
Pick out baby's clothing for the day
Not going to lie. This one may be difficult for working moms and dads. I know it is for me.
Unless I can tell that it is a specific set, I am not entirely sure I could pick out clothing for my daughter that would not only match but wouldn't cause my wife to lose her hair.
So if you are daring enough, you could work on picking out baby's clothing for the day or the next day.
Might sound a little odd but it feels nice to find something that works well together and have someone compliment your child. Knowing that you were the one who picked it out will make you feel good.
If you aren't as daring, no worries. Let mom take care of this one. She may end up thanking you in the end for not doing it.
Clean up after baby (bottles, diapers, clothing)
There are a few different things you can do to clean up after baby.
Cleaning bottles if a baby isn't exclusively breastfeeding
Taking the diapers out/cleaning out the diaper genie
Doing the laundry/folding the laundry
Yes, these aren't very enjoyable and they may even suck at times. But baby needs clean bottles to eat and clean clothes to wear.
Also, the taking the diapers out suggestion will benefit everyone in the household. Not going to lie. When you get to feeding your baby actual food (the mush that you first feed them), their poop is going to smell awful. You are going to want to take that out right away or you won't be able to breathe.
But this will help you stay focused on baby and ensuring that you are doing your best to care for them.
Exercise with baby
Don't misunderstand what I mean for this one. I don't expect you to take your baby to the gym with you.
More so if you are working out at home, lay baby on the ground with a toy and do push-ups over a baby. As you move closer and farther away, a baby will need to work on focusing on you (another way to play with baby).
My daughter's face lights up when I do push-ups over her.
It will also help you to keep an eye on baby.
Otherwise, you could put a baby in a bouncer and do some of your exercises.
Burp baby
Burping baby will help reinforce the idea that you are there to help them out as much as possible.
Usually, when baby has a bubble, at some point they will start to cry because it will hurt. Being able to get the bubble out will not only calm them down but help them understand that you are helping them out.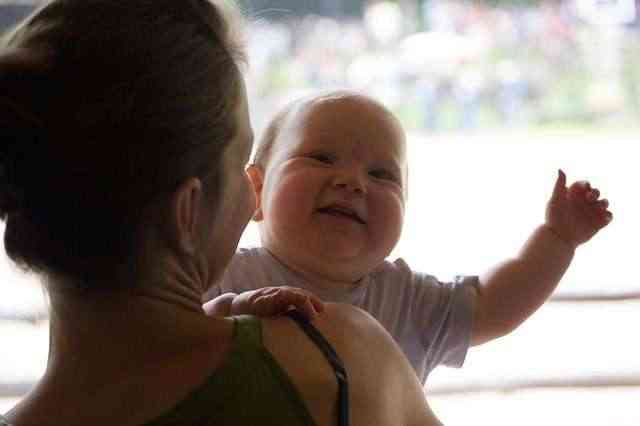 Conclusion
Even if you don't have a lot of time to spend with your child, there are plenty of ways to bond. Sometimes all it takes is a little imagination to find a way to bond. If you are able or have the time, take a baby to daycare or pick them up from daycare. Spend 15 minutes putting a baby to sleep. Or if you don't have a lot of time, consider changing a diaper or 2. It doesn't take much time and baby will immediately show their appreciation with a smile. The main goal of bonding with baby is to show them you support them and will do what you can to keep them safe. The more ways that you can bond and show your support, the easier it will be for a baby to trust you.
Photo by Joshua Reddekopp on Unsplash
---
About the Author
Just your typical dad, trying to make it through parenthood one day at a time. I am not the perfect dad but I do my best and try to improve at it every day. When I am not learning about parenthood first hand, I enjoy watching sports, hunting, and working out.