Do you have a first aid kit in your home? Are you cut out to handle a medical emergency with the supplies that are in your home while waiting for emergency workers? If the answer is no to both questions, then it might be time to start looking into buying a First Aid Kit.
Most families have band aids and Neosporin in their household. But First Aid Kits are more than just for band aids and cuts. Have you ever considered what you would do in a natural disaster? There are so many locations across the world that have tons of natural disasters and most people are not even remotely prepared for them.
Do you know what exists in a First Aid Kit these days?
Some of the items in a First Aid Kit:
-Emergency Blanket
-Gauze Pads
-Cold Pack
-Tweezers
-Scissors
-Glow Sticks
-Compass
-Whistle
-Latex Gloves
-Eye Pad
-Gauze Wrap
-Alcohol Pads
And so much more!
How can it help me?
By having a First Aid Kit in your home or with you when traveling in the car or camping, there can always be something that goes wrong so it is important to be prepared. For example, if you are at home and a friend of the family is over and cuts their leg, it would be a great idea to use latex gloves because of the blood and then there are gauze pads you can use to stop the bleeding instead of a towel or paper towels.
Another example might be during a hurricane. Last year both Puerto Rico and many cities in Texas were destroyed by hurricanes. The people who live there were left with water up to their roof, having to be rescued from their homes, no electricity for days, and no way to get anywhere. From my list above, you see there was a whistle and glow sticks, having these items could have been used to alert rescue workers that there were people there.
Although you never think it will happen to you, until it does, it should be something all families have in their home, especially if they have children. Children are so accident prone and it is important to always be prepared.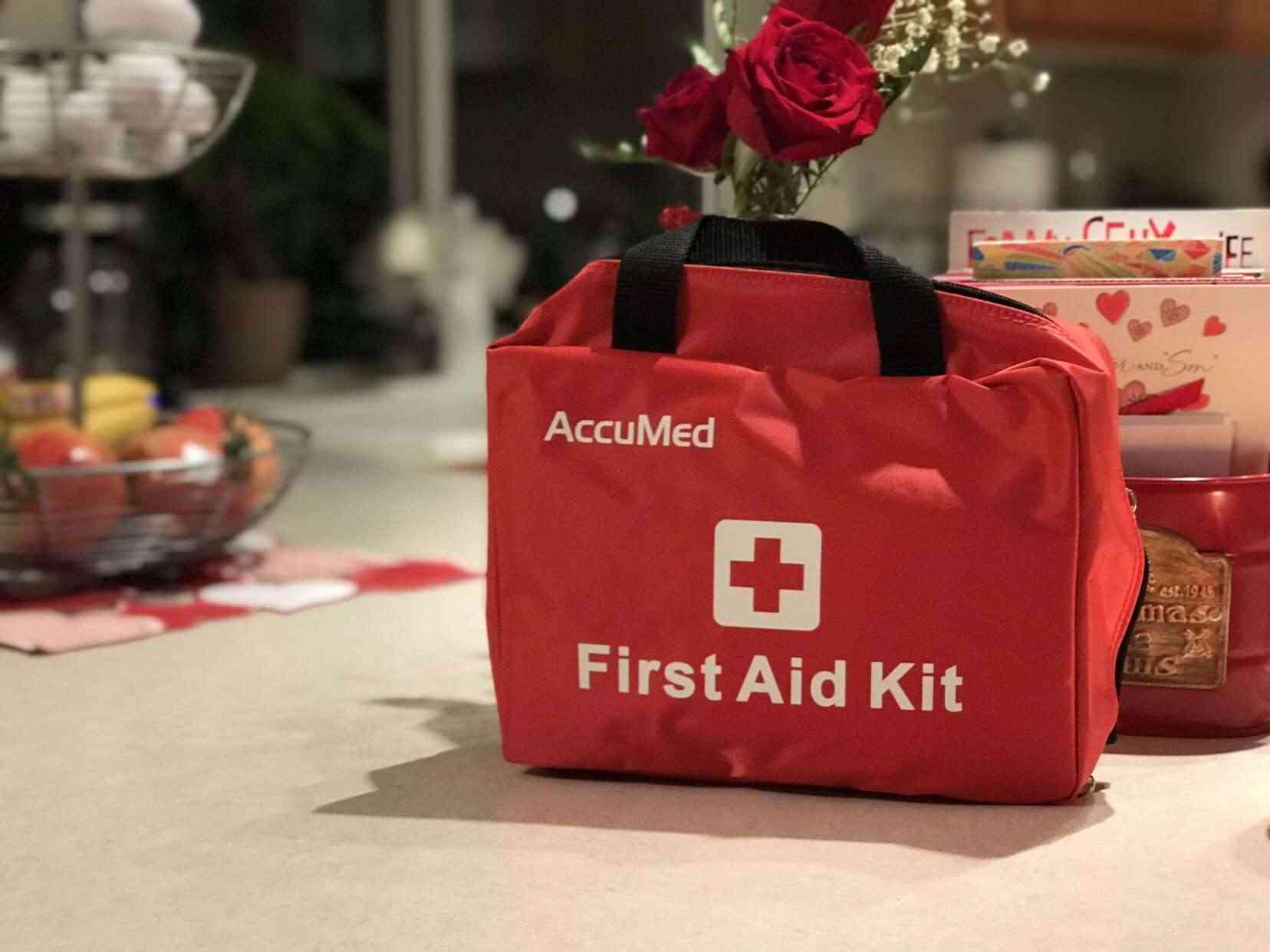 Where can I buy a First Aid Kit?
The key here is choosing a trusted retailer, so you know that you can rely on the items within it. Seton has a great selection of first aid kits and is well-known and well established; CLICK for the latest options on their website. Of course, you can buy one on Amazon as well if you'd rather.
However, you want to make sure you are getting the best deal for your purchase, along with the most important items included in the kit. AccuMed has the best one out there. Not only are they inexpensive but they are on Amazon Prime and you can purchase it and put it right in the location it belongs in your home within two days! Being prepared is key when it comes to having a family and by having a First Aid Kit in your home, you are setting the tone for being prepared.
This infographic was created by BlowHard Fans, small ppv fan manufacturers</div
{this is a sponsored post in exchange for an honest review. please visit my disclaimer page for more information.}