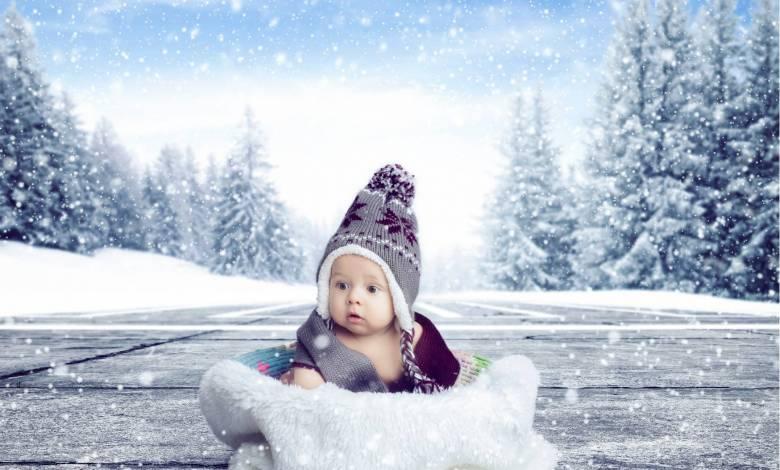 Everybody likes the winter season; however, life becomes difficult for us when the weather becomes freezing. Even during winter, all you want to do is remain indoors, and if you're a new mother, you'll want to keep your baby safe from the cold winds outdoors. Because your baby's immune system is still growing, he/she will be vulnerable to colds and illnesses, which can cause you concern. However, you can protect your baby warm and safe by thinking ahead.
The first winter with your baby may be stressful as you think of how you can keep them warm and keep them away from frequent colds. So, in this guide, we've got some advice to make things simpler for you.
Why Is It Important to Take Care of a Baby During Winters?
You can't rule out the risk of being sick during this winter season, no matter how healthy your immune system is. Adults can still endure the cold and challenging weather, but it is far more impossible for babies to get through this winter. Also, they are especially susceptible to illnesses and seasonal flu because their immune systems are weakened. Furthermore, their skin is exceedingly sensitive, increasing the risk of rashes and blisters. As a result, newborn babies need continuous care and assistance as the drop in temperature triggers several processes that maintain the baby's body health and the vital organs functioning properly.
Care For Your Baby During Winter
It is critical to provide additional care to your baby throughout the winter months. Even if they spend all of their time inside, here are a few guidelines to be followed for keeping them safe and healthy.
Dress Your Baby In Layers
Dressing up your baby in thick sweaters, socks, gloves, and a hat all the time may limit mobility and make him/her cranky. As a result, have him/her dress in clothing that is appropriate for the warmth of the room. Not only that but make sure that the clothing completely covers your baby's body without restricting your baby's movements. You may also have to wear gloves and stockings, which will keep them warm and allow them to sleep well all night.
Use A Humidifier
If you live in a cooler climate, you'll need to use a humidifier in your baby's nursery. Because the temperature in your baby's room may drop throughout the winter, it is recommended that you utilize a portable heater. If you use a heating device, it may decrease the room's water vapor, leaving the air and your baby's skin dry. To prevent this, place a humidifier in the nursery room to maintain ideal moisture levels.


Keep The Indoor Temperature Right
You may be concerned that your baby is too frigid, but excessive indoor warmth may also be an issue. And the absence of moisture in the air caused by indoor heating might damage your baby's sensitive skin. To prevent this, maintain your home temperature as low as you can handle throughout the day—between 68°F and 72°F. When your baby is asleep, however, you should drop the temperature to 65°F to 68°F, which will help his/her skin and lessen the chance of Sudden Infant Death Syndrome (SIDS).
Massage Your Baby Well
Gentle massaging in the winter may be just as pleasurable and therapeutic for your baby. Massage may also help by improving blood circulation. If he/she pees throughout the massage, make sure to keep the diaper on or cover his/her private areas. Alternatively, you may keep the massage brief and go onto the bath or change his/her clothes.
Make Sure Her Private Parts Are Cleaned
When it's freezing outside, you likely won't have to wash your baby every day. But make sure you cleanse her private parts in every diaper change. Also, clean her hands when she plays or eats, and wipe her face and neck creases when she feeds or eats.
Continue Breastfeeding Your Baby
Breast milk provides antibodies and nourishment that boost a baby's immune system and protect him from common illnesses. Continue to nurse him/her even if you've started giving him/her food. Your baby gets all the nutrition he/she needs from breast milk to be healthy. And the warmth of your body will soothe him/her when you're nursing.
Furthermore, winter is a fantastic time to add soups to your baby's meals if he/she has hit the age when they can start eating semi-solids. In the cold season, a nourishing soup will keep him/her warm. You may create your baby's soup using pureed chicken pieces or veggies. However, feeding time can be either a filthy or a pleasant experience. Luckily, there is an excellent selection of feeding chairs for babies that can help you effectively train your baby well on how to eat solid meals.
Check The Temperature Of Your Baby's Room
Your baby will be secure and sheltered from the severe winter winds if you make your baby's nursery warm and heated. Keep the windows closed and doors securely locked. As an outcome, make sure that your baby's nursery is well ventilated. If necessary, use a heater to keep your baby warm on his own.
Conclusion
If this is your baby's first winter, you're sure to be concerned, but by taking precautions ahead of time, you can protect and keep him/her happy. Maintain appropriate household hygiene and keep your home warm. However, if you find that your baby is not looking well, you should seek medical advice.
This post contains affiliate links and I may receive a commission, at no additional cost to you, should you purchase through one of my links. Please see my disclosure for more information.