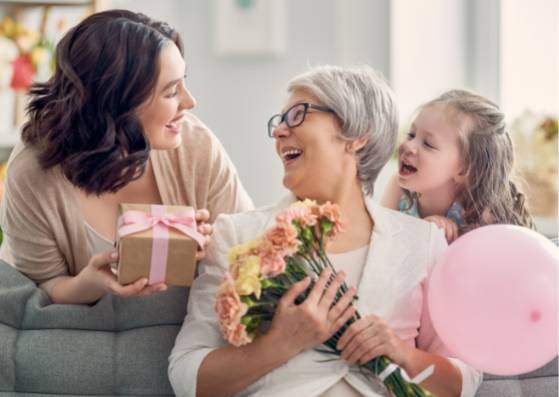 Moms have a habit of saying that they don't need anything for Mother's Day. But that selflessness is why it's so important to get them a good gift. So, what do moms need?
Sure, maybe the house could use a new vacuum, but that's not a gift that celebrates moms. Especially if your mom is a working mom, she needs something that makes life easier and helps her relax.
Check out our list of gifts that will make your favorite working mom's Mother's Day.
Mother's Day Gifts for the Working Mom in Your Life
1.   A fully paid-for night out.
Let's be honest — moms need a break. But it's not so easy for them to take one. Buying a gift card for dinner for two is a sweet gesture. But the real cost for parents going out is finding childcare. So, in addition to getting your favorite working mom a treat that gets her out of the house, pick her up a gift card to an app that will connect her with the babysitter she needs.
2.   A pair of stylish blue light glasses.
If your mom stares at a computer at work all day, she needs blue light glasses. Blue light damages your vision and harms your retinas. It also blocks the secretion of melatonin, which you need to help you sleep. By buying Mom blue light glasses, you'll be saving her eyes and her sleep cycle.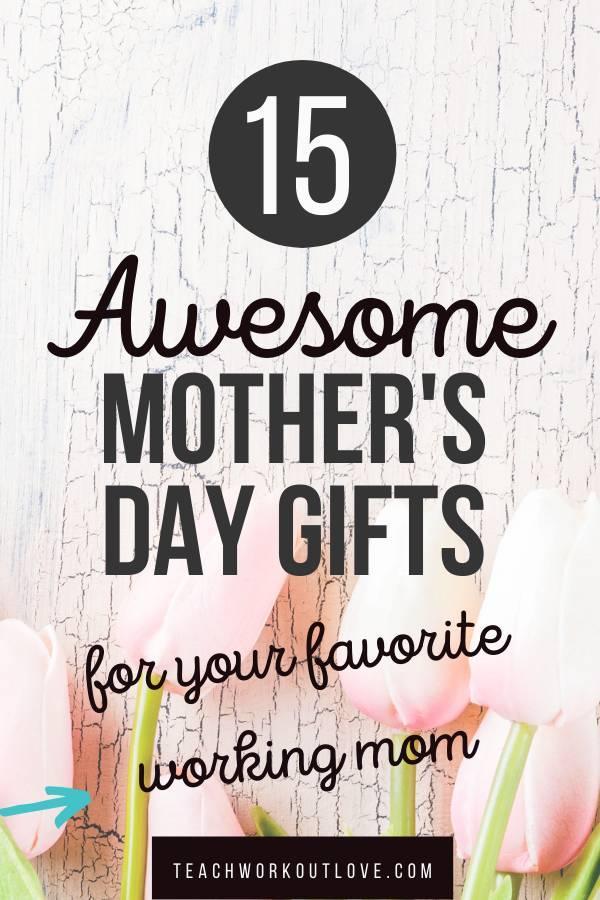 3.   An alarm clock that she'll enjoy hearing go off.
Your mother is always relying on her phone to wake her up in the morning. So, get her an alarm clock that will wake her up in a much less jarring way. Sunrise alarm clocks help you not only wake up to a peaceful sunrise but also fall asleep to a soothing dusk simulation.
Working moms need all the help they can get to have a tranquil night of sleep. For brand new mothers, a night of overnight newborn care can help her stay healthy, happy and energized too!
4.   A pair of noise-canceling headphones.
Does your mom need to drown out a chatty cubicle mate? Or maybe she just needs a little quiet time at home. A pair of noise-canceling headphones let Mom get lost in her world. Your mom needs time to herself.
And this is one way to ensure she gets it.
5.   An uber-comfortable nursery rocking chair.
Maybe the mom in your life went back to work soon after having her baby. A great gift would give her comfort when she spends time connecting with her little one. A nursery rocking chair makes for a calm baby and a relaxed new mom. Go for an extra-plush chair for added comfort!
6.   A breast pump backpack that's both flattering and functional.
A breast pump backpack is another gift for a new mom who just returned to work. New moms have a lot to think about. And one thing they shouldn't have to think about is how they're going to pump at work. A breast pump backpack lets them discreetly store all the essentials in a bag designed for their needs. Grab one with added space for laptops and accessories. That way, this bag will be the only one that Mom needs for work.
7.   A smartwatch loaded with helpful apps.
Working moms are planners. They have to be to juggle everything in their lives. If your mom constantly checks her phone, consider getting her a smartwatch. Her schedule, messages, and more will be right on her wrist. As a bonus, do a little extra work before giving it to her. Load it up with apps you think would help her, like a relaxation app. That way, she doesn't have to do the hard work of setting everything up.
8.   A digital photo frame filled with happy memories.
Is Mom back in the office? Give her a gift that lets her take her family with her. You can fill a digital photo frame with photos and play videos. While she's hard at work, her family's smiling faces will surround her.
9.   A light therapy lamp for her desk.
Another great gift for the office is a light therapy lamp that can help your mom's mood. These lamps can help those who struggle with anxiety or sleeping issues by providing UV light. It's especially beneficial if your mom deals with Seasonal Affective Disorder in the fall and winter. But light therapy lamps are thoughtful gifts all year round.
10.        A pair of microwavable feet warmers.
If your mom is on her feet all day, she needs something to soothe them. Microwaveable booties relax your muscles, improve circulation, and alleviate pain. Your mom will be able to do more than just put her feet up. She'll be helping her feet recover from a tiring day.
11.        A self-care subscription box.
Who says a Mother's Day gift is supposed to be only for Mother's Day? There are tons of subscription boxes out there meant for Mom. But the working mom in your life needs one to help her find time for herself. A self-care box, filled with treats like bath bombs and face masks, means that she'll get the gift of me-time every month.
12.        A subscription for a crypto tool.
Twice as many men invest in cryptocurrency as women do. Let's lessen that gap. Working moms essentially work many different jobs, most of which are unpaid. Shouldn't their money be working for them? A subscription to a crypto tool is a small investment that could have big rewards.
13.        An indoor smart garden kit.
A smart garden kit allows your mom to have healthy veggies on her countertop. If Mom doesn't have a lot of time to grow her food, this is a perfect gift. It'll save her time shopping, give her fresh produce, and make mealtime easier. She could grow anything from tomatoes to fresh herbs without doing much at all.
14.        A set of portable chargers.
Is there a worse feeling than when you know your phone is about to die, but you're miles from home? For a mom on the go, she can't run the risk of her family not being able to contact her. A set of portable chargers means taking that stress off of her mind.
15.        A co-working membership.
Is your working mom a work-from-home mom? It can be hard to focus at home with all the noises and distractions. A co-working membership gives Mom the option to get out of the house and work with other adults. As a result, she'll get a little time for herself and feel more productive than ever.
In Conclusion
A gift for Mom should be a gift that celebrates all that she does. And it should encourage her to spend time taking care of herself. Working moms do so much, both at home and on the job. So her Mother's Day gift should be all about her. But no matter what you get her, be sure to remind her how grateful you are for her. Perhaps the greatest gift you could give a working mom is telling her that her work is appreciated.
This post contains affiliate links and I may receive a commission, at no additional cost to you, should you purchase through one of my links. Please see my disclosure for more information.