As we cap off the year, nothing brings greater pleasure than spending the remaining months of 2021 with your family. Nowadays, you and your husband may be occupied with work, and your children may be busy with school requirements.
Yet, as a mother, you wish everyone could pause for a while and gather for some quality time every now and then. Whether it's having dinner conversations or bonding over a board game, doing fun things together is one of life's greatest blessings. If you're looking for a family fun filled adventures to do before the year ends, then you're in the right place. Below, we rounded up five fun filled adventures your family will surely enjoy.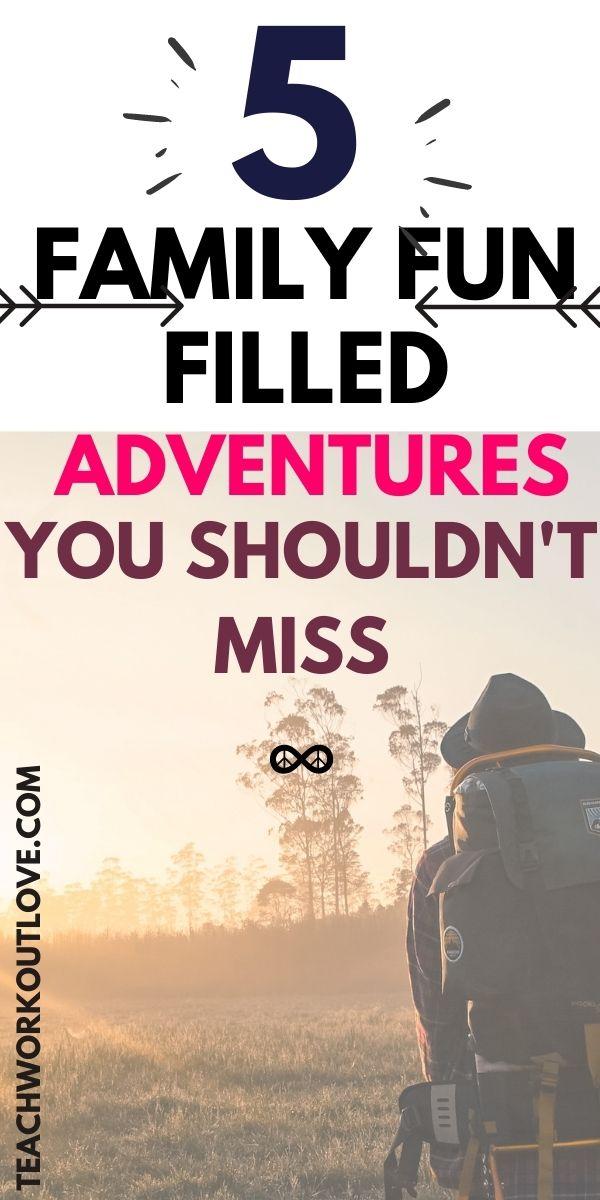 Lace-up for hiking
A family that stays together gets active together. Get your hearts pumping and the kids amazed by the wonders of nature through hiking! Hiking provides a plethora of benefits for health and overall wellbeing. For one thing, it provides a quick escape from the hustle and bustle of the city, makes up for lockdown periods, and simply savor the beauty of flora and fauna. It can also be a great way to bring the families closer (and even smarter)! According to Parents, the organic compounds emitted by trees help boost one's mood, hence helping lower stress levels and fend off depression. Additionally, being outdoors also helps boost attention span and creativity. Add to that the new things your children will explore outdoors, and it'll be the perfect recipe for nature enrichment.
Make hiking kid-friendly with these tips:
Bring snacks and fluids – Make sure to take frequent stops for rehydration. Your children may be so invested in the new environment that they don't realize how thirsty they are. So, pack energy-boosting foods to keep them energized. Give your kids control – Let your kids make some choices along the trip. For instance, let them decide which trail to take or where to stop for lunch. Teach them along the way – Discuss hiking etiquette, teach them how to use a compass and read a map, and identify plants around the area.
Go camping
If you wish to stay for a day or two in nature, then camping's the best way to bond with your family. From setting up the tent to fishing in a nearby lake, camping could be your kids' favorite weekend hobby!
Make camping fun and safe for everyone with these hacks:
Learn fishing together – Fishing as a family creates fond memories. The fresh air, scenery, anticipation of a bite, and the joy of catching a fish are more than enough to make camping fun for your kids. Plus, it teaches them life lessons as well, such as patience and perseverance. Arrive before dark – Arriving on your campsite before the darkness settles in will make preparation and settling in more effortless for the whole family. Use insect repellent – Bugs, mosquitoes, and other insects may be small, but they make a big nuisance while getting a good night's sleep. Make sure to use insect repellent and insect traps if necessary. Pre-cook and pre-pack as much food as you can – While cooking from scratch is fun, it can be frustrating for parents who have many kids to watch over. Search for easy recipes to make cooking and camping less hassle for you.
Overcome a fear together
Life is too short to let fears hold you back from doing great things in life. Instead, learn how to cope with your fear by doing it with the people you love. For instance, if you fear open water, why not enroll in a swimming class? If ziplining has always made your kid anxious, then face it head-on together. Overcoming anxieties over certain activities is easier and more comforting when you do it with the best people in your life.
Schedule weekend movie nights
Too busy to go out? No problem! fun-filled adventures shouldn't be expensive. Sometimes, they can be enjoyed in your jammies! Huddle together for a cozy movie night for a relaxing way to spend the weekend! Watching a movie together may not be as physically taxing as other outdoor sports, but it doesn't fall short on benefits. For one thing, it strengthens emotional bonding and lessens behavioral problems among kids. It also benefits you and your spouse, as spending quality time together leads to better communication, intimacy, and bond. Make it a habit to gather everyone together in the living room for movie time. Let your kids pick out a movie they like. Maybe even combine it with making homemade popcorn or playing games after the movie! You can make it even more exciting by adding prizes for the winner like candies, toys, and extra screen time for kids.
Engage in water sports
The end of the year is just around the corner, but that doesn't mean the season for water sports is over. So, get active on the water and make incredible memories while staying in shape together! Whether you're going for a boat ride or a dip in a pool, a water sport surely provides benefits for health and bonding.
Kid-friendly water sports:
Stand-up paddleboarding – Also known as SUP, it is an excellent full-body workout that'll benefit you and your kids. This sport focuses on strengthening balance and foot strength. Pedal boating – Another way to get your kid engaged in the waters is through pedal boating. Kids will surely love to pedal and be proud of themselves for learning skills independently. Don't worry if you don't have enough time to travel to a beach. Local parks with lakes usually have these for rent. Swimming – The best thing about spending time in a pool is that it lets everyone leave their phones behind, allowing everyone to give their absolute undivided attention to the activity. So, don't hesitate, and take a plunge into the waters with your loved ones!
Conclusion
The year may be coming to a conclusion, but it doesn't mean you're running out of time to plan an exciting family adventure. Anything you do as a family, make sure it will be enjoyable for everyone to make memories that will last a lifetime.