After a baby is born, there are different developmental milestones that they should be reaching each year. Many of them are things that you can work on at home with your baby. It is important to take some time and read about what the CDC's developmental milestones are. Once you check them out, read on to see how you can help assist your baby in these milestones throughout their first years's of life.
Please show the books in action, with kids reading them, trying out activities, and playing. In your post, clearly demonstrate how these books are essential for reaching milestones in baby's development—i.e. first words, colors, numbers, ABCs.
Read daily
One great way to ensure meeting developmental milestones is to read with your baby daily. There are many different ways that you can read with a baby. Many times you can read a book to them and they can just listen to it or look at the pictures. But there are some great ways to get them involved too when learning their first words, colors, numbers and ABC's.
We found that Priddy Books provided excellent ways for parents to accomplish those milestones from their own home. Priddy Books has really amazing books that are great sensory books that babies will love when learning. They make reading interactive and use bright colors along with different shapes or patterns. Some of our favorites are: First 100 Numbers; See, Touch, Feel; Alphaprints: Colors; Bright Baby: Touch and Feel Baby Animals; and My First Play and Learn Farm books. What a wonderful way to reach milestones and to read and enjoy with your baby.
Sensory books
One of the developmental milestones that babies need to reach is between 18-24 months. Babies are learning to start to talk during this time. A great way for them to learn how to start talking is by using sensory and motor skills in experiences. Sensory books are a great way to help at home to promote talking. This set of books by Priddy books is perfect for sensory and learning about different animals but also vocalizing how they feel about what they are touching. The books have different furs that they can feel on the pages and it helps babies with touch and feel elements. It is fun and the text rhymes making it easy to read. Pictures are bright and have great illustrations of animals that will help stimulate your child's senses. It also helps encourage imagination and play too!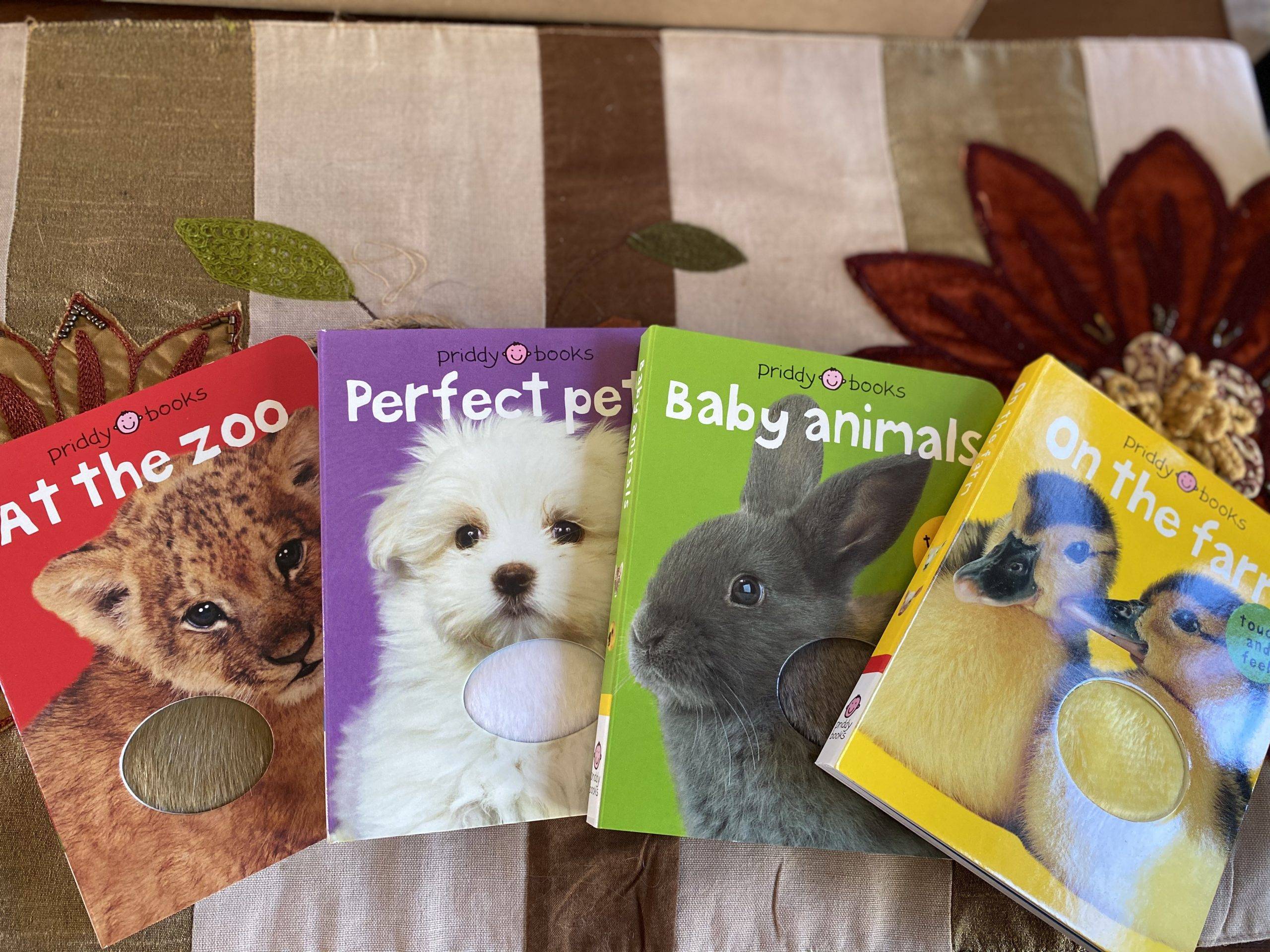 Encourage play
Another fun way to help your baby meet developmental milestones at home is encourage imaginative play. At 18 months, babies are learning how to pretend play and become aware of their emotions. Having stuffed animals and dolls is perfect for this as they can use their stuffed animals in their pretend play. By using words often that can describe emotions, it will help them to learn how to express them. They learn best by doing things. Going through and talking about how their stuffed animals and dolls are feeling when they play with them or throw them on the floor.
Sort shapes and colors
Lastly, sorting shapes and colors in different activities at home can help your baby reach those developmental milestones. Reading books that are all about colors like the book Alphaprints: Colors makes interesting shapes and textures for kids. The pictures are bright and pay special attention to colors in the book which is perfect for little ones. At 1 year, babies can be playing with foam blocks and you can help them learn to sort shapes and colors through play. This can be a fun and simple way to help children learn their shapes and colors just through their toys.
"I received this product for free from Moms Meet (momsmeet.com) to use and post my honest opinions. Compensation for this post was provided and this page may contain affiliate links."