Chef footwear is important for anyone working in the kitchen. How do you find the right chef shoes? In this article, we will answer this question.
Your performance in the kitchen will depend on your choice of chef shoes in addition to your palate, perfect cooking, and knife skills. You should therefore select the ideal and proper chef shoes.
Chef shoes will offer better slip-resistance, comfort, and support, and can withstand hot liquids spilling and sharp objects falling.  Chef shoes are loved for their comfort and support during long shifts. Especially when working on your feet all day choose compression socks. There are many benefits of compression socks as they boost circulation in your legs and reduce pain and swelling in your ankles.
There are some tips to choose suitable chef shoes. We hope that with these tips you can find comfortable and nice chef shoes for yourself.
Importance of Chef Shoes
A chef's shoes are an integral part of their uniform and should pick properly.
Chef shoes protect your feet from hot, hazardous kitchen conditions.
Chef shoes should fit comfortably but not too tight.
Chef shoes should be snug enough to wear for a long period of time.
A chef's uniform is incomplete without the chef's shoes. They give comfort and support as you work in the kitchen.
Here are some tips on finding the perfect chef shoes.
Slip-resistant chef shoes
In the kitchen, things like more water, soap, grease, spills, dishwashing liquid, and food could lead you to slip and fall. Also, many accidents could happen as a result of slipping or falling.
Pick chef shoes with a slip-resistant style. Clogs are made specifically with anti-skid bottoms to prevent chefs from slipping in these spillages and suffering serious injuries. This will allow you to work quickly in the kitchen and prevent slip-and-fall accidents. Even on wet floors, anti-slip footwear provides the traction and support you need to stay steady and on your feet.
Comfort
What is the importance of comfort?
When you work in the kitchen, you have to stand on your feet for 12 hours. Your feet will hurt and your performance will suffer if you don't wear comfortable kitchen shoes. When selecting kitchen footwear, go for styles with a supportive arch, padded heel, and breathable uppers.
Shoes with a proper arch will protect your legs and joints. Your feet stay dry, clean, and free from fungus with breathable uppers and cushioned heels.
All chef shoes come with very sturdy steel caps. This steel cap's job is to protect the toes. But, many shoe types with heavy, thick steel caps that lead to discomfort foot and heavy pain and reduce productivity. The safety and health of chef will affect by the use of such shoes for a long time. Choose shoes with removable insoles so you can use your own if you often wear custom insoles or orthotics.
Consider choosing chef shoes with a safe steel cover and a modest weight.
Handle the heat
Cooking in a hot environment requires you to maintain cool pressure. Breathability is important, but it's not usually something you remember to consider when picking shoes.
Your feet will become hot and sweaty if you start to overheat, which can cause blisters, discomfort, and a miserable shift. Clog insoles are also made of moisture-absorbing materials to prevent slippages that could result from perspiration on the feet.
To keep your feet cool no matter how hot it gets, look for shoes with airflow.
 Protect the toes.
You must take other safety measures. We all know there are numerous risks in the kitchen. You should have shoes that help protect your toes when sharp objects, hot food, heavy pans, or pots, as these things, usually fall.
Choose suitable chef shoes by considering how much toe protection you need.
Easy to Clean
Food frequently gets spilled on your feet in the kitchen. So, you must select shoes that are easy to clean. Choosing a pair of shoes that are water-resistant and have been treated to repel all liquids will make things easier for you in the long term.
Pick shoes that are easy to clean and made of materials that are not absorbent. You can have your shoes looking their best and prepared for your next servicing with a good wipe.
Buy shoes that are comfortable, slip-resistant and durable, and easy to clean.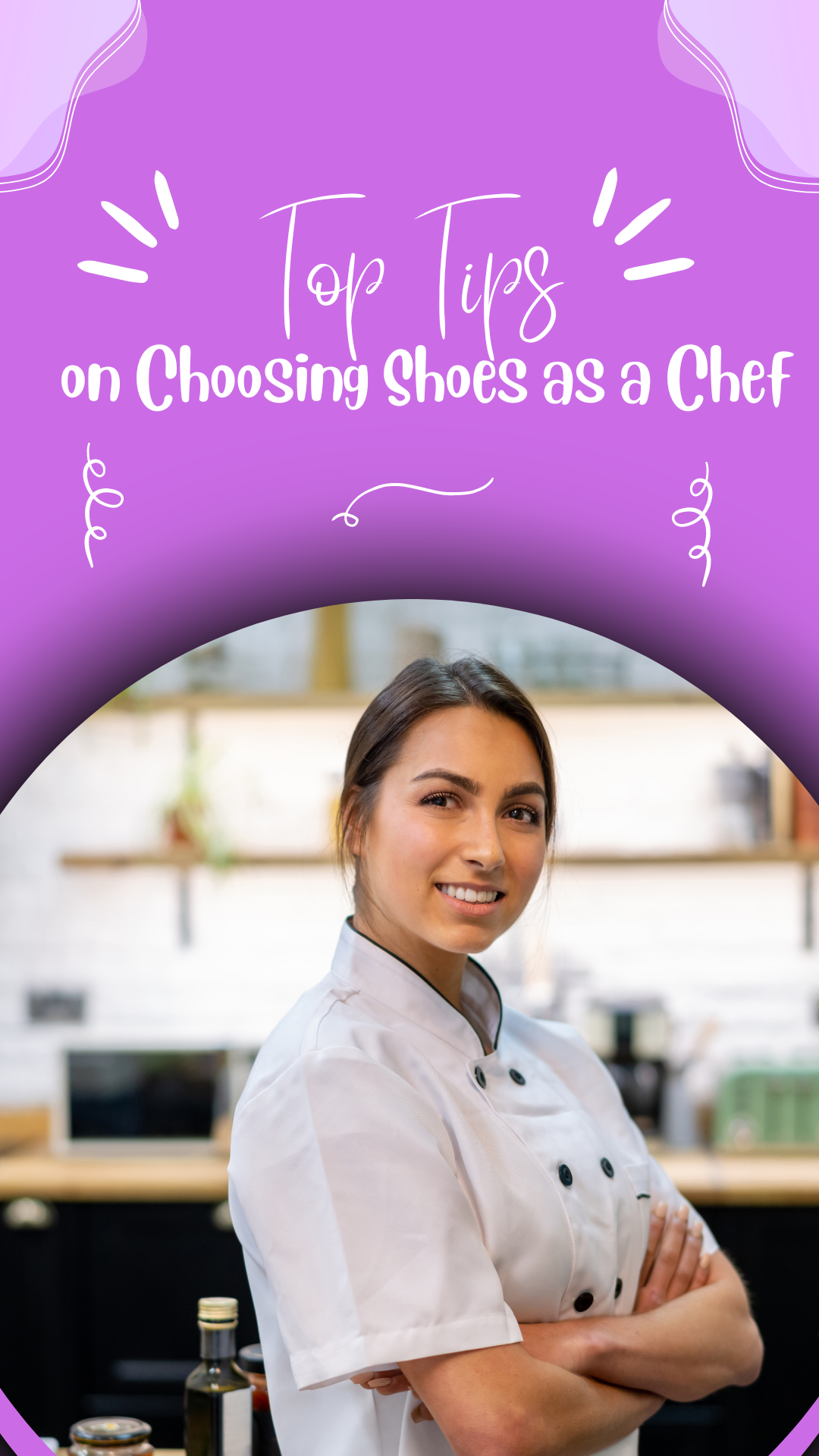 Durability
Durability is important. Pick the best shoes that are comfortable, gripping, athletic, well-protected, and long-lasting.
Make sure the shoes are built with durable, high-quality materials.
LACES/Slip On
For one simple reason, chefs nearly uniformly prefer to wear clogs over standard, lace-up shoes: without laces, there's little risk that your shoes will come untied and trip you up in critical situations.
Clogs don't require tying or untying, so their loose laces won't put you or your coworkers in danger. On the other hand, chef clogs are simple to put on and take off. Chef clogs are usually made out of a single piece. Clogs give chefs the proper foot support they need when lifting heavy containers.
Chef shoes are carefully designed to ensure good performance in a hot, steamy, and busy kitchen environment. The more comfortable the chef is, the better they will be able to conduct their job of cooking. Chef shoes are made comfortable and soft yet hard-wearing with a slip-resistant sole. They are functional, strong, and protective.
This post contains affiliate links and I may receive a commission, at no additional cost to you, should you purchase through one of my links. Please see my disclosure for more information.