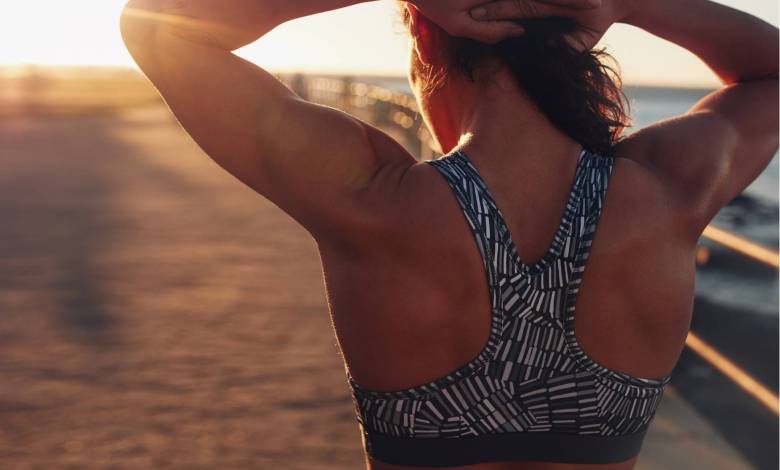 For many women a comfortable and supportive sports bra is an essential piece of exercise equipment. Find one that fits and supports you and you have reached sports bra nirvana. Yay!
But what if your sports bra doesn't fit quite right? What if it's uncomfortable? Or worse, what if it chafes? How do you fix your sports bra problems?
Read on to find solutions to 10 sports bra fitting problems.
Problem 1: My band feels too tight.
A sports bra is not like your everyday bra. 80% of the support a sports bra offers comes from the band. As such, it is important for your band to be firm but not too tight.
If you band feels too tight and restrictive then consider going up a band size. Don't forget that if the cup fits well, you will also need to go down a cup size. For example, 12DD to 14D.
Solution: Go up a band size.
Problem 2: My band rides up at the back.
If the band of your sports bra rides up at the back during exercise, it is an indication that the band is too big. As we already know, most of the support comes from the band. Therefore, it is important for it to fit well.
Think about trying a smaller band. And remember the band / cup rule, 14D to 12DD.
Solution: Go down a band size.
Problem 3: My breast tissue is spilling out the sides.
This is more common among women whose breasts naturally fall outward. If this, is you? Then a sports bra with good side support will help solve this problem.
Look for a style that has high sides to help contain your breast tissue. A sports bra with additional side support such as boning, or seaming will offer further support.
Solution: Try a sports bra with higher sides.
Problem 4: My breast tissue is spilling out the top.
You do not want your cups over-flowing. Not only can this be embarrassing but it also leaves your upper breasts unsupported. Not good. All your breasts need support after all.
Your cups need to be big enough to contain all your breast tissue. Consequently, the solution for this is simply to go up a cup size.
If this is unsuccessful then it is worth trying a different style sports bra. Consider a style that provides coverage across the top of your breasts to help keep things contained.
Solution: Go up a cup size.
Problem 5: My cups feel too roomy.
This problem is the opposite of problem 4 and so is the solution. It is one thing to have your breasts fully contained in your cups. It is another for your cups to fully support them.
If there are any gaps in your cups, then your breasts are not supported correctly. Your cups need to be full but not overflowing.
Trying a smaller cup size should solve this problem. Just make sure your breasts a well placed within the cups. If necessary, move things around by hand to ensure good positioning and overall support.
Solution: Go down a cup size.
Problem 6: My underwire sits on my lower breasts.
Good fitting underwire should follow the curve of your breasts. It should lay flat against your chest without poking into anything!
If your underwire sits on your breasts it is a sign that your cup (and as such your underwire) is too small. Trying a larger cup size should solve this problem. If it doesn't then try a different style. Some styles contain 'flexible' underwire that conforms better to the shape of your breasts.
Solution: Go up a cup size.
Problem 7: My sports bra does not sit flat against my chest.
This problem is more common in underwired styles that have a centre gore. If your cup size is incorrect then you can have a problem.
If your cups are too big then the underwire can be too wide for your torso. Go down a cup size. If your cups are too small, then you will have problem 6 above. Go up a cup size.
An alternate solution is to eliminate the underwire altogether and go wire free!
Solution: Double check your cup size.
Problem 8: My straps dig into my shoulders.
For many women taking off a sports bra provides instant relief to sore shoulders. Especially for those with larger breasts. Breasts can be heavy and that weights needs to be carried somewhere.
The first thing you need to check is that your shoulder straps are adjusted correctly. They shouldn't be too tight, thus putting unnecessary pressure on your shoulders. Only 20% of your support comes from the straps so it is best to let your band do its work.
Secondly, try a style that has wider, padded straps to help spread the load. Sounds crude I know but it is amazing the difference wider straps can make. Your shoulders will thank you!
Solution: Try wider, padded straps.
Problem 9: My shoulder straps keep slipping.
There are a couple of possible causes to this problem. The first is simply your straps have not been correctly adjusted. Check your shoulder straps at each wear to ensure they are firmly adjusted.
At the same time check the fit of your band. If it is too loose it can ride up causing your straps to become loose.
If things fit well and you still experience strap slippage then it is worth considering a different strap design. A sports bra with a cross back or racerback design may be the best solution to keep your straps in place.
Solution: Check your sports bra fit. Try a cross back or racerback design.
Problem 10: My sports bra rubs.
Every active woman's sports bra nightmare: it rubs! Ouch. There is nothing worse than getting a new sports bra only to find it chafes.
Chafing commonly happens in two places. Around the band and between the breasts.
If you are experiencing band rub, check your band is firm enough and that it is seamfree. You want to stop any movement and a firm band will do just that.
Chafing between the breasts can often be eliminated by a style that separates the breasts. Look for an encapsulation style sports bra that holds each breast in its own cup. Rather than one that smooshes them together!
Also, look for a sports bra made of moisture wicking materials. A sports bra that moves moisture away from the skin is less likely to rub.
Solution: Check your sports bra design and fit.
In Conclusion
Finding a perfect fitting sports bra is the holy grail for many active women. Success can allow you to forget your breasts and focus on the activity at hand.
If you have worked through the solutions to my 10 sports bra fitting problems and find that your only option is a new sports bra. Then sportsbrasdirect.com.au is the perfect place to look.
As sports bra specialists they have the knowledge and expertise to help you find the perfect sports bra.
Yours in support.
This post contains affiliate links and I may receive a commission, at no additional cost to you, should you purchase through one of my links. Please see my disclosure for more information.