Florals have always been representative of the cycle of creation. Floral wallpapers are the perfect option to put your hands on for wall renovation at your home. From your grandmothers' dining room to a modernized hotel, they always steal the attention. When you think of a chic, well-designed home, these wallpapers are like your family member. Moreover, these prints can make you feel super refreshed and energetic, offering positive vibes. They can make any room or home feel pure, full of happiness and peace.  
From watercolors to pastels to bold and graphic statements, floral wallpapers are back in trend. You can effortlessly bring a garden to your bedroom or any other room with the help of these prints. They rock and flaunt with their designs, prints, and patterns almost everywhere. Aha! Now, you are even more excited to know more about these. 
Check out the following sections of this article to study the types of floral wallpapers. Furthermore, you will also get to recognize the four modern ways, including the pairing and matching of your floral wallpaper with every essential element of your bedroom. Are you not sold on the idea yet? Give this post a read hit to inspire the following flawless ideas for creating floral spaces. 
1. Looking deeply into floral wallpapers
The variety of floral wallpaper always excites people to another level of happiness. From laundry places to the living area of your home, these wallpapers always look right on your walls. They never fail to impress a guest that came to your home. You can add and play with a pop of colors. For instance, cherry blossoms have always been a go-to idea to make your bedroom look more romantic. Even for your children's bedroom, you can put your eyes on incorporating subtle, pretty, and light print pastel color floral wallpaper.  
Now, who doesn't love mural prints? It is the dream of almost everyone to get their home painted in this print. But, if you have not got a super talented artist to make these drawings on your walls, what is the idea of deciding upon mural print wallpaper. Geometric-inspired floral prints are also the perfect choice. In addition, a bold vintage look is a lovely choice that can make a bedroom feel like a royal chamber. You can now understand its wide variety from this list that is endless. Monochromatic florals and green leaf tropical prints are also trendy these days. Overall, choose the best floral wallpaper print according to your need and preference. 
2. Modern ideas to use florals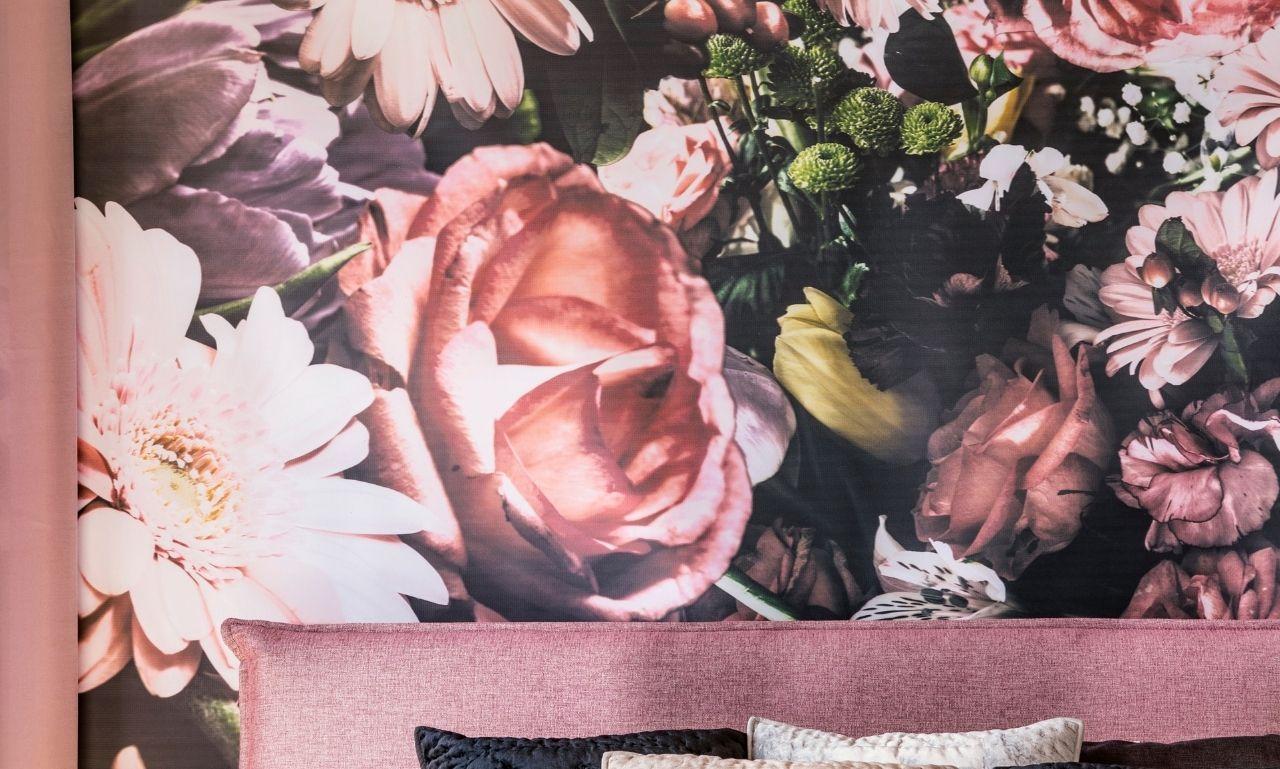 3. Wallpaper incorporation
Choosing the best kind of pattern for your bedroom wallpaper from the wide range of collections can be a big hurdle. Alternatively, after finding a suitable choice, styling it in your bedroom is another big task. But nothing to fret about! You can create an ultra-modern chic living space in your bedroom by applying the wallpapers all over the four walls. Matching the furniture, cabinets, and decor with floral prints will be a genius idea to follow. Furthermore, you can even tie matching pillows, bedsheets, and curtains with similar patterns in the same color palette. Undoubtedly, your bedroom will become the showstopper of your home. 
4. Modern furniture and decor
Floral wallpapers absolutely give you the chance to think outside the box and make a fantastic unexpected choice when updating your home or any room. You can create a trendy aesthetic look in your room by switching your furniture and decor with matching dramatic prints. Moreover, a lucite legs bed will be the best choice in this case. Also, use cloth napkins, tablecloths, and mats with flower-inspired touches. This idea will suit best into your decor scheme. You can use current obsessions, like rattan, to enhance the refreshing vibes for this idea. These things will help you add more personality and playfulness to your bedroom that you may have missed before. 
Conclusion
Floral wallpapers are an easy and affordable way that has the magical power of changing the entire mood of your room. They can quickly spruce up your bedroom by making it more cheerful, peaceful, bold, and bright. Moreover, if you want something vintage, you can put your hands on moody-hued floral wallpapers. Show your creativity and mix the styles to get the perfect dream bedroom. Do not make it extra shiny and vibrant; keep the things simple and subtle. Moreover, try to balance the prints, colors, and patterns with each other. After following these tips and tricks, you will indeed have a burst of happiness every single time you walk into your room.
This post contains affiliate links and I may receive a commission, at no additional cost to you, should you purchase through one of my links. Please see my disclosure for more information.