Wearing a formal dress in colder weather can be tricky. Firstly, you want a dress you're not going to freeze in, and you start wondering whether or not to wear stockings or tights. Then, just as you've got all the bases covered, you remember you might need a jacket or coat to wear that complements your dress and the occasion.
This is always a big challenge. What kind of coat do you wear to stay warm but still keep your look?
To make things easier, we've put together a quick guide on a few dress and coat combinations that might give you inspiration when you take a look at 2019 prom dresses.
The faux fur coat
If you want a way to take your formal dress to entirely new level, consider adding a faux fur coat. No matter that coat's length, color or texture, faux fur brings a level of confidence and boldness to your outfit like no other coat can.
Depending on the overall style you are trying to achieve, an oversized coat provides a more effortless look while a fitted coat offers a glam effect. In fact, faux fur coats are incredibly versatile.
The blazer
Blazers don't have to be restricted to professional events. In fact, blazers are rather fashionable when you pair them with the right dress. It's a fantastic way to instantly polish your look into something highly sophisticated.
Blazers come in so many different cuts, styles and lengths, which means you can even have fun bringing in a whole new element to your formal outfit. A cropped blazer is extremely flattering for the waist, whereas a longer blazer brings more attention to your dress's silhouette.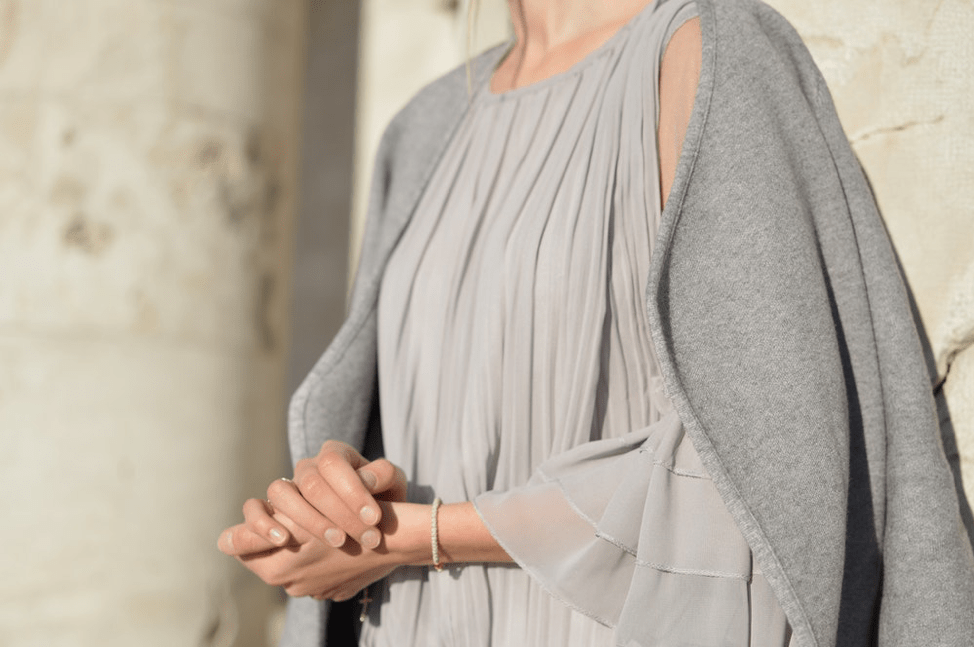 The wool coat
A wool coat has got to be the most classic go-to for any occasion. You're never going to look out of place at any event when you wear a wool coat over your formal dress. In fact, a wool coat can quickly pull together a glamorous look and elevate your outfit to something rather classy and chic.
Depending on the length of the dress you choose, you can either choose a mid-length or maxi coat. Play around with the silhouettes to bring interest to your outfit, too, be it flared or fitted.
The leather jacket
You just can't go wrong with a leather jacket, no matter the season or the type of dress you choose. Adding a leather of even faux leather jacket over your dress bring an effortless, cool kind of vibe that really changes the entire look.
Just be sure to choose a leather jacket that hugs your body properly and flatters your waist line. You'll need a coat that accentuates the shape of your dress – you don't want to hide it.
The suede coat
Suede is a subtle alternative to leather. It's softer yet adds a trendy touch to any outfit, bringing in fun textures to take your look to a whole new level. With plenty of styles to choose from, you're sure to find a suede coat to complement your dress. If you want to make a bold statement, choose a rich, dark coat to complete your formal look.
Finding the right ensemble for colder weather doesn't have to be difficult when you consider the above coats!
This post contains affiliate links and I may receive a commission, at no additional cost to you, should you purchase through one of my links. Please see my disclosure for more information.