Every day for the countdown until Christmas I will be having guest bloggers visit my page and share some tips they have learned along the way in their motherhood journey. Be on the look out for our Guest Bloggers Series! 
Growing up you never imagined yourself being a mother to a child who had complications.  You imagined being a mom to normal children, raising perfect little human beings and loving every ounce of it.  My first son was like that, a total dream.  Along came baby #2 for our family.  From day one of this pregnancy something felt wrong.  I always knew that I was going to have a miscarriage.  I developed depression during the first 15 weeks of pregnancy because I knew something was wrong.  With each ultrasound came the feeling that there would be no heartbeat.  We hit 15 weeks and I finally accepted that everything was okay.  I finally announced our pregnancy to the social media world and we found out that baby #2 was another boy!  We were ecstatic to say the least.  We went in for a 16 week ultrasound and it took forever.  The tech went over everything and I was slightly confused because this wasn't our anatomy scan.  She then said…"Your baby has a complication."  If you have never (which I hope you haven't) heard those words, they are heart dropping, gut wrenching, horrible words to come by.  I instantly broke out in tears.  She explained that she saw a cleft lip and possible palate. I was mortified, embarrassed, scared, every emotion went through my body in that moment.  Our doctor came and talked to us about it and sent us to see a specialist.  Few months went by and we met with our specialist.  After a very long and detailed ultrasound.. He came to us with 100% saying he had a cleft lip and palate…but…. There was more.
Our baby had a left brain ventricle that was dilated.  We went into a private room and he pulled out a book and went over every possible outcome with us.  We were told our baby may not survive.  This ventricle was a sign of Trisomy. (you can read more about our full story on my blog HERE)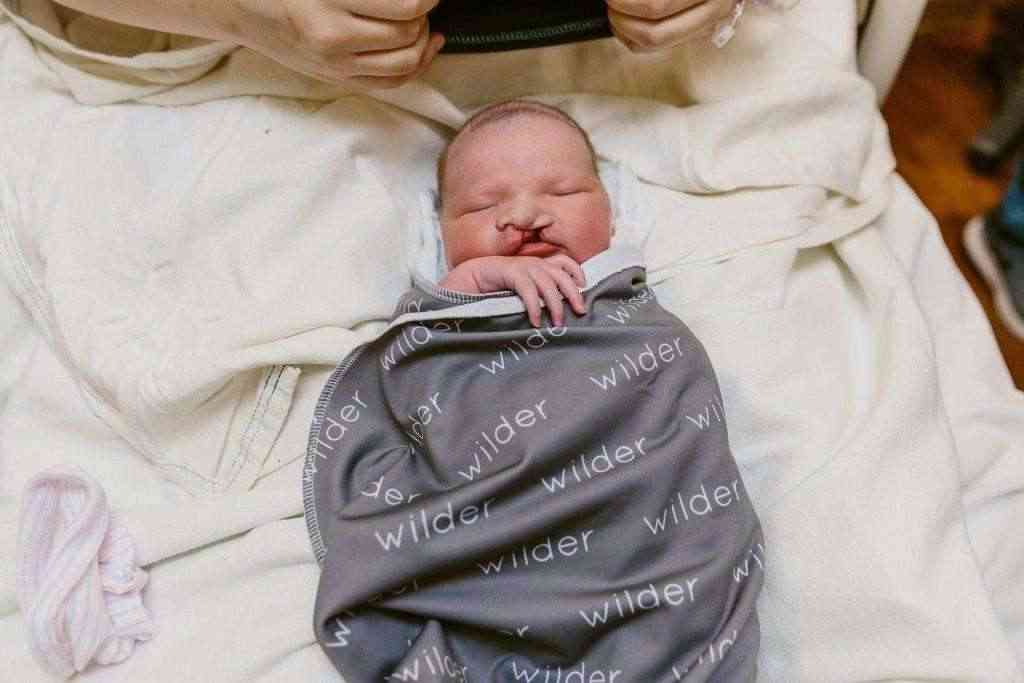 After several months and several ultrasounds our precious baby boy was born.  Wilder Bigt made his appearance at 8 lbs 10 oz and 21 inches long.  He showed no signs of trisomy, down syndrome, etc.  He had a left unilateral complete lip and palate but he was perfect.  With a cleft lip came several and I mean several long nights.  The first month was rough, and looking back on it.. It was such a blur.  We were on a strict 2 hour feeding schedule.  He wasn't able to breastfeed because he couldn't suck like a normal baby.  We had special bottles for him, he couldn't take a binky.  He wasn't a typical baby.  Adjusting to two kids was tough but having a child that required my attention 24/7 was even tougher.  We met with our surgeon who was on the other side of the state and got the game plan for the next year.  Wilder needed 1 surgery between 3-6 months, 12-18 months, 2-4 and 5-7 then there may be some occasional surgeries in his older years.  We got what is called a NAM device at 1 month.
With the NAM required weekly drives to his doctor, who was a 5 hour drive one way to adjust it.  We went once a week from May to August.  We learned all about having a cleft baby and dealing with its struggles.  It made us stronger as a family and we dealt with things normal parents don't deal with.
In August our sweet boy had his first surgery. 
It was a long 4 hours in the waiting room waiting for my sweet 5 month old to get finished.  When we saw him and his new look… we instantly melted and fell back in love.  My point is, if you are dealt the news that your child has something wrong with him or her.. It isn't the end of the world.  You will love and enjoy that child over everything and it will be the greatest experience of your life.  It may be hard but it will so be worth it.
About The Author: 
My name is Shalyn and I blog over at www.sincerelytheblonde.com  I am a mother of two little boys; Archer & Wilder and a wife to one handsome son of a gun!  We lived in Utah for our whole lives then randomly decided to pack up and move to Arizona!   I love to blog about family, life, food, home, pretty much anything and everything.  Amazon and Nextflix are my go to's and almond joys and pepsi are what keeps me going everyday!