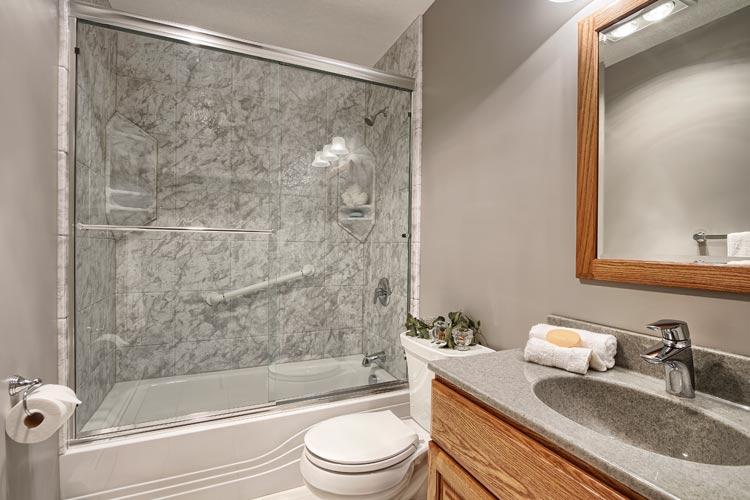 Let's face it – Most of us love spending time in our bathrooms. No matter whether it's attending nature's call or pampering ourselves with a bubble bath, these little private places are our personal favorite. However, they are often neglected when it comes to styling them. A luxurious designer bathroom not just lifts your mood, but also substantially increases the value of your home. So, if you haven't got a modern bathroom yet, think no more and spruce it up and start thinking about redoing your bathroom on a budget. Good news is that you can do it without breaking your bank (do it affordably with bathroom renovations Camden Haven).

Here are some ways to spruce it up on budget:
1) De-clutter:
The first step to redoing your bathroom on a budget is decluttering. Get rid of all the junk that your bathroom holds- those empty shampoo bottles, old soap holders, bad-smelling sponges, and so on. If your bath place has something that's been there for more than half a year, get rid of that too.
2) Replace outdated lights:
Replace all outdated light fixtures with something fresh. Avoid yellow bubs and go for natural/ simulated natural light. Bring in dramatic light equipment such as pendant lights or chandeliers. There are tons of chic and classy bathroom lighting styles available in the market today; go for something that suits your budget.

3) Update the fixtures:
Updating fixtures is an easy way to spruce your bath place. Bring in the modern shower, new faucets and sink to change the appearance of your bathroom.
4) Refresh shower curtains:
Shower curtains are a great way to add some style to your bathroom décor. Replace those old shower curtains with new, fluffy ones. Pick the color and design of the curtains carefully.

5) Frame the mirror:
Framing a plane mirror can make a big difference when it comes to stylizing your bathroom. So, update the mirror by adding a chic frame such as glass tiles for a unique and classy look.

6) Update the tiles:
Tiles enhance the look of a bathroom and therefore have to look nice and refreshing. If you have old titles, it's time to update them. To update tiles within budget, resurfacing with bold colored spray paint is a good idea. Another great way to do update your bathroom on a budget.

7) Spruce up your storage:
If you don't have cupboards in your bathrooms, display all those things creatively. Towel rolls can be arranged well in a basket. Storage jars, decorative tins, and colored dishes can be employed if storage is lacking. To add vintage look and feel, buy some vintage jars and bottoms for storing your bathroom essentials.
8) Paint the ceiling:
A sleek and modern bathroom has good-looking ceilings. Paint your ceiling with white paint or go for a bold, textured color. If you are great at art, create your own beautiful landscape or anything else that you think will look good.

9) Add a touch of fragrance:
The feel of a new and clean bathroom is complete without a hint of fragrance. Besides those air fresheners, get in some incense sticks. Scented candles and oil burners are a great way to add a luxurious feel to your private place. Get candles and burners of different colors, shapes, and sizes to accessorize your bathroom.
10) Dress the Windows:
Adorn the windows of your bathroom with eye-catching fabric patterns. Go for neutral shades such as white or yellow. Adding a floral curtain to your windows will be a perfect idea. To spruce, your place without breaking the bank, consider bathroom renovations Camden Haven services from at Pacific Designer Bathrooms!
[blockquote align="none" author=""]
This post contains affiliate links and I may receive a commission, at no additional cost to you, should you purchase through one of my links. Please
see my disclosure
for more information.
[/blockquote]