[blockquote align="none" author=""]This post is   in partnership with Gillette's new
SkinGuard razor
– new at Walmart[/blockquote]
Military servicemen are known for their professional upkeep and well-dressed manner. Along with that, they need to have a clean-shaven face every day. No matter how sensitive your skin is, the requirements are still the same. Finding a great razor to use is extremely important for those military men who shave on a daily basis. The new Gillette SkinGuard Razor is designed for men with sensitive skin. Read on to find out the benefits for your military man.
Shaving every day is rough
After speaking with my husband about shaving in the military, he addressed the hardship that he goes through with having to shave every day. With being in the army, he has to shave every day to remain professional and upkeep his appearance. That being said, it is important for him to make sure he has a reliable razor. When deployed, he said they ordered dozens of razors and shaving cream at a time since it was a daily necessity. When being in the field, they would have to shave out of a cup of water and the water was extremely cold. Having a reliable razor is important when being in the field because there are no ideal shaving conditions there.
A safer cut
Another great reason for using the Gillette SkinGuard razor is that it has been created to deal with the issue of razor burn and bumps. Luckily, whether you have ideal shaving conditions (warm outside, warm water) or not, this razor will help men combat the disadvantages of shaving every day. By using a razor that is made for razor burns, it can help to make fewer accidental cuts because of the smoother shave.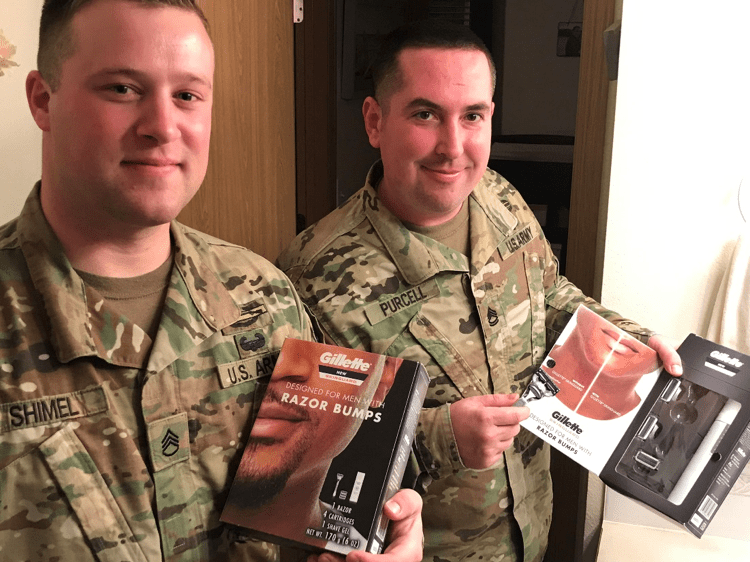 Smoother face
The benefits of shaving every day with a top of the line razor are that you can have a smoother shave. Avoiding the blades "tugging and pulling" on hair at the skin level helps prevent any skin irritation. Because of this, the face is not red and does not have stubble, no matter the shaving conditions. This is the best-case scenario for a military man having to look presentable every single day. The Gillette SkinGuard razor also has a precision trimmer on the back and is great for hard-to-reach areas. When having to shave early in the morning, possibly in the middle of a field, you want to make sure not to miss any spots when shaving on the go. For an even better shave, it does well when paired with Gillette's Pure Soothing Shaving Gel.

Final thoughts
In the end, being in the military means that you uphold a certain level of professionalism. You do this by having a clean-shaven face and your uniform. By having a top of the line razor like a Gillette SkinGuard razor, it helps keep you up to military standard no matter where in the world you are.  Get the best gift for your loved military man from Walmart now.