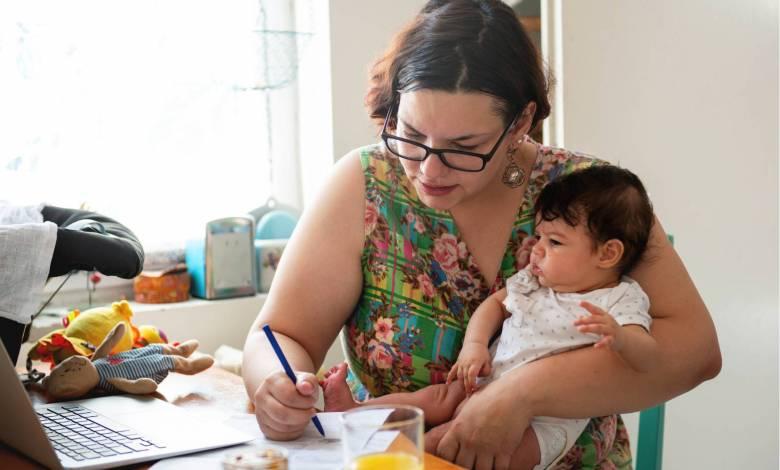 Working mothers have far less time with their newborns than stay-at-home mothers. According to the labor force participation rate of mothers with children under 18 was 72.3% in 2019. But, this does not state that a stay-at-home woman is a better mother than one who works. Bond With Baby It is the quality of time, not the amount, that counts.Spending quality time with your infant rather than doing a lot of activities in the limited free time you have with your baby is quality time. Focus on your domestic chores and complete only those you need to complete daily.
Working mothers, without a doubt, miss out on necessary time with their children—and sometimes even milestones—while they are at work. But, this does not rule out developing a solid bond with your child.
Building your bonding rituals is crucial, even cutting out an extra hour per workday. Continue reading to learn seven simple ways to bond with your baby.
How Does Parent-Baby Bonding Occur?
Bonding can take place in a variety of ways. You bond with your infant when you look at them, touch their skin, feed them, and care for them. Rocking or stroking your baby to sleep might help develop your new relationship and make them feel more at ease. When you look at your baby, they will return your gaze. The baby's cries will encourage the release of milk in nursing moms.
1. Use skin-to-skin contact
You've probably heard how important it is to cradle your nappy-clad baby on your naked chest for skin-to-skin contact. You can do so with a light blanket or cardigan over you for warmth if needed. Skin-to-skin contact helps release hormones that encourage your newborns to seek out their moms.
You'll release a potent mix of relaxing hormones during skin-to-skin. It includes oxytocin, the "love hormone" or "cuddle chemical." This ingenious hormone aids you in adjusting to motherhood in various ways. It improves your mothering behaviors, such as touching and making eye contact.
2. Give your baby a massage
Massage is an excellent way to relieve pressure, stress, tension, and pain. It's also a quick and therapeutic way to help de-escalate mental and physical discomfort.
Infant massage may help your baby in various ways. It could help them with digestion and circulation, drawing them closer to you. This approach calms fussy babies and gives parents a few minutes of peace and one-on-one time with their children. You strengthen your relationship with your child and place value on time spent with them. You provide a peaceful and safe area to relax each day by including this in your baby's daily routine.
3. Make breastfeeding quality time
Parent-child bonding refers to the strong feelings you have for your child. Breastfeeding is one of the best methods to bond with your kid because it gives nutrition and time for you and your baby.
Breastfeeding fosters bonding between mother and child. Furthermore, the simple smell of your breastmilk will soothe your infant. Your child will not only feel closer to you since you are meeting her most basic wants. But she will also appreciate some extra cuddles and being close to you. Here are some helpful tips if you need to nurse your kid when you return to work.
4. Make bath time special
Spending time with your Baby when showering is one bond approach as a mommy. Bath time, especially for working moms, is when you can spend uninterrupted time with your child. There are many strategies to make bathing your infant beneficial for both mama and baby. Not only are you demonstrating your concern for them, but a bath is also part of an infant's needs list.
The goal is to make bath time a meaningful part of your child's daily routine. Even if you have to work late, set your child's nightly bath routine apart for you. When you make bath time a unique event for mommy and baby, your infant may look forward to it more than you realize. So make it a part of your routine. After all, you're your child's only mother, and that's a unique duty to fill.
5. Spend more time with your baby during your days off
On days when you are not working, try to spend as much time as possible with your child. Wear your newborn baby in a sling or swaddle them to keep them near you if you have to use your free time to clean the house. This way, you can bond with your infant even if you're doing something else.
You can also do this if you need to leave the house, such as getting groceries or running errands. Swaddling your baby is a terrific method to maintain your bond with your child, so you'll be killing two birds with one stone. If at all workable, have someone else run the errands so you can give your child your full attention. You can engage in activities with your infant, such as playing the finest activity tables, that both of you will love.
6. Read Stories before bedtime
Your baby's bedtime is an excellent opportunity for an uninterrupted connection. Snuggling with your baby under super-soft blankets, for example, is a beautiful way to relax. Follow a nighttime routine that involves reading your infant bedtime stories to get the most out of bedtime.
Your voice has a calming impact on your baby, and reading a bedtime tale can help them fall asleep. Reading bedtime stories to your child can help them develop their cognitive, physical, and social skills. Aside from these advantages, reading to your child makes them feel safe, loved, and valued. It increases their self-esteem, which is essential when dealing with separation.
7. Make the most out of technology
We are fortunate to live in such a fantastic world. We may use technology to feel our presence even when we are far from our loved ones. Use technology to communicate with your infant throughout the day if possible.
Thankfully, video calls are now possible, and you may call your babysitter to see your child. Your baby will see you for the first time, and it will be the highlight of their day! You can also use baby monitors at home to watch your child while at work.
Final Word
Finally, don't feel bad about choosing to be a working mother! We believe that all mothers are the same, regardless of whether they choose to stay at home or work. There are no "full-time moms" since every mother is a mother all the time, no matter where she is. You can't just stop being a mother!
There's no need to feel guilty if you've decided to return to work. It helps not compare yourself to other mothers and not keep track of the hours you are not with your child. Instead, cherish the time you spend with your family — even the smallest moments matter.
Also, don't forget that you're doing a fantastic job.
This post contains affiliate links and I may receive a commission, at no additional cost to you, should you purchase through one of my links. Please see my disclosure for more information.