Getting a job offer is exciting. This is when you know that your resume was great and that you are qualified. But the excitement fades and we realize that you still have to go through an interview. This can make you nervous. You start to lose your confidence. On the other hand, some people start to feel super confident and they don't prepare enough. All of this can lead to some mistakes. Here they are: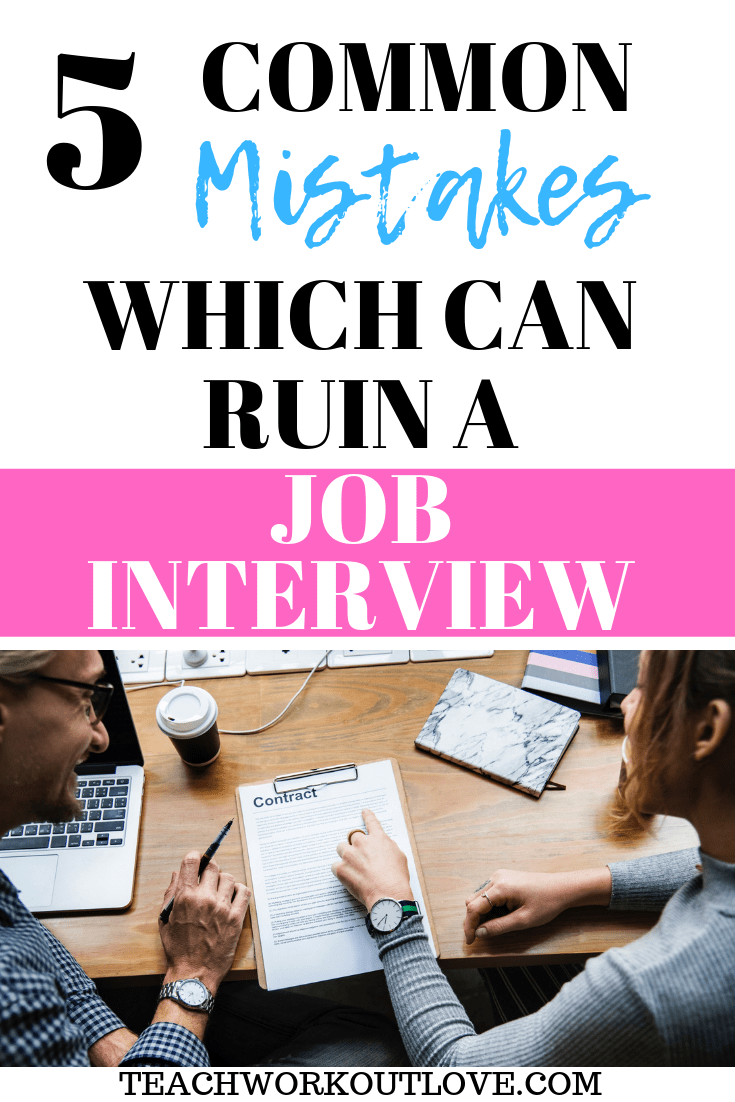 Being unprepared
When you get a job offer, the first thing you feel is confidence. Because of this, some people assume that interview is just a formality and they fail to prepare.
And when you are sitting in the office building waiting for someone to call your name, you might realize that you don't remember much about the company or your application. The number of people around you, waiting for the interview as well, can also be scary.
"The phrase 'Fail to prepare, prepare to fail' has become a bit of cliche," writes Robert Sachs, author at 1Day2write and Brit student. " But as with many cliches, there is a great deal of truth in it. The longer you spend on preparing for your interview, the more likely you are to anticipate and respond to the questions asked. This, in turn, will dispel any of the pre-interview nervousness we all feel."
Negative body language
First impressions count more than you think. One of the key factors of a first impression is body language. If we are in a psychologically stressful situation, our body acts on instinct and in the case of a job interview, the "fight or flight" mode can make you seem like a different person. For an interviewer, closed or negative body language can be not only off-putting but set off warning bells.
This may be an unfair assessment of your eligibility for a job, but nervousness comes from all kinds of places, and it would be easy for an interviewer to assume that your body language is defensive. Before you allow poor body language to ruin your job interview, you should spend some time setting up your body language consciously, even if it feels uncomfortable at first. Adopting open and relaxed body language will, in turn, have a positive effect on your state of mind during the interview.
Being uninterested
The prospective employer has matched your application to the role, and in effect, the interview is an assessment of you as a person. While it's important to remain polite, being uncommunicative can come across as too casual. The best resume in the world cannot replicate how we work on a day to day basis and it can't show your communication skills. There are times of course, where we actually are uninterested in the job interview. The employer will be able to see this.
Asking the wrong questions
"Passionate employers love to talk about their business," says Doreen M Barclay, a regular contributor on interview techniques at Writemyx and Next coursework. "If you don't ask relevant, engaging questions in your interview stage, in your employers mind you've failed to see the benefits of working for their organization."
Bad or irrelevant questions show that you have not prepared well enough for your job interview. Often these questions will be very generic or the 'classic' examples of good interview questions. They have probably heard these questions thousands of times already. And while you may be more than interested to work for them, generic questions won't get you the job. This is why you need to prepare.
Failing to follow up
Following up after a job interview is a good technique to get a job but people don't use it very often. This happens because people are often uncomfortable to do this.  For most people, it feels embarrassing. But a follow up email is a great way to continue the conversation. You will also stay present in their minds. The best thing to do is to look at the follow up email like another part of the interview.
[blockquote align="none" author=""]
This post contains affiliate links and I may receive a commission, at no additional cost to you, should you purchase through one of my links. Please
see my disclosure
for more information.
[/blockquote]