Incidentally, some situations force you to put your home on the market during this festive season. And indeed, there will also be buyers who will be looking for a home during the holidays. While both are true, there are several drawbacks as well as benefits you should consider.
Advantages of Selling Your House Over Christmas Time
Some will say that selling your house over Christmas isn't a good idea. However, it depends entirely on your situation, your property's assets, and your preferences. If you planned it strategically, then you may benefit from selling it during the holidays.
Since a lot of sellers adhere to the conventional wisdom that home-selling over Christmas isn't the best time, then the floodgates of opportunity will be opened for you. Remember, the lesser the number of sellers listed, the more it reduces competition, thereby limiting the buyers' options.
The other brighter side of it is when you are located in areas where competition is high between buyers during the holidays. Buyers may even offer you a higher price.
Moreover, buyers who are motivated in looking for a new home this Christmas will work to your advantage. Thus giving you a better probability of closing the deal. Similarly, this is the time of the year that loan officers are more likely to approve housing loans to qualified buyers aside from offering lower rates. Notwithstanding that the last month of the year is the slowest for the real estate industry.
During the holidays, realtors have more time and become creative as well to make your listing noticeable on top of the others. Realtors work doubly hard to get buyers' attention by listing photos and staging.
Depending on your location, buyers may benefit from tax breaks when purchasing a home during this time of the year. Moreover, potential buyers are usually on a break during Christmas time thus they have more time to browse the net to search for the current listing on the market. They can also easily afford to attend holiday-themed open houses.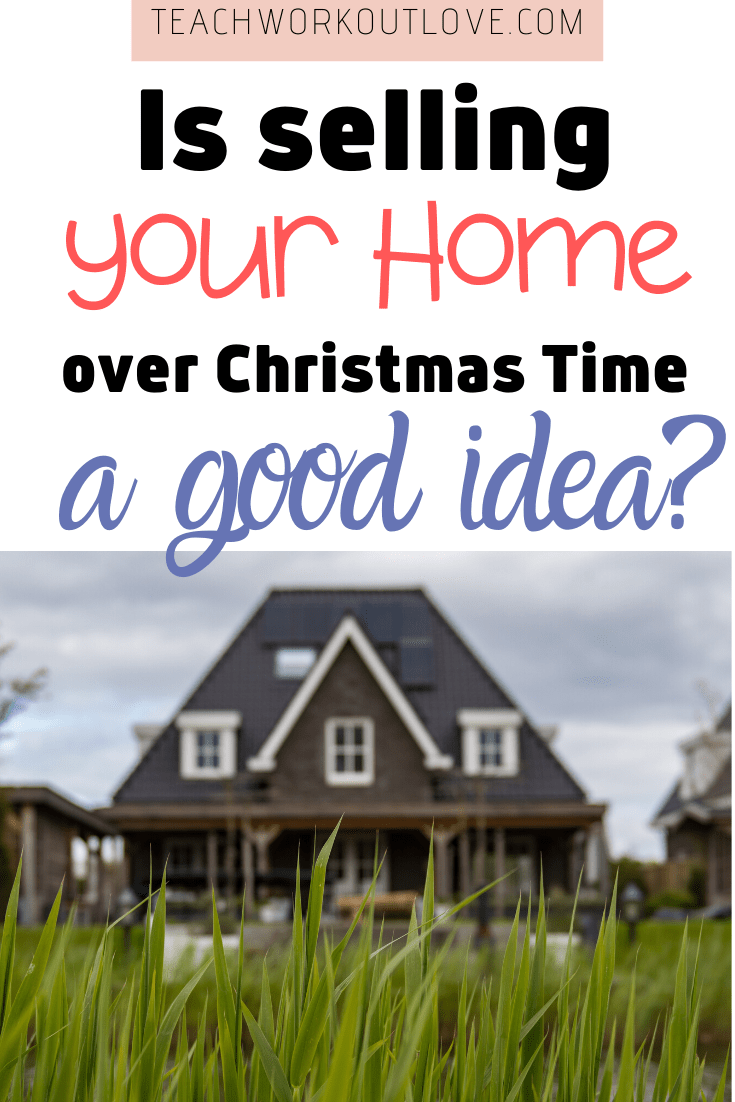 Disadvantages of selling your house over Christmas
If you ask, "do you think this is the best time to sell my house?" you can be sure that agents will answer you with a resounding yes. But that doesn't mean they're completely right. Of course, they would want to get you listed for fear of losing you to another real estate agent when the New Year comes.
The truth is, there may be more drawbacks than advantages when selling your home during this season. And this is why it's very crucial to weigh the pros and cons carefully.
First off, most real estate agents are on a holiday vacation or enjoying time-off with their loved ones. It's hard to find an available agent to work with you during this hectic season. So, it's best to get a hold of an agent in case you are determined to sell your house during this time.
Another thing is, when buyers notice your home listed over the holiday, they might question your timing. They may think that there is something wrong with your property or assume that you will use your earnings to pay debts. Thus, this could also lead to lower offers. Their suspicion may even come to a point where they background check your neighbors to see if you're hiding something.
As a seller, you may want to dispose of your home as quickly as possible. But potential buyers have their timetable. Not only that, if they decided to take your home, they can't ask for financing from their banks due to a holiday break, further delaying the sale.
Easy Guide for You
Now, if you must sell or you decided it is the best time for you to sell your house over Christmas, then need this:
Don't over decorate.
Christmas is that time of the year when you see delightful seasonal displays. The season exudes a spirit of joyous, festivities—so it's understandable to join the Christmas decoration brouhaha.
But if you want to up your property's chances, scale back the decor. Whether it's Christmas or not, too many decors can hurt your sales. What looks good to you may not look pleasant to others—they may even see it as trash. Some potential buyers may not share the same views or religion, so you better stay on the safe side.
If you must, then minimize your decorations to make your home spacious, clean, and organized. Remove clutter, especially excessive personal items like family pictures and so forth.
Remember, you are trying to sell your house. You may have deep cleaned it and removed unnecessary items, but if you indulge in new decorations then you are just canceling out your preparations. Consequently, try to think like a buyer, focus on catering to their needs.
This post contains affiliate links and I may receive a commission, at no additional cost to you, should you purchase through one of my links. Please see my disclosure for more information.