I have some regrets about my first pregnancy. Actually, I have one big, collective regret: almost every item of maternity clothing I purchased.
In fact, when friends ask me for pregnancy advice now, that's the first thing I always bring up. Don't cheap out on your maternity wardrobe. Here's why (and what I did differently the second time around).
Dressing your changing body
Pregnancy is hard on your body, and that can be hard on your psyche. For the first time, you're not taking care of just yourself. There's someone growing inside you, depending on you to make good decisions and keep them healthy. (And if you ever forget that responsibility, don't worry! As soon as you start to show, total strangers will come popping out of the woodwork to ask if you should really be eating that sandwich, taking that medication, or lifting that box.) At the same time, your body is changing — a lot — visibly and in ways only you will notice.
With my first pregnancy, I had a lot of anxiety. I worried constantly about losing the baby. I was afraid to shop for maternity clothing too early because I couldn't stand the thought of having to look at it if something bad happened. And when I finally got to the point at which belly bands and empire waist dresses weren't working anymore, I was reluctant to spend a lot of money on clothes I'd only wear for a few months.
So what did I do? I went for the cheaper version. Hit the clearance racks. Bought whatever fit. And getting dressed every day was a total drag.
Look good, feel good
Every morning, I'd stare at the ugly, cheap maternity clothes in my closet, sigh deeply, and put on whatever I hated least. That's not a fun way to get dressed at the best of times. When you're also struggling with anxiety and severe nausea, it's soul-crushing. I packed away my maternity wardrobe as soon as I could after my daughter was born and spent my maternity leave shopping online to get the taste of cheap polyester blends out of my mouth.
Two years later, I got pregnant again. I experienced the same anxiety with my second pregnancy as I had with my first. This time, though, I was determined not to deprive myself of hope and happiness. As soon as we confirmed that the baby had a heartbeat, I got out my old maternity clothes… and realized how depressing they were.
Off they went to Goodwill, and I started shopping for a maternity wardrobe that I actually liked.
Bargain hunting
Don't get me wrong — I was still bargain hunting! I haunted online sales and shopped using cash-back apps and coupon codes. I found some perfect pieces on Amazon and splurged on designer jeans, although I found that my favorite maternity jeans actually ended up being the H&M skinnies that I still think about longingly from time to time. (They were so flattering.)
Even though I was still anxious, and even more nauseated than I had been the first time around… I felt better. Getting dressed in the morning was a pleasure. I liked the way I looked, even as my body changed in ways beyond my control.
It's easy to look at pregnancy as a short period of time and think it's not worth investing in new clothing. And some women can probably wear whatever and feel just fine! For me, having good quality maternity clothing that fit well and reflected my personal style made me feel more confident. More beautiful. More like myself.
https://www.instagram.com/p/BGxGBpWi0L5/
Building your maternity wardrobe
Try on in person if you can, but be prepared to shop online. Many stores' maternity lines are online-only or have limited in-store selection. Also, you can use cash-back sites like E-bates and Mr. Rebates to recover some of what you spend. Think of your maternity wardrobe as a capsule collection.
Look for separates in complementary colors and styles that you can mix and match, plus a couple of fun trendy pieces. Check Retail Me Not and other coupon sites for discount codes. Shop at H&M and you will be able to recycle old clothing in-store and get a coupon for 10% off a future purchase.  Consignment stores also sell maternity clothing as well.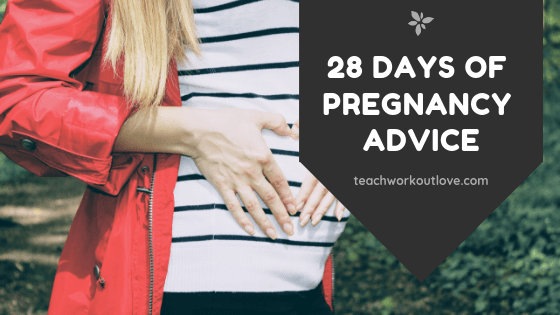 This post may contain affiliate links. Please visit the disclaimer page for more information.