When you look back on your pregnancy after having your first child, there might be so many things that you wish you would have known. This article will give you the top pieces of advice about things that I wish I had known before pregnancy.
Date your husband
During your pregnancy, cherish every second you have with your husband for the next 9 months.  It is rarely talked about that the dynamic of your relationship changes.  Your relationship changes for the better of course, but having a little one around is a lot for everyone to get used to.
Go on date nights, snuggle together on the couch, and just be together.  The alone time will be few and far between once the baby is here.
Go on a babymoon or have a one at home, but this will be the last trip together alone until you are comfortable leaving your baby.  If you choose a staycation, take the time off work, unplug, and do things you wouldn't normally around your city and surrounding cities.
Invest in maternity clothes
Don't go buy a whole new wardrobe; that isn't necessary.  But, do invest a few staple pieces that are maternity. I didn't invest in maternity wear, but I wish I had at least gotten a few things.  If there is a next time around, I will definitely get at least one pair of black pants, a pair of jeans, and maybe some yoga pants.  I bought shirts that flow, so I didn't need maternity shirts.  You can always size up in regular clothes if you don't want to go the maternity wear route. You have a few options, but maternity clothes are not necessarily flattering or cheap.  There is pinkblushmaternity.com, Motherhood, A Pea in the Pad Maternity, Target, Nordstrom, Old Navy (online), etc.
Anything can happen
Pregnancy is unpredictable.  That birth plan you think you are going to follow…go ahead and rip it up now.  Your baby and body beat to their own drums, and they are not on your timeline. Believe me, I had a plan, and at 32 weeks, my body had a different plan.
If you feel as if you need to plan, write a Plan A and a Plan B.  DO NOT try to plan for EVERY scenario; you can't predict the future and planning for everything that could go awry will leave you stressed and scared which is not good for you or the baby. Sometimes you plan for a vaginal birth and a C-section is what you will receive. Just expect the unexpected, and you will be pleasantly surprised when things go exactly how you planned.
You aren't really eating for two
Don't get me wrong, some of what you will eat will go into your blood stream and make it to the baby. However, I'm sorry, that donut is not for the baby even if the pregnancy is making you want it desperately. Try to eat as healthy as you can manage, and don't be afraid to indulge sometimes. Over indulging when pregnant is the one time no will judge you. 😛 In all honesty, make sure you are getting food into your body and you are staying hydrated.
Don't be afraid to workout
Workout especially if you were working out prior to pregnancy. Don't start a new workout routine if you weren't working out before pregnancy.  Discuss how to do get moving with your doctor first. Unless you have been told it is detrimental to your health and the baby's health, get moving.
Staying active during pregnancy is so incredibly beneficial.   It will also help with recovery postpartum.  Get up and move! Walking is a great way to get moving! I was lucky to have a doctor who told me to keep doing what I was doing before.  You will know when you need to slow down or modify.  Some workouts get hard with a big belly and some just aren't safe anymore, particularly abdominal exercises.
Pregnancy is not one size fits all
Don't compare your pregnancy or bump to your friend's or your sister's. Every pregnancy is different.  If you have a second child, it is likely that pregnancy will even be different.  Just take it one day at a time and enjoy it. Your belly may start growing right away, it may not come until the second or third trimester; every one is different. Try to embrace everything that is happening and enjoy the ride.
Capture every moment you can
One regret of mine is not taking enough pictures of my growing belly.  I have two. When I look back at the pictures, I feel kind of sad because my pregnancy was such a miracle; so why didn't I feel compelled to take more pictures?  The main reason for this was I really didn't start showing until late into the second trimester, so it seemed weird to take belly pictures.
Take videos of your baby moving around in your belly.  It is the most amazing thing to see.  My placenta was right above the baby, so we didn't get to see this often.  If it happens, get your camera ready and make sure your hubby is there.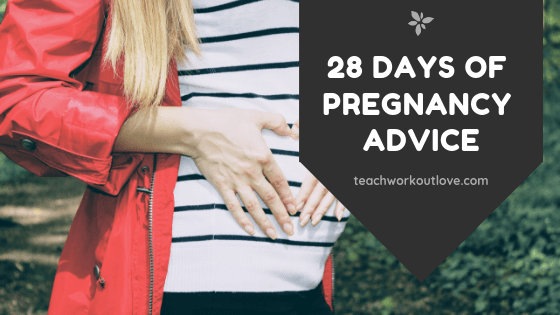 Include your hubby
If there is a husband involved, include him the best you can. Let him touch, kiss, and talk to your belly.  He can't feel the baby from the inside, but he can feel them from the outside, and it's his opportunity to bond with the baby before they are here.  It is one of the sweetest things about pregnancy, watching your husband try to bond with the baby before they are here. Really, your husband is the only acceptable person who should be touching your belly.
Get some rest
Lastly, get as much rest as possible. Making a baby is exhausting. If you feel like you need a nap, take one.
Enjoy every second of your pregnancy; it flies by!
This post contains affiliate links. Please visit the disclaimer page for more information.