What a week and month it has been here in the United States dealing. Nothing like it has ever happened to this extent and now we are trying to deal with it. Between everything closing down and schools shutting their doors, it leaves parents with a lot of their plates. So in the meantime, we need to have a plan until the world works itself out. Luckily, companies have come together and are trying to help out families and schools.
This article shares a detailed daily schedule for families created by a 3rd-grade teacher to deal with school closures. We are also sharing websites and resources that are have switched their services to be free or have provided discounts.
Printable Daily Schedule
Not sure where to start next week when schools are closed? This is a good place. Download our Daily Schedule for Families of School-Age kids. It takes you through what to do with your kids on a daily basis when trying to have structured learning on a daily basis. Get yours here:
---
ABC Mouse
ABC Mouse helps kids learn to read through phonics, and teaches lessons in math, social studies, art, music, and much more.
Offering: ABC Mouse has a great deal for yearly rates. Make sure to check it out and use it as a learning tool.
American Dairy Association
Want to get some great experiences while you are stuck inside? The American Dairy Association is has virtual tours of farms while you are stuck inside.
Audible – Audio Books
Audible is an online book resource where you can listen to books on your phone. They are now opening it up for families to listen to books!
Breakout EDU
Breakout EDU has online educational games for kids that are free! Games are broken up into K-2 and 3-5 making it easy for kids to determine which games are appropriate for them.
Offering: Free educational games online that kids can play
Cincinnati Zoo
Cincinnati Zoo has a fun and exciting way to help families during school closures. They are going to highlight an animal every day at 3pm EST on Facebook for families to watch together!
Offering: Join the Cincinnati Zoo every day at 3pm EST where they will highlight one of our amazing animals and include an activity you can do from home.
Class Dojo for assigning learning
Class Dojo is one of my favorite ways to communicate with families of students in my classroom. Because they will be remote learning, this is a great way to communicate any resources, assignments and more. You can upload worksheets, add links, and parents can share photos of work and so forth. It is highly suggested that you get this app and set up your class on them.
Offering: Class Dojo is offering to help you share out your information to families and making it really easy for parents and teachers to connect.
DreamBox Learning
Parents, you can help your child's math confidence with 2,000+ DreamBox Learning® Math lessons, designed by teachers, available for grades K-8.
Offering: They are offering 90 days free if you sign up before April 30th. On the bottom of the page they have the different choices in grade levels so you can view what it looks like too.
Epic!
Epic! is an awesome app that helps encourage kids to read books. It helps kids read unlimited books for kids under 12. There are over 40,000 books that you have access to.
Offering: They're offering We are offering FREE worldwide Remote Student Access to Epic through the end of the school year (June 30th, 2020), by teacher invitation — no credit card required.
Khahn Academy
Khahn Academy is really great for older kids who can read. They make it easy to login and sign up. Pretty much all of the lessons are math and science. If you have older students, middle school and high school, they have TONS of choices for math. If you are sitting next to your kiddo, this is a good one for Preschool and Kindergarten. Not recommended for independent math work – this one needs parent supervision for younger grades.
Offering: It is easy to set up an account for your child, whether the teacher assigns it or not. This is perfect for any level of math, especially older grades.
KiwiCo
KiwiCo has created resources for parents to help support learning at home, with loads of stay-at-home educational activities for every age, tips from teachers on effective remote learning, and kid-friendly content that connects science with their daily lives.
Offering: Class Dojo is offering to help you share out your information to families and making it really easy for parents and teachers to connect.
Live Streams Calendar
Can't keep up with all of the resources? This is the best resource I have found so far that has it all labeled in a calendar with clickable links!
Offering: This calendar has all of the live stream events including karate, museums, read alouds, jazz, movement, and more!
Multiplication.com
Games, Auto-Scoring Quizzes, Flash Cards, Worksheets, and tons of resources to teach kids the multiplication facts. Free multiplication, addition, subtraction,
Offering: While they are not offering anything up front, they do have some great resources.
Mystery Science Lessons
To help educators during this time of coronavirus, we have pulled our most popular science lessons and are offering them for anyone to use for free. No account or login is needed. Copy and paste the links below into your documents and use them however they might be helpful! Mystery Science is the creator of the most popular science lessons in U.S. schools. We've curated this starter set of science lessons that you can use remotely or share with parents.
Kindergarten  |   1st Grade  |   2nd Grade  |   3rd Grade  |   4th Grade  |   5th Grade
Offering: Free science lessons at home that you can do together! The lessons are divided out by grade and you are able to determine if you want all-digital or hands-on activities.
National Parks Virtual Tours
Feeling stuck at home and can't go out? Virtual tours are the way to go!
Offering: This website has compiled a list virtual tours through National Parks. You will not be disappointed!
NewsELA
News content turned into learning opportunities in the classroom.
Omaha Public Schools
Omaha Public Schools has provided at least 30 pages of work for each grade, Kinder-6th grade. They have also provided work for 3 weeks each.
Outschool
Outschool.com has 8000+ video chat classes for K-12 science, art, mindfulness, english, social studies, life skills, and more!
Offering: They are offering free classes for kids starting now.
Pizza Hut Reading Program
The Pizza Hut reading program gives families and teachers a free pizza ticket to give to their kids and children. They have some great online resources now for families to download and print.
Offering: Lots of fun resources for families to print out or use online for reading like reading logs, reading squares, etc.
Readworks
Using ReadWorks for remote learning is easy and will ensure your students and kids don't miss out on key reading comprehension growth if they can't come to school.
Offering: Parents and teachers can set up free articles to read at home at specific reading levels.
Scholastic
So far, this is our favorite resource. Scholastic has created a 15-day learning plan with lessons and videos for students. If you browse the Grades 3-5 lessons, they are fun and exciting lessons that you can walk through together!
Offering: Free materials that don't require tons of printing and makes it easy for families to access.

Social-Emotional Learning Videos
A big part of our day as teachers is creating a calm environment with social-emotional learning. Class Dojo has been able to help with these lessons by creating videos about their character Mojo. They give him different scenarios for which he learns about things like trustworthiness, honesty and more.
Offering: Videos for parents to watch at home with kids to learn about different character traits.
Vocabulary Spelling City
Vocabulary Spelling City is an efficient game-based study of literacy skills using any word list.
Offering: To take advantage of this offer, simply enter the code: VSCFree90 upon registration on our website, and you'll immediately have access to this powerful tool, no matter where you or your students are! Again, use code VSCFree90 upon registration to prepare your students and teachers for any scenario with VocabularySpellingCity. To learn more about VocabularySpellingCity or to sign up today, visit our website at www.spellingcity.com.
Washington State Math Resources:
Washington State has a list of Math resources for families to access. They have created a menu of learning standards, resources for the state test,
Offering: More ideas for families to help them with teaching children at home.

We are Teachers Online Resources
Another great resource is We Are Teachers has created its own resource guide. They have so many great resources, we suggest going through their site and finding what it is you are looking for.
Need some fun out of the box ideas?
Now that you have Monday to Friday covered, what are you going to do on the weekend? With the list of resources for families with school closures, we have even more ideas for you! Here are some subscription box ideas that might just be super helpful to you in keeping your kiddos busy and entertained on the weekends with nowhere to go.
Green Kid Crafts
At Green Kid Crafts, their STEAM (science, technology, engineering, arts, and math) subscriptions create opportunities, and certainly spark the imagination! Their STEAM kits, educational toys, eco-friendly toys, and educational crafts and science experiments deliver discovery, learning, and fun to children ages 2-10+.
For Purpose Kids Box
Are you looking for fun subscription boxes for kids? Help them to learn different things and have fun? For Purpose Kids Box is your box! Our Toolkits and Parents' Choice Foundation® Award-Winning Subscription teach kids how to connect to the world and their communities by being kind and doing good for others, animals & the planet. Each Toolkit includes beautifully illustrated books and fun, interactive activities focused on a cause using multi-cultural characters (The For Purpose Friends) to help kids connect to the world around them- perfect for ages 5-10.
Superpower Academy
Another great subscription box is Superpower Academy.  They are an Award-Winning subscription that combines STEM, Social-Emotional Learning & Literacy for the next generation of heroes with monthly boxes.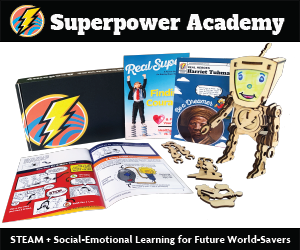 Orange Art Box
Do your kiddos love coloring, painting, and everything art? Then the Orange Art Box is for you and your family! It is a collection of projects delivered to your door every month to inspire your artist. Every Orange Art box is designed with a feature project and smaller projects!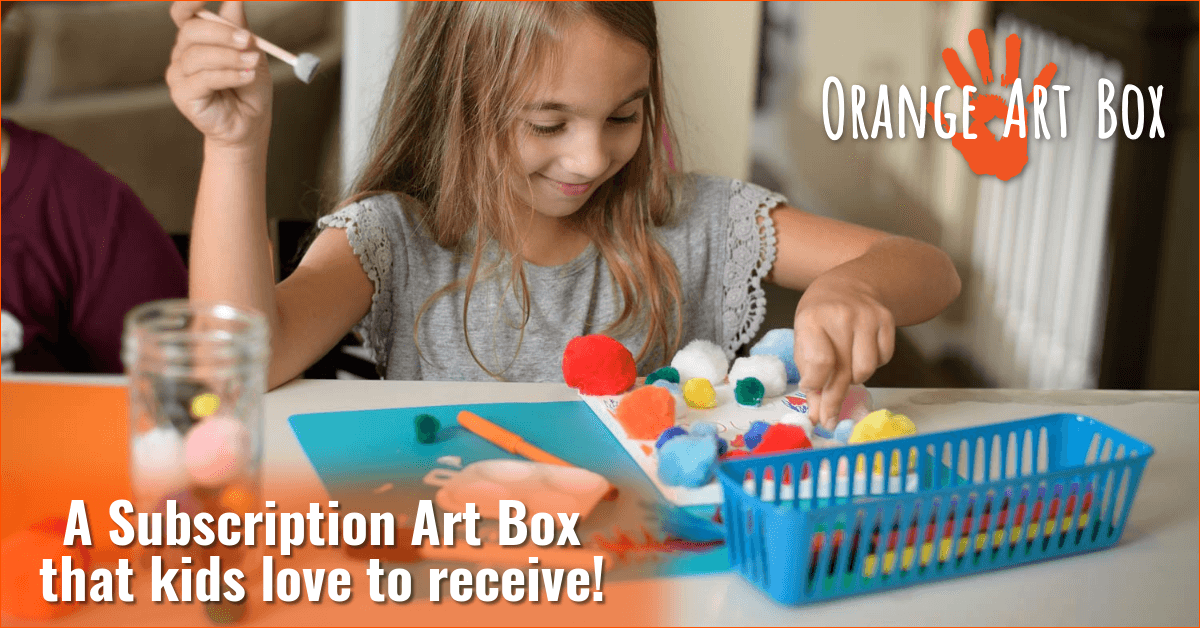 Baketivity
Pick your baking subscription box at Baketivity for monthly subscription box fun-filled baking activity. Enjoy the best all in one baking kits and cooking experience!
Codakid
Introducing Codakid, a  
coding for kids
 school that believes in the potential of every child. You'll learn how to code and unleash your kid's abilities with real-life hands-on experience!
Overall
In the end, we know that not everyone is meant to be a teacher and do lessons, and that's ok! We can only do the best we can with what we have to work with. Not every day is going to go as planned and if not, here is a great list of educational shows that you can watch on Netflix. If you are getting tired of reading out loud, switch it up and play some of these videos where books are read by authors or students. Plus you can go on a virtual field trip from your couch! Our article with resources for parents with school closures is hopefully something that will help you to provide a healthy learning environment for your kiddos who are missing school.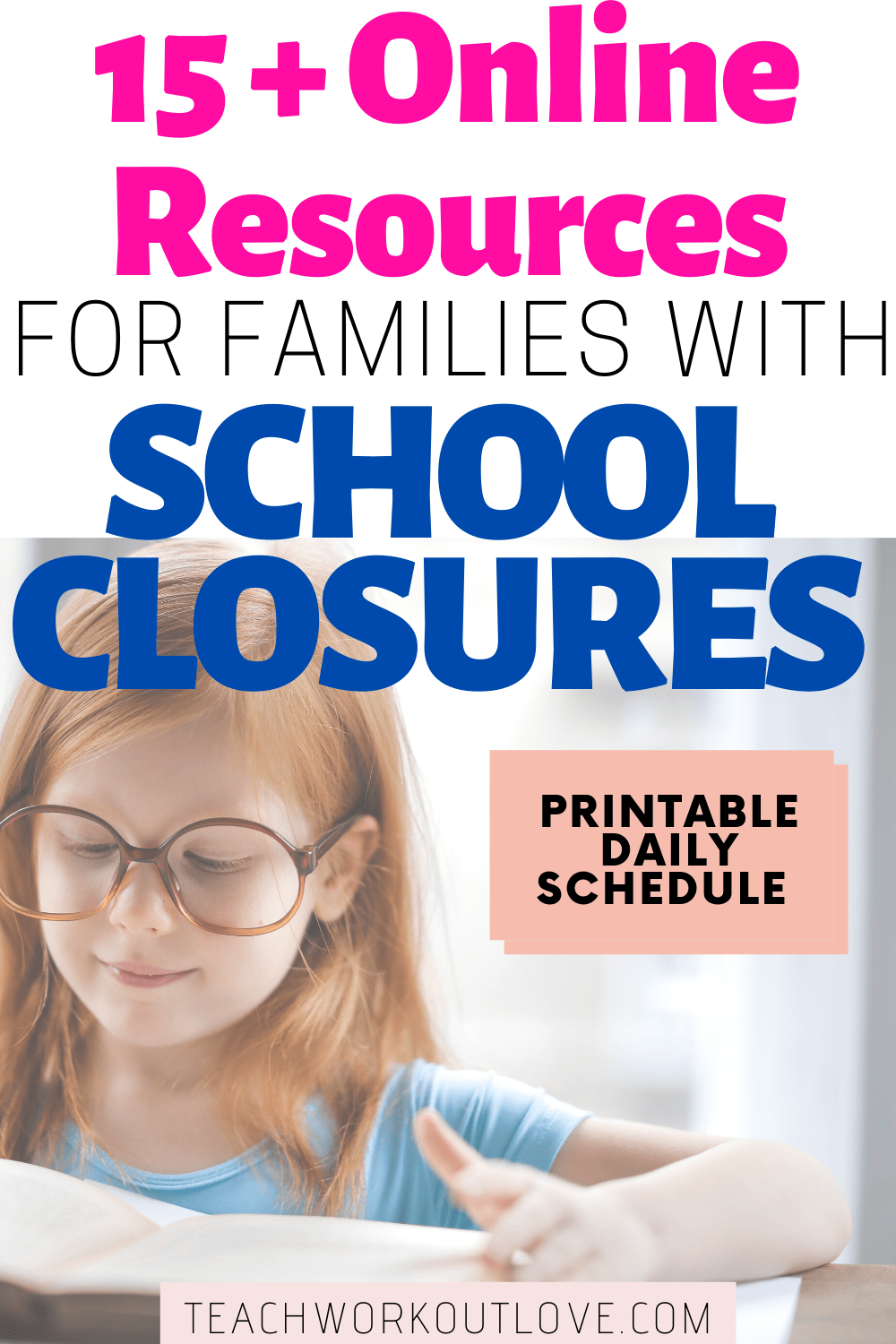 This post contains affiliate links and I may receive a commission, at no additional cost to you, should you purchase through one of my links. Please see my disclosure for more information.