Are you thinking of reentering the workforce after (let's be honest here…) holding the most difficult job title ever?  Updating your resume after being a stay at home mom can be daunting at first.  Let's break it down into tangible resume tips for moms returning to work.  The break in employment, or commonly referred to as "mommy gap," should not be hidden within your resume.  Instead, you have fine-tuned your project management, multitasking, or even delegation skills!
Who am I to dole out resume advice?  I am an engineer and working mom (4 + 1 on the way!) and have over 8 years of experience with one of the world's top oil and gas companies as well as a top beverage company.  In addition to my "day jobs" at those companies, I led major recruiting efforts and have sorted through hundreds of resumes.  I hope my experience and tips for moms returning to work will help craft the perfect resume.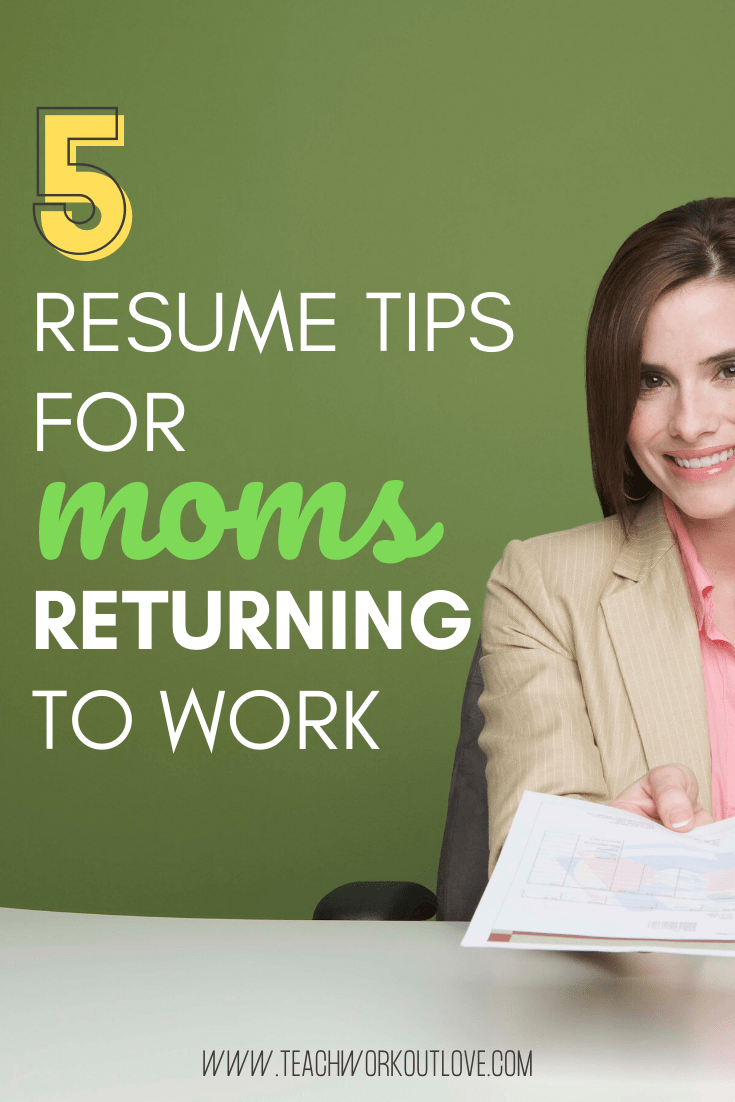 Update Resume Format
Before we dive into the resume content, ensure the formatting is up to date.  The rule of thumb is still keeping your resume to one page.  Recruiters are now sorting through what could be thousands of resumes for multiple job postings – do not make them worker harder than necessary to learn about you!
Keep the formatting and font simple, readable, and do not be afraid of white space!  There are several examples online to find ideas for resume formats.  Keep in mind, these are just examples.  Tailor your format to your targeted industry.  For example, in design or marketing, you may want to show more color or creativity.  While in a conservative industry such as oil and gas, perhaps leave the professional photo off of your resume.

Brainstorm Involvement in the Community
Updating your resume to return to work is not an overnight task.  Take time to really think about what you have done during your time as a stay at home mom.  Get a notebook or jot down notes in your phone as you brainstorm what would look best to showcase on your resume – volunteer opportunities, class parent, involvement in sports or extracurricular activities, homeowners association, troop leader, swim instructor, tutor, whatever it may be!!  Keep your list evergreen as it will come in handy later.
Strong Objective Statement
Start your resume with a robust objective that explains your skill set and why you are a good fit for the position.  Highlight your experience and desire for the related position.  Here are some examples:
Application for a teaching position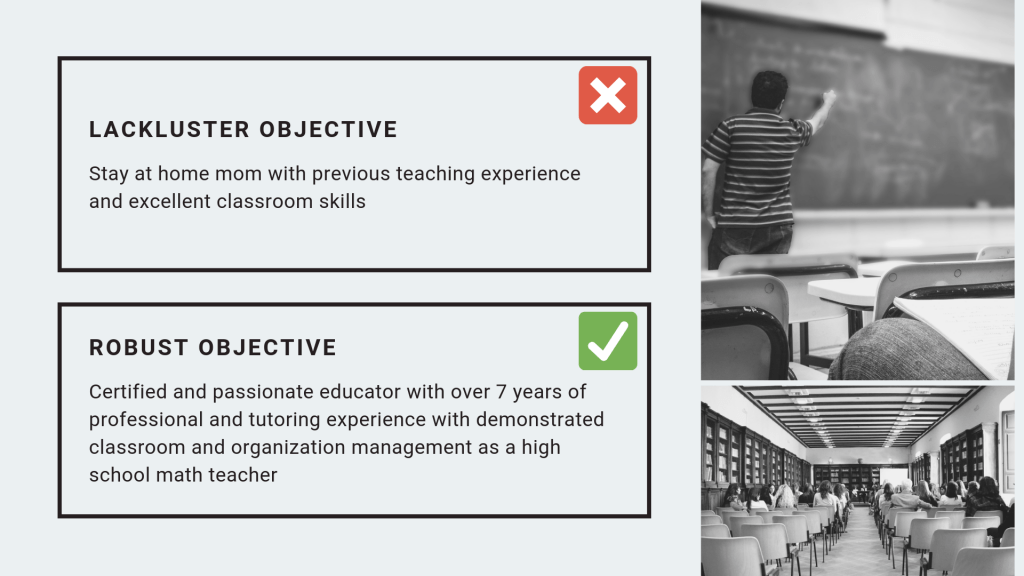 Application for an engineering position
See the punch of the robust objective statement?  Really make it clear that you are a great candidate for the position!
Crafting Actions and Results
Go back to your brainstorming list and start expanding upon a few of those points.  There is a secret sauce in formulating your experience during your gap in employment.  The most impacting statements explain the position or task, action, and result – include numbers and statistics as much as possible.  Remember to use strong verbs to demonstrate your accomplishments.  My favorite reference lists for action verbs are this one and this one.  Take a look at how these examples demonstrate actions and results.
Suppose you are a treasurer for the school PTA.  Instead of listing your duties and responsibilities, think about the impact you made on the organization and the school!
A second example could be a membership position in your community's homeowner's association.
Think beyond the list of sheer responsibilities and focus on the improvement or impact made because of your involvement! Don't forget to check out the best personal support worker jobs.
Review and Refresh
At this point, your juices might be overflowing with accomplishments you made during your time at home and implementing the action and result format.  Now is the time to revisit your prior work experience and refresh with the same intentions!  Review what action verbs can be used to refresh your professional experience and add any action/result combination that make sense.  Upgrade your previous employment accomplishments to ensure they are still relevant for the positions you seek today.
Recapping Resume Tips
Updating the formatting of the resume
Create a strong objective statement
Highlight achievements using action verbs and emphasize the result
Review the prior experience and refresh any relevant content
Following these resume tips for moms thinking about reentering the workforce should enable a fresh perspective on your time at home.  There is no need to disguise this time period on your resume.  Hone in on the skills and unique experiences that are applicable to the desired positions.
This post contains affiliate links and I may receive a commission, at no additional cost to you, should you purchase through one of my links. Please see my disclosure for more information.