The closer we get to the holidays, the more I seem to hear, "Mom, I want that!" I know they are just doing what any child would do, but it makes me feel like I am raising spoiled kids. This holiday season, I set out to teach my children that giving is where the real joy lies. Here are 5 Ways to Teach your Children the Joys of Giving this Holiday Season.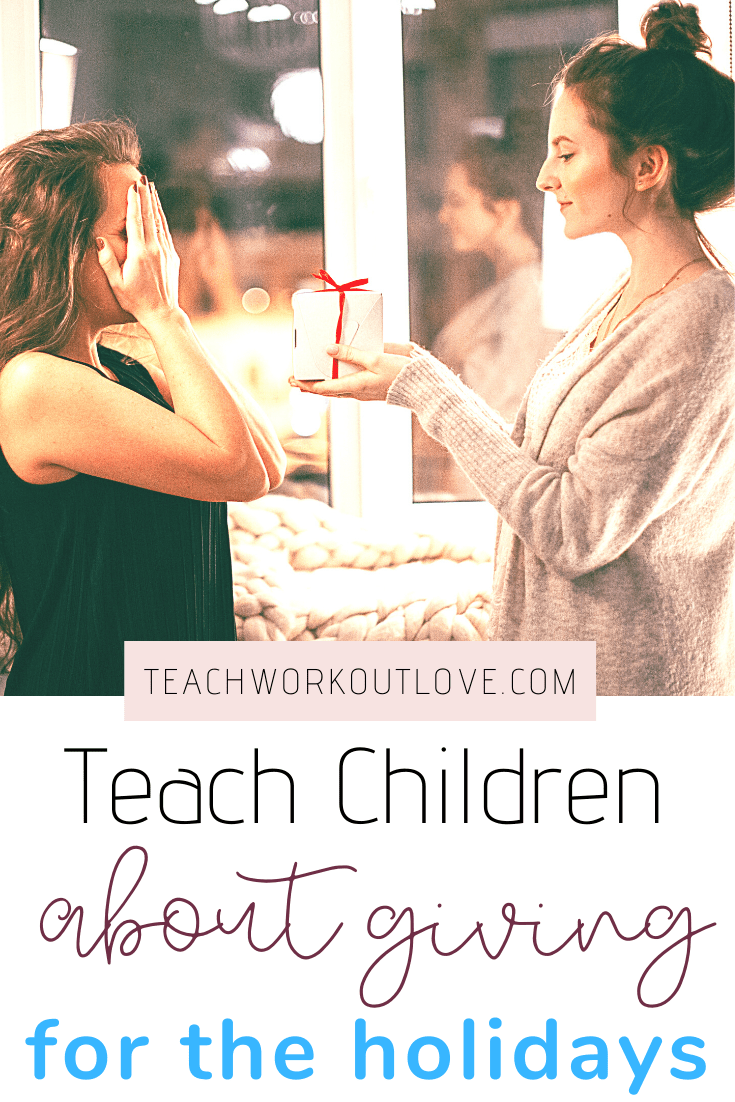 Share some Joy with Kids at a children's hospital. 
Kids who spend a lot of time in the hospital, unfortunately, spend a lot of time alone. Not only do they spend their days waiting around an exam room, but many also can't risk the exposure to germs they would get by going and doing things with other kids. One great way to lift their spirits and help them feel like they have a friend is to write them a letter or make a handmade card. Most hospitals request that you don't include things like "get well soon" instead write like you would a pen pal.
In addition to teaching about giving, I love doing this with my girls because it allows us a chance to talk about how every kid's reality looks different. It demonstrates how we should be thankful for everything we do have! The most personal way to connect with a child is by going to your local children's hospital website and contacting them. They will tell you where to send your letter. There are also fabulous resources like, Cards for Hospitalized Kids that will collect generic letters and distribute them for you.
Make an ornament to hang on the tree at your local retirement home. 
My kids love to craft, and Christmas crafts are in full swing already. We do hang one on our tree every year, but our favorite way to use our Christmas crafts is to hang them on a tree at our local retirement home. It is incredible to see the joy these handmade trinkets bring to someone longing for a holiday with their own family. We make a big deal out of it and get dressed up in our best dresses. We also bring a story or treat to share with those we meet. The kids get to see life from another perspective once again, and they light up when someone oohs and ahhs over their handmade masterpieces.
Help them choose a toy to give to a child in need. 
One challenge I give my girls is to pick a toy that will bring joy to another child. I'm not talking about the useless things you would donate but a cute working toy that another kid will treasure. We then visit an orphanage or shelter downtown and give the toys to the facility ourselves.
Going straight to the recipients makes all the difference because it allows my children to associate a real kid with the toy they are donating. It has far more impact than a bin at a donation center. One place to start is the Ronald McDonald House Charity. They have chapters nationwide so there may be one near you. If there is not a chapter near you a quick google search should give you plenty of results.
Show your appreciation to those who help you all year. 
Every year we create little gift bags with a bottled beverage, a sweet treat, and a short note. We spend the month of December delivering them to the people in our daily lives that are often overlooked and under-appreciated. We start with our sanitation worker and postwoman.
I then let my daughters choose who else they think deserves one. Children can see past the obvious. They find the people adults often miss, like The lady who always checks our groceries and the kind women who holds the door for us at swim practice. These people have a significant impact on our daily lives. Seeing them light up that someone remembered them is something my children will never forget.
Hand out socks, gloves, and feminine hygiene products to the homeless. 
Lots of people donate clothing to the homeless but have you ever thought about the small essentials we take for granted? It does not cost much to pick these things up at the dollar store and it makes a world of difference. A local church or shelter would be a great place to bring your donations. You can take this a step further and volunteer to help serve the holiday meal at the shelter.
Final thoughts
Like many mothers, I want to raise children who see the joy in the world around them. I want them to appreciate the beauty in every day. The holidays are a great time to instill these values in your family, but you can set the example year-round. All of the 5 Ways to Teach your Children the Joys of Giving this Holiday Season can be adapted for other times of the year.  A kinder world starts with us. It is our job to show them the way! 
This post contains affiliate links and I may receive a commission, at no additional cost to you, should you purchase through one of my links. Please see my disclosure for more information.