Every parent these days wants to do as much as possible for their newborn. Beginning from feeding the baby to making them bathe to dressing up and cutting their nails, it's pretty exciting and challenging sometimes. However, you need to have little practice to prove yourself the best parent. Baby care 101 is effective in guiding that every parent will love to explore and find helpful, especially when treating their parents.
According to a report of March, the last few decades have experienced sunning improvement in baby screening. Dr. Jennifer stated that "states require improved screening for around 100% compared to 4 million babies born per year in the United States (U.S.) alone."
The life of a newborn is undoubtedly magical, exhausting, terrifying, and overwhelming as well. But at the same time, it's pretty difficult being a parent; many things are going to change in your life. "Babies are a lot more powerful than parents may provide them credit for," stated Dr. Jennifer Shu.
Heading home with a newborn, understanding the baby's requirements, schedule and desire are relatively tedious for a parent. Parents can read with their babies, tell stories, dress them, and much more. Caring for a newborn becomes more manageable, especially if you know the right advice. Check the guide to see what you have to pay attention to as a parent, what kind of schedule you must follow, what you need to worry about, and much more.
Baby Care Basics: Check Every Right Here!
The report shows that more than 2.5 million babies die during the first month while 2.6 million babies are stillborn globally. However, handling newborns is a crucial task that must be carried out with extra care. Various things need to be considered by parents during the starting and growing year of their children.
You might have gone through labor, pregnancy, delivery and now ready to go home with a newborn. In the beginning state, you might feel what to do and what to not and solve all your problems. We have listed some valuable and practical tips that you can consider to care for your newborn without hassle or getting nervous.
Caring for the Umbilical Cord
The umbilical cord is an extraordinary organ that keeps the baby nourished throughout pregnancy. It has a few ick aspects outside the womb when you want to get it dry and fall off. It usually takes one or two weeks. 
Gently wipe the area each time you change the diaper with warm water, enabling the cord to stay dry. Avoid tucking it; if you notice the smell, swelling, redness, puss, or other irritable issues, contact a healthcare provider.
Holding
A newborn has the sense to delicate and fragile you, hence not hesitate in touching. Research shows that babies who hold for 2 hours per day flourish better and cry less. Your baby muscles are not developed, hence support their head with your hand whenever you pick your baby. Support their head against the shoulder.
Hold off on offering your baby a bath for about the first week. Most newborn's skin is made up of a creamy whereas substance known as vernix caseosa, which is hugely made up of the baby's sweat glands. The layer acts as a barrier, generating the baby's skin in utero.
A month after, you can give a sponge bath to your baby, help them to stay clean and fresh. Wash the body with a soft cloth and use soap whenever needed. Once you give an immersive bath to your baby, you can consider it one or three times a week.
Getting Help After the Birth
You can get help for a hectic and overwhelming time. Consider talking with a specialist to find a nurse who can help in feeding, giving bath to baby, and other such work as well. You can also consider taking help from a responsible neighborhood for a short time.
Handling a Newborn
If you have not spent time around a baby before ever, then fragility might be intimidating. You can consider the following points:
Wash your hands before touching baby;

Provide proper support to baby's neck and head;

Never shake the newborn;

Make sure your newborns are secure.
Diapering
Decide from first, whether you are going to use cloth or diapers. Your dirty newborn diapers around ten times a day, whereas 70 times a week. Before diapering, make sure to have all the essential things in your reach. For not to lose your attention from the table, you need to have:
A clean diaper;

Fasteners (if cloth diapers are used);

Diaper ointment;

Diaper wipes.
Check the below video to have a quick look at the use of diapers for your newborn.
Choosing Best Products for Newborn
For most parents, choosing the right baby product becomes a tedious task as there are multiple options to choose from. But there are few aspects you need to consider:
Avoid harsh baby products as it damages your newborn's eyes and skin;

Don't invest in products that dry out the baby's skin.
Instead, you can focus on purchasing a baby product which is:
Also, make sure that the product that you choose for your baby is tested for allergies. However, baby products must be tested and prove harmful for allergic tendencies.
Picking the right clothing for your baby
Along with looking for the right care for your baby, it is important the quality and ease of clothing that you pick for your baby. Pact Dream Big Pajamas are some of the best clothing materials that we have found for ages 18 months to 10 years old. Comfortable and easy to put on clothing is key for having a new baby. When you find a good clothing brand, it is easy to stick with and order from as your baby grows older. Pact Dream Big Pajamas are soft, breathable, and 100% organic cotton. Their cotton is made without toxic chemicals and with 91% less water than regular cotton.
We love all organic made clothing and even better when the materials is marked Fair Trade Certfiied and GOTS Certified Organic Cotton. When having a new baby, you want this type of material, plus you want a snug fit for clothing, but also where it is easy to put on, especially during those overnight clothing changes! Another key for clothing is to have them be tagless to prevent skin irritation.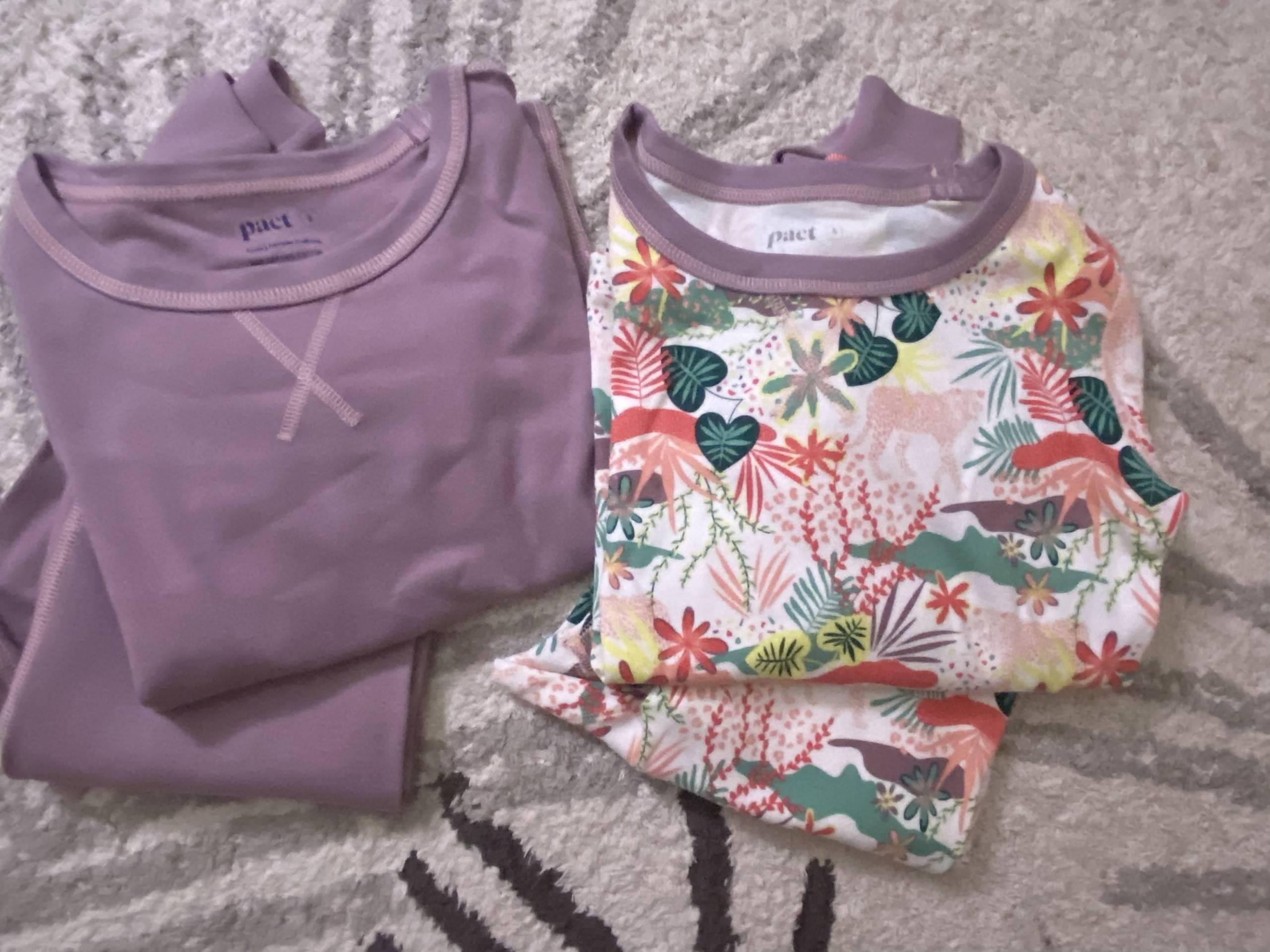 Shop Now!
Save 20% on your first Pact purchase at wearpact.com with promo code MomsMeet20. Offer is valid until 12/31/21.
Baby Massage
A study by Mayo Clinic shows that body massage relaxes your newborn. Additionally, it enhances sleep patterns and calms that they are irritable. Hence providing a massage to the newborn is the best way to build a bond with your baby. Have a quick look at the video to know what is the right way to massage your newborns:
Feeding
A recent study by WHO shows that nothing is better than breast milk for newborns. It can be considered as tailor-made for infants. Due to one or other reasons, some moms are unable to feed their babies. The reason might include few medical issues or any such circumstances.
This post contains affiliate links and I may receive a commission, at no additional cost to you, should you purchase through one of my links. Please see my disclosure for more information.