It is hard for single parents to enter into the dating game once again. They have so many obligations to meet both at home and work and in the midst of all this, it is difficult to spend time in parties and bars to meet new people. The dating apps for single moms offer such people a great option to meet someone interesting with whom they can plan a long-term relationship. The dating app market is growing at an astounding pace, according to Business of Apps, the market valuation of dating apps in 2021 was $5.61 billion.
If you are a single parent and find it hard to strike up a conversation with a stranger in a bar or at a party, then you could make use of dating apps that are focused on single parents. Take simple steps at a time and don't feel pressured as there are no strict rules for dating when you are using these apps.
Here we have put together a list of popular dating apps for single moms (they also work for single dads!). Go through each one of them to find which one is best for your needs.
Top 9 Dating Apps for Single Moms
These are the top 9 dating apps that specially focus on helping single moms to find someone with whom they can build a great relationship.
Encore
As the name suggests, this dating app allows parents who are single to get back into the dating world without much hassle. For a single mom, this app is perfect because it is built after studying their necessities. This app focuses on helping out single moms to get into serious relationships or find some like-minded friends with whom they can hang out.
Image Credit: PlayStore
This app has a large number of subscribers from the USA alone. It has the best dating app features like you can watch the videos of the person you like. To get a better perspective of a profile you can chat with them in the chat room. The new flash chat feature allows you to send pictures, audio, and video clips to someone you like and set a timer so that the pictures or video clips will delete automatically after the specified time is over.
Features
Very easy to use.

Flash chatting.

Notifications.

Virtual gifts and many more.
Encore is available in PlayStore
Elite Singles
This is another dating app that encourages single moms who are looking out for long-term relationships to find one who matches their wavelength. Here you have to fill out a form and based on it you would get expert advice. This app has a huge subscriber base from different backgrounds. Therefore, it offers you a wide range to choose from.
Image Credit: PlayStore
Features
Verified profiles.

An amazing matching algorithm based on a complex personality survey.

Receive your personality report.

The majority of the members are over 30 years of age.

Most of the users have at least a college education.
Elite Single is available on PlayStore | App Store
eHarmony
Although this app is not focused on single parents, it has a section that allows single moms to find a companion who matches their interests to have a long-term relationship. This app is also perfect if you are looking for casual dates and could also be used to find like-minded friends.
Image Credit: PlayStore
Features
A beautiful layout and navigation are quite easy.

Notifications.

Chat messaging.

Very sophisticated algorithm for good matches.
eHarmony is available on PlayStore.
Single parent
If you are a divorced mom and you want to rebuild your family with a new partner and looking for a second date for a serious long-term relationship, then this is the perfect app for you. Once you register with the app and create your profile, you will get potential matches, and based on your preferences, you can chat with the accepted match in our chat room.
Image Credit: PlayStore
Features
A large number of profiles.

Notifications.

Chat room.

Both free and paid versions are available.
Single Parent is available in PlayStore
Stir
This dating app offers single moms numerous options that would turn out into potential dates. Here you will find a wide range of single mom/father status profiles and you can easily browse and look for potential dates with your single mom status.
Image Credit: PlayStore
Features
It is very simple to use and you can learn a lot about a potential date by visiting their profile page.

You can narrow down your preferences to view only those setup profiles that match your interest.

Here you will find numerous dating options to choose from.

Find every weekend partner and based on your experience choose one to build a long-term relationship.
Stir is available in PlayStore | App Store
The League
This app is for those single moms (and dads) who are looking for a premium dating service. All the profiles in this dating app are fully verified. You have to first apply to this application and if you satisfy all their criteria, you would be accepted. Therefore, if you are looking for a quality date with whom you can build a strong and successful relationship, then this dating app is perfect for your needs.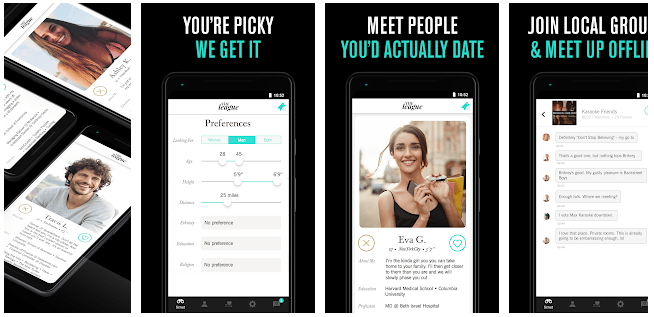 Image Credit: PlayStore
Features
All the files are rigorously reviewed through their LinkedIn and Facebook profiles.

This dating app emphasizes high-quality matches only.

A very sophisticated algorithm that helps you to find the best match.
The League is available in PlayStore.
SilverSingles
This dating app is tailor-made for those who are single parents and are over 50 years and looking for a date to start their life afresh. Here you will find a wide range of people from different denominations as well as economic strata.
Image Credit: PlayStore
Features
It only accepts those members who are over 50 years old.

All the profiles are thoroughly verified.

All the features are very simple to use and are perfect for those who have never used a dating app before.

It is a subscription-based mobile app, so only serious people who are looking for date use it.
SilverSingles is available in PlayStore | App Store
OurTime
This is another popular dating app for single moms (and also dads). The whole design of the app is very simple and it allows the members who are new to this technology to easily navigate it on their own without much help. You can easily customize your preferences based on which the algorithm would match you with potential dates.
Image Credit: PlayStore
Features
Only those above 50 years of age are eligible to become a member.

The signup process is very simple.

You have the option to add still photos or videos to your profile.

There are millions of users to choose from. You can also search potential dates using ZIP Codes.
OurTime is available in PlayStore.
Divorced singles
As the name suggests, this app is tailor-made for single moms and dads. If you are a single mom and looking for a platform through which you can find a potential partner and build a new relationship, then this app is perfect for you. Here you will find diverse people from various sections of society and you can choose them based on divorced Christians, Muslims, Africans, Asians, Latinos, Arabs, Whites, and Blacks.
Image Credit: PlayStore
Features
It is free.

Matches are made according to your specific preference.

Millions of users to choose from.

Easy to use and multiple features available.

 
Divorced Singles is available in PlayStore.
Read Also:- 5 Best Teen Dating Apps: Why It Popular & Its risks?
Dating Tips for Single Moms: Nurturing Love and Balance
Dating as a single mom can be an exciting yet challenging experience. As you navigate the world of relationships, it's important to find a balance between your responsibilities as a parent and your desire for companionship. This article offers practical tips to help single moms embark on a fulfilling dating journey while maintaining harmony in their lives.
Self-Care
Prioritize Your Well-being Taking care of yourself is crucial before diving into the dating scene. Make time for self-care activities that rejuvenate you physically, emotionally, and mentally. Engage in hobbies, exercise, practice mindfulness, and cultivate a strong support network. By nurturing your own well-being, you'll approach dating with a positive and confident mindset.
Be Transparent About Your Parenting Role
When you begin dating someone new, it's essential to be upfront about being a single mom. Clearly communicate your parenting responsibilities, including your availability and the importance of your children in your life. This transparency sets the foundation for open and honest communication, allowing potential partners to understand and respect your role as a parent.
Patience and Timing
Take It Slow Dating as a single mom often requires patience and understanding. Take the time to get to know someone before introducing them to your children. Rushing into a serious relationship might disrupt the stability you've built for your family. Prioritize building a strong foundation and assess whether the person aligns with your values and long-term goals.
Trust Your Intuition
Focus on Compatibility When choosing a partner, trust your instincts. Look for compatibility beyond surface-level attraction. Seek qualities such as patience, understanding, and respect for your role as a single mom. Assess how well a potential partner integrates into your life and interacts with your children. Remember, a healthy relationship should enhance your life and provide a positive influence for your family.
Boundaries
Balancing Priorities Establishing clear boundaries is crucial when dating as a single mom. Determine how much time you can invest in dating while still meeting your parental obligations. Be open about your expectations and limitations to avoid feeling overwhelmed or neglecting your children's needs. Striking a balance between your romantic life and parenting responsibilities will ensure a healthy and harmonious family dynamic.
Communication
Open Dialogue is Key Effective communication is the cornerstone of any successful relationship. Discuss your needs, concerns, and expectations openly with your partner. Encourage them to do the same. Ensure that you're both on the same page regarding future plans and the involvement of children. By fostering open dialogue, you'll build a stronger foundation for your relationship.
Prioritize Safety
Online Dating Precautions If you choose to explore online dating, prioritize safety measures. Use reputable dating platforms and conduct thorough background checks if necessary. Share information about potential partners with a trusted friend or family member. Take your time to establish trust and meet in public places initially. Trust your instincts and never hesitate to end communication if something feels off.
Conclusion                                                      
These 9 single mom dating apps allow you to find new opportunities and help you to get back to dating as a single mom. All the dating apps mentioned in this article offer free membership. Therefore, you should try out a few of them to figure out which one is best for you and help you get a partner with whom you can build a strong and productive relationship. Dating as a single mom can be a rewarding experience, but it requires careful consideration and balance. Prioritizing self-care, being transparent about your parenting role, taking it slow, trusting your intuition, setting boundaries, maintaining open communication, and prioritizing safety are essential aspects to navigate the dating world successfully. Remember, finding love as a single mom is possible, and with these tips, you can create a healthy and fulfilling relationship while ensuring your children's well-being.
This post contains affiliate links and I may receive a commission, at no additional cost to you, should you purchase through one of my links. Please see my disclosure for more information.