It can be hard to know what you should do after an injury. It's essential to take care of yourself and your body, but it can feel like there is so much information out there that it feels overwhelming. Here are some great tips for taking care of yourself after an injury.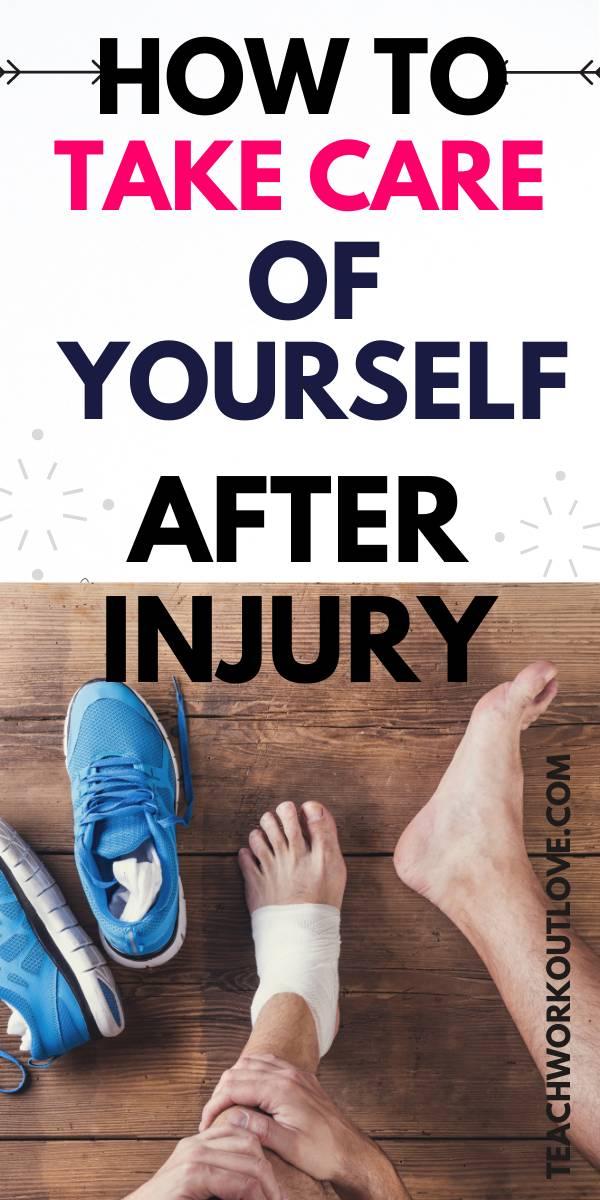 1) Drink Lots Of Water
You can get dehydrated after an injury, which you want to avoid. Instead, drinking lots of water will help your body recover faster and make sure that it doesn't get dry or flaky skin.
2) Eat Healthy Foods
While you don't want to overload your body with food, eating healthy foods is important. It would help if you had the vitamins and minerals to help your body heal. Try to avoid processed foods and eat plenty of fruits and vegetables. If you're having a hard time eating because you're in pain or nauseous, try drinking smoothies or juicing.
This will give you the nutrients your body needs without putting too much strain on your digestive system. You can also take supplements if you feel like you're not getting enough nutrients from your diet alone. Be sure to talk to your doctor before taking any supplements, as they might interact with medications that you are already taking.
3) Go See A Doctor
If you're not sure what is wrong with you, it's always best to go see a doctor. They will be able to give you a diagnosis and prescribe any necessary medications, treatments, or regenerative medicine. If your injury is severe, they might also recommend surgery.
4) Get A Recovery Program
If you've been injured and are trying to recover, it might be helpful to get a recovery program. This could involve going to physical therapy or seeing a chiropractor. They will help you regain strength and mobility in your injured area. There are also some at-home exercises that you can do to speed up the healing process. Here are two great ones: Hamstring Curl with Resistance Band – This exercise helps improve hamstring flexibility and strengthen the muscles around the knee joint. Bridge – This exercise strengthens the glutes and hamstrings, which can help reduce pain in those areas.
5) Get Lots Of Sleep
It's important to sleep after an injury because this is when your body does most of its healing. However, your brain also needs time to process all the information that it has taken in, so try not to overstimulate yourself during this period. Take a warm bath or read something light before bedtime if you can't sleep.
6) Inform Your Workplace
If you're a student, be sure to inform your professors and/or teachers so that they know you'll miss class. If you have a job, it's best to talk to your manager or supervisor about working from home for the time being. In addition, ask them if there is anything you can do from home as well since this might help speed up recovery.
7) Go For A Massage
Massages can help improve blood circulation and reduce muscle tension. If you're feeling a lot of pain, a massage might be just what the doctor ordered. You don't necessarily have to go to a spa or masseuse – you can also give yourself one by using a foam roller.
8) Avoid Getting Injured Further
This might sound like common sense, but it's important to avoid situations that could result in another injury. For example, if you already have a sprained ankle and decide to go out with your friends for the afternoon – don't try any new activities or sports! Instead, you can make plans to do something fun when your body is feeling better.
9) Drink Multi-supplements
Multi-supplements usually have a combination of vitamins and minerals which can help the body with different stages of healing. The most important thing to remember is that you should speak with your doctor before taking any supplement, as they might interact with medications you are already taking.
10) Do Daily Rehab
Rehabilitation doesn't have to be done in a physical therapy office. You can do some simple exercises at home that will help improve your range of motion and flexibility. This is especially important if you're trying to recover from surgery. Here are some great exercises to get started: Wall Slides – Stand with your back against the wall and slowly slide your body down until your knees are bent at 90 degrees. Then slide back up the wall. Seated Hip Flexor Stretch – Sit on the ground with one knee bent and the other leg straight out in front of you.
Lean forward towards the extended leg until you feel a stretch in the hip of the bent leg. Hold for 30 seconds, then switch legs. Quadriceps Stretch – Sit on the ground with your legs outstretched in front of you. Keep one leg straight and bend the other knee, placing that foot flat on the ground in front of you. Grasp the ankle of the bent leg and pull it towards your glutes until you feel a stretch in the front of the thigh. Hold for 30 seconds, then switch legs.
11) Use Heat Or Ice
When it comes to using heat or ice, it really depends on what you're feeling. Ice might be a good option because this will bring down any inflammation. On the other hand, heat should only be used if your muscles feel stiff or sore – never apply heat to an already inflamed body part!
12) Reduce Stress
The first thing that probably comes to mind when thinking about reducing stress is meditation and yoga, but there are other ways as well that don't require going out of your way: Listen To Music, Take A Walk Go For A Bike Ride, Play With Your Pet Watch Tv Talk To Friends Paint What works best for you? Try something new every week until you find what healthily relaxes you.
In conclusion,  there are many different things that you can do to help yourself recover if you sustain an injury. If you're not sure what would work best for your body, check with your healthcare provider, and they will be able to provide some insight on the matter.
This post contains affiliate links and I may receive a commission, at no additional cost to you, should you purchase through one of my links. Please see my disclosure for more information.