So, your darling little one is another year older. It's crazy, right? Where has the time gone? As a parent, a child's birthday means lots of emotions (pride, love, a desire to somehow bottle this time and keep them small). It also means throwing your son or daughter the coolest birthday party on the block.
This is no easy task. Corralling a bunch of hyper kids is hard enough without the stress of finding a kid's entertainer, making snacks that appeal to kids' tastes (and grown-ups' nutritional standards) and creating the perfect thematic decor (all DIY, of course).
If you have the time and the means to go all out for a birthday, more power to you. But here's the reality: kids are easily entertained. You don't have to bust out high-priced entertainment and home-cooked desserts for a good party! A good, old-fashioned shindig in the backyard is more than fine for celebrating a kid's birthday — and we have the backyard party planning tips to help you pull it off with ease.
Step One: Spread the Word
In order to have the perfect party, you have to have some party guests. This is why the first step for any backyard party planning is to spread the word with a great invitation! The ideal invite is exciting to look at and easy to read — and it always clearly conveys information.
Will your guests need to bring swimsuits? Clothes that can get dirty for an arts and crafts project? Will you be serving lunch, or just cake and punch? All of these details are essential to your invite, so make sure you include them.
Your invite is also a great place to let parents know if the party is for grown-ups, too. Often, parents drop their kids off at a party and drive off, assuming they aren't needed or wanted in attendance. Extending the invitation to other parents can be a great way for you to bond with your kid's friends' families — not to mention give you someone your own age to talk to! Plus, if it's a backyard pool party, you'll have an extra pair of eyes helping to keep the kids safe.
Step Two: Safety First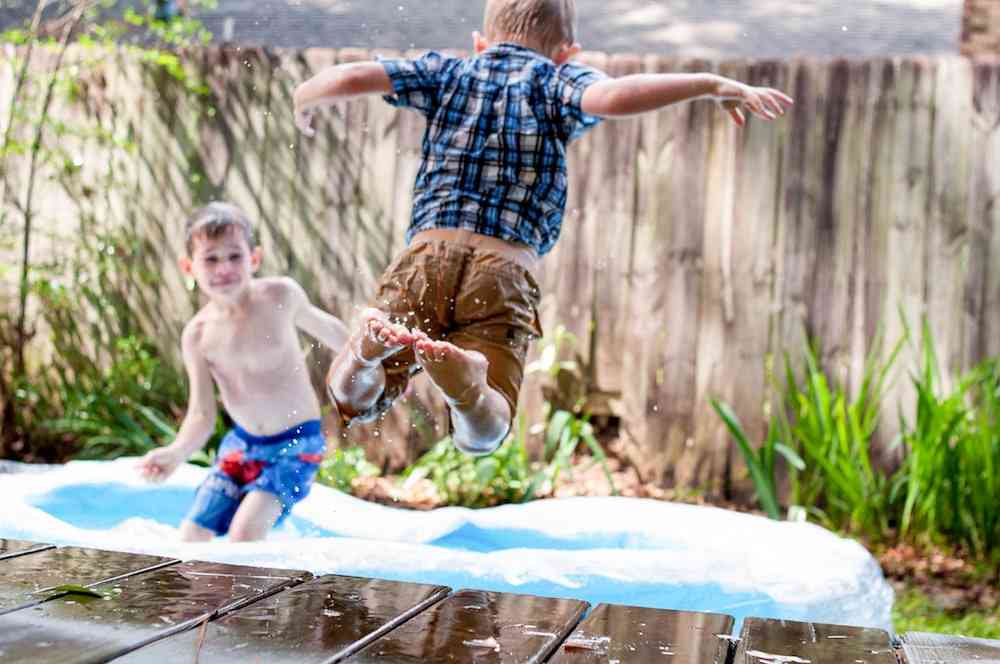 Before you light the candles, before your order the pizza, and before you hand up a single streamer, you need to make sure your home is safe and party ready. This is an essential part of backyard party planning for any occasion, but it's particularly important during a kid's party.
Make sure you have safety precautions in place for all dangerous places in your home. Make sure gates are secure (so no one runs off) and the yard is free of prickly plants. If you have a swimming pool, make sure your pool cover or safety fence is in place and in good repair.
Safety isn't limited to keeping kids from wandering off or falling in the pool. Stock up on your supply of sunscreen and insect repellent (if you're partying during bug season) and make sure all your guests reapply if necessary. The other parents will appreciate this little extra thoughtfulness!
Step Three: Kid-Friendly Snacks
Ah, the menu. Here, my friends, is where your backyard party planning can make or break the event. When you have a party full of little ones — each with their own personal tastes and parents with their own opinions about what kids "should" eat — it might be a little overwhelming.
But there are plenty of kid-friendly snacks out there that are both tasty and nutritious (or nutritious enough for party food).
If one of your child's friends has severe food allergies, talk with their parents to learn how best to accommodate them. Not only will the parents appreciate your concern for their kid's safety, you might just get some extra helpers planning the menu for your backyard party.
Step Four: Turn Up the Tunes
Every party needs music. So when you're doing your backyard party planning, you simply can't forget to find an amazing (and kid-friendly) playlist. The right group of songs will be instant entertainment for everyone; the kids will have a blast dancing, and you'll have a great time watching them.
Your kid's party playlist doesn't have to be all "Baby Shark" and "Wheels on the Bus." There are many modern pop songs that will get your kid and their friends hyped without cursing every other stanza. Throw a few of those in a playlist (or even find a ready-made list on Spotify) and you'll be good to go.
Step Five: Enjoy Yourself!
By the time the yard is decorated, the food is out, and the guests arrive, you've probably spent weeks buried in backyard party planning. So guess what? It's your time to enjoy it!
Whether that means chatting with parents, getting involved in the party games, or simply sitting back and relaxing, you've earned the right to enjoy your afternoon. Grab a drink (maybe even a glass of wine to share) and enjoy watching your little one enjoy his or her special day.
This post may contain affiliate links. Visit the disclaimer page for more information.