Having a toddler is always a transition period because you never are sure when to switch to the next level. When to transition a toddler to a twin bed? How do I potty train? What type of foods do they eat? Should I change car seats? So many questions that need to be answered! A crucial moment in a toddler's life is transitioning from the crib to a toddler bed and then to a twin bed. When do you make the move? How do you make the move?
When to transition toddler to twin bed?
Transitioning from a toddler bed to a twin bed is dependent on your child. The main ingredient is really when they have outgrown their toddler bed. Many cribs transition into a toddler bed by removing the front rail of the crib and it's a super easy transition for most because they are not moving into a new location, just removing the full rail.
However, the size of the actual bed stays the same while your child is still growing at quite a quick pace. This is when transitioning from a toddler bed to a twin bed seems most important. A crib mattress is great but when your toddler is growing fast it's best to change it sooner than later. There are hundreds of choices out there so make sure to pick the highest-rated twin mattress when you are transitioning.
Because of the change, sometimes it can cause a disruption in sleep or becoming upset since you are changing their little life around. This is when the process of how to transition from a toddler bed to a twin bed really helps parents out.
How to transition?
Transitioning is never an easy process for kids but something that has to be done. The best way to transition is to help them along in the process. But how can we help? Here are some tips to help them with transitioning from a toddler bed to a twin bed.
Get them involved
From everything to picking out the sheets and comforter to building the actual bed, ket your toddler be involved. Being involved is a great way for them to become excited about this new change. My daughter helped us build her new twin bed from Delta Children. She helped peel stickers to put on the backboards and she helped by handpieces to my husband. Hailey was extremely excited about this because she was helping put together her new bed! This made the process of removing her crib from her room much easier for us in the end.
Do it quickly
When transitioning from a toddler bed to a twin bed, it is important for your toddler that it happens all in the same day. Have everything ready before you start the transition. If you are putting the twin bed together but don't have a mattress, the process is now going to be stressful for your child. Children are anticipating a new bed, but won't be able to sleep on it until you have the correct mattress for it. This makes the transition time not as easy as wanted.
Before you start putting together a twin bed, make sure you have everything needed to complete the process that day. It is crucial to have your toddler sleep in the new twin bed that night to eliminate any stress they might have about the new bed arriving in their room.
If you are struggling to find the perfect mattress for your toddler's twin bed, I would highly suggest the Memory Foam Mattress. The mattress was easy to bring into Hailey's room and let it aerate. Because it arrived at a different time from the bed, we had to wait to put everything together.
Dress up the bed
Picking out your child's bedding should be something done by them. By having them pick out their sheet and comforter set helps them to be more excited about their new bed. Hailey picked out Princess Sofia bedding and this made for an easier transition from her crib since she was more excited about the decorations. Another fun thing she loved was that on the Disney Minnie Mouse 3D bed, they have the Minnie Mouse decorations. Hailey was psyched that her bed was not just going to be a brown crib anymore!
Admire the final product
This is a crucial part of the process of transition. Together with your toddler, admire the new bed in their room! Talk about how amazing it is and why they are going to love it. Get them to talk about why they will love the bed and how they are a big girl or boy now. Hearing from mom and dad about how wonderful their new bed makes them feel better about what is happening in their little lives.
Test it out
After the bed's completely finish, give them some time alone to enjoy their new bed! Allowing your child to test out their new twin bed before jumping right in and sleeping in it. My daughter tested out her bed with her iPad and she enjoyed it quite well!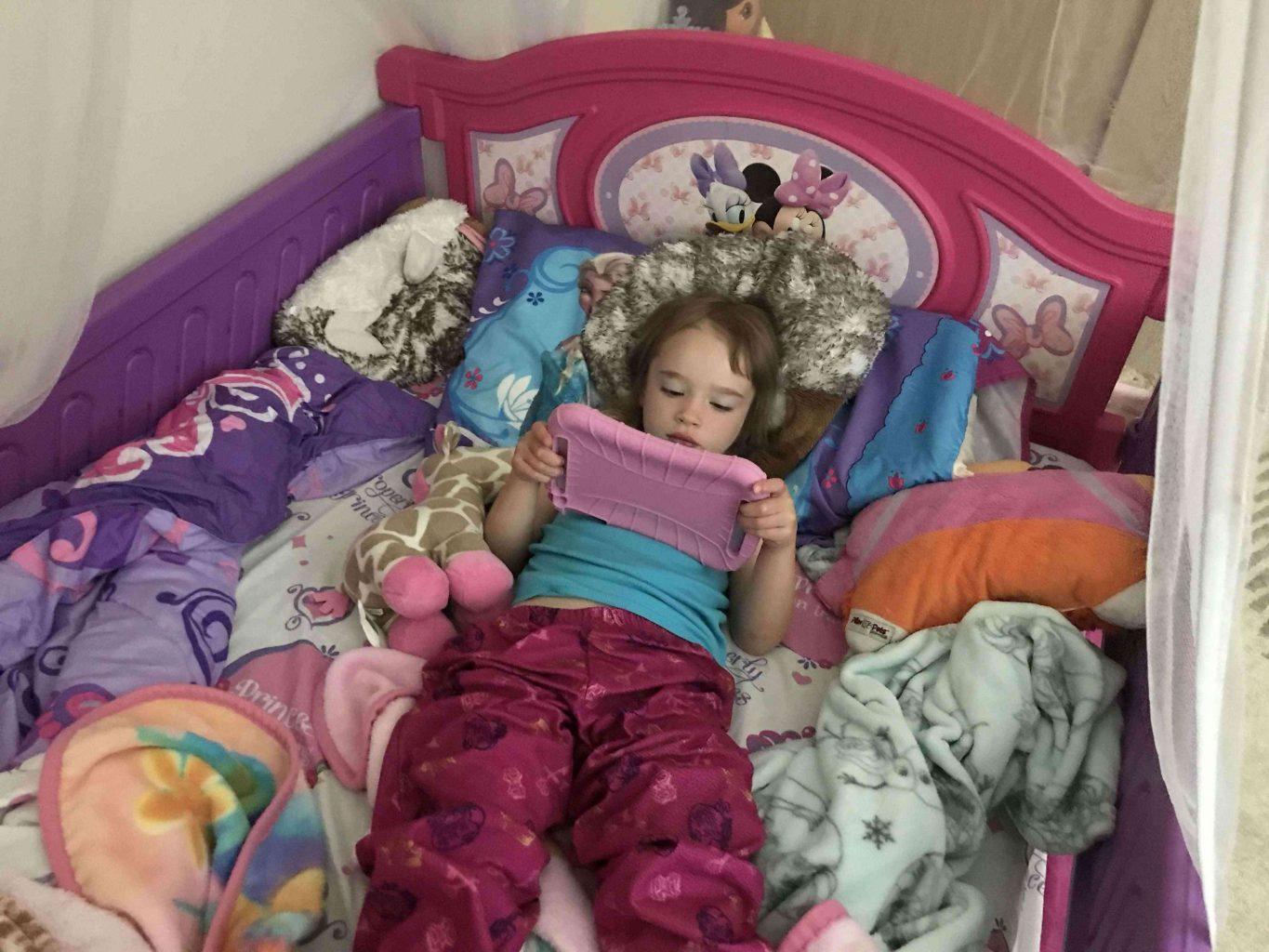 Featured Photo by Manny Pantoja on Unsplash
{This is a sponsored post and may contain affiliate links. Please visit my disclaimer page for more information.}