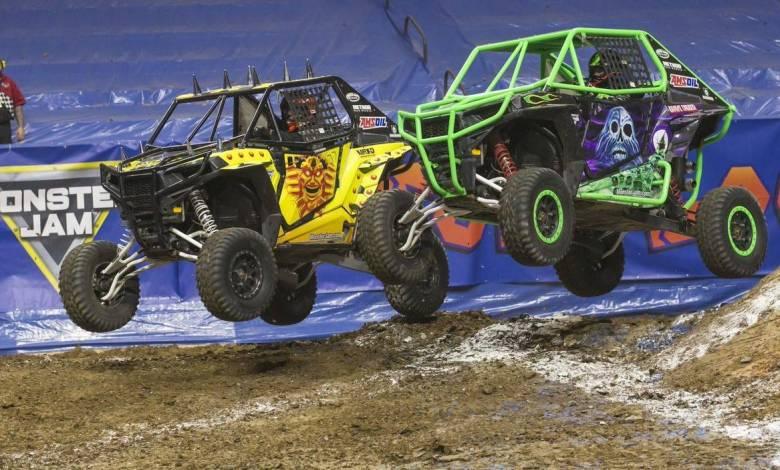 Trying to find fun events to do in the winter with your family can be hard! But are you ready to go to a fun indoor event? Monster Jam is coming to locations near you! This weekend, February 21-23, 2020 Monster Jam is in Spokane, Washington. Another high-octane weekend and action packed nights! Read on to see what you can expect when bringing your family to see Monster Jam in Spokane!
It's loud!
To begin, Monster Jam is LOUD! That is the beauty of Monster Jam, it is very loud and it would be beneficial for you to bring noise cancelling headphones, headphones, or something that can minimize the sound for your kiddos ears. For us we may be able to sit through loud noises, but kids might not be able to. A quick solution is to bring noise cancelling headphones.
Who will be there?
We have the list of the different Monster Truck drivers that will be in attendance during Monster Jam in Spokane. Monster Jam Triple Threat Series world-class athletes vying to become champions will be:
Grave Digger® driven by Brandon Vinson  (2018 Rookie of the Year)
El Toro Loco® driven by Elvis Lainez
Zombie™ driven by Bari Musawwir
Megalodon® driven by Austin Minton
Soldier Fortune™ Black Ops driven by Tony Ochs  (Winner Arena Freestyle 2019)
Scooby-Doo™ driven by Myranda Cozad
Monster Mutt® Rottweiler driven by Tanner Root
Earth Shaker driven by Tristan England
Bring a camera!
After watching that video, I hope you are amped! Bring a camera to get some good shots of the Monster Trucks that you can share on social media. Monster Jam drivers are trained, world-class male and female athletes who have mastered the vital dexterity to control 12,000-pound machines capable of doing backflips. They also have vertical two-wheel skills and racing at speeds up to 70 miles per hour to produce jaw-dropping, live motor sports action seen around the world.
Dates and Times in Spokane
Monster Jam usually comes to town for the weekend and they have different events throughout the weekend. Check out their schedule for the weekend they are coming.
Friday, February 21, 2020               
Saturday, February 22, 2020
Pit Party open from 10:30 AM–12:00 PM
**Saturday 1PM event ticket & Pit Pass required for entry
Event Times – 1:00 PM & 7:00 PM
Sunday, February 23, 2020
Pit Party open from 10:30 AM–12:00 PM
**Sunday 1PM event ticket & Pit Pass required for entry
Jackets are a good idea
No matter the time of the year, they keep it pretty cold in the arena so many sure to bring jackets, especially if it is during winter time. It is important to bring gloves, jackets and hats for yourself and kiddos so that everyone is not freezing! But no matter how cold, the family will still have a great time!
How can I get there?
Want to get tickets? Tickets are a great price, starting at $20! There are multiple times throughout the weekend that you can attend. Buy your tickets now!
This post contains affiliate links and I may receive a commission, at no additional cost to you, should you purchase through one of my links. Please see my disclosure for more information.